In our ongoing series Screening Room, we go behind the scenes with the uber-talented production designers and set decorators of today's most visually alluring TV shows and movies for a deep dive on how they whipped up such indelible backdrops. This week we chat with Emmy-nominated production designer Nelson Coates, the creative mastermind behind the dynamic studios, sleek aeries and posh hotel suites featured in Apple TV's cult hit The Morning Show, starring Jennifer Aniston and Reese Witherspoon. 
. . .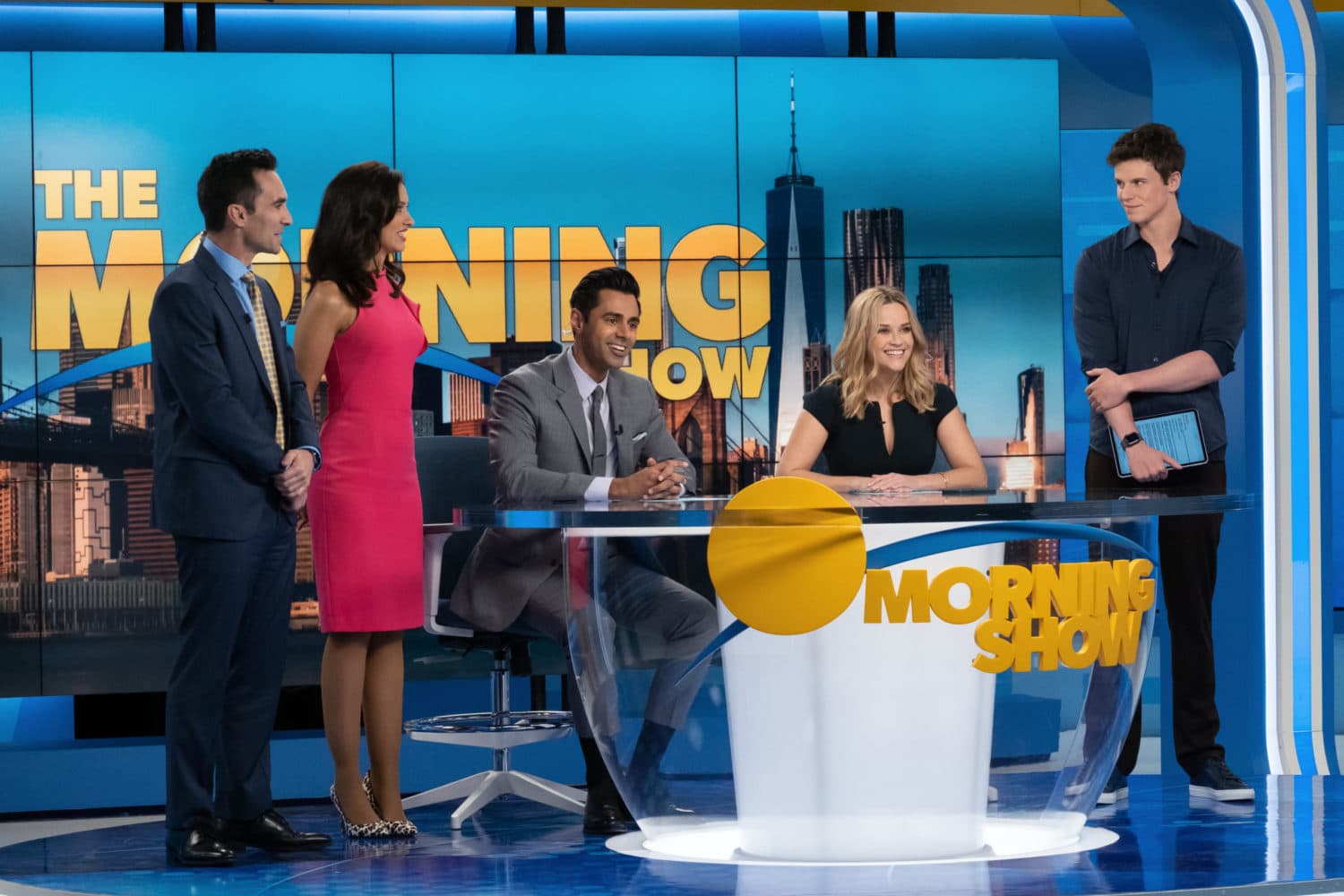 Ambition and power, chaos and controversy, and the do-or-die need for ratings are just part of another day at the office in the new season of The Morning Show. Available on Apple TV+, the Emmy award-winning series is a guilty pleasure, a fictional show within a show about the inner workings of a top-rated breakfast news and talk show. Season two finds co-anchors Alex Levy (Jennifer Anniston) and Bradley Jackson (Reese Witherspoon) in turmoil after the departure of disgraced co-anchor Mitch Kessler (Steve Carrell). The enigmatic UBA network head Cory Ellison (Billy Crudup) is also back, and Julianna Margulies joins the show as an iconic Diane Sawyer-style journalist Laura Peterson.
While the show's cast and storyline get top billing, the sleek contemporary sets vie for attention where authenticity is key. Emmy-nominated production designer Nelson Coates (who had to redesign the permanent sets from season one due to Covid), took the looks to a new level, both stylistically as well as geographically. Key settings such as the dressing rooms, UBA office suites, lobby, hallways, conference room, bullpen, and the control room all received a redo. "We designed a brand new 12,000 square-foot set so we would not have to go anywhere on location," says the designer. "All of the walls trade out with a different colorway for the executive suites, and it looks like a 24,000 square foot set." Coates, who has designed fifty-plus film and television shows (his most recent was In the Heights) drew upon his vast experience in creating the New York-centric media world as well as working under pressure. "I have worked in various broadcasting entities and know this world so well," he says. "From the minute I put pen to paper and the cameras started rolling, I had eight and a half weeks!"
Viewers will be surprised to note that Los Angeles doubles as New York, Wuhan, China, and Lake Como, where several of the storylines take place. For the season opener's Times Square set, the designer built a computer model of the area along with the requisite TKTS ticket booth and two stories of scenery as actors Witherspoon and Hasan Minhaj welcome audiences into 2020 with the help of special visual effects. "The first season felt incredibly modern, and I was trying to add breadth to the scope of the architecture, whether it's in a restaurant with Alex and Bradley looking out at New York through the windows or seeing people walking and talking with the city in the background. I wanted the audience to feel like they are there," he details. Mission accomplished as even the most seasoned New Yorker will swear its Manhattan.
UBA Network head Cory Ellison's (Billy Crudup) comfortably cluttered yet modern office is filled with memorabilia, awards and character details.
The office of UBA's new President Stella Bok (Greta Lee) is an attractive color palette of taupe, crème and black and white.
The executive floor of UBA.
Manhattan style also comes into play with Cory Ellison's office and hotel suite. Coates wanted a masculine look for his suite (one that is reminiscent of the Gramercy Park Hotel).  The interiors are classic old New York with wood paneling, dark colors, and 1930s touches. Referencing the network's drama last season, he adds, "One of the things I wanted to do was play up the sexual harassment controversy in the story, so there is a lot of imagery throughout the show." This concept translates into Lalique Erté-style light fixtures of a nude male and female and America Martin's painting of a reclining nude over his bed. Modern furnishings, personalized accessories, and awards for his contemporary office become a case study in power dressing. "I really wanted to have this kind of 'oh this guy holds the keys to the kingdom, and everything should reek of power, yet there is this certain Luddite quality to him, and he is tied to the past. Reese even walked in and said, 'Oh my gosh, I have been in this business a long time, and I have never seen an office this beautiful, and none ever look like this!"
The dressing rooms represent a case of one-upmanship as the two co-hosts vie for notoriety and power. Painted in a warm sunny yellow, Alex's dressing room denotes a "golden girl with star power type quality" with a classic deco elegance.  Bradley's digs have elements of her home state West Virginia, reflecting both her past and present.  This season viewers will also get a peek at Laura Peterson's Upper West Side apartment and Alex's posh steel and glass penthouse that undergoes a major renovation. Coates also notes he wanted to up the ante with "wealth porn" for the sets, something he knows a lot about after designing the 2018 hit Crazy Rich Asians.
Mitch Kessler now resides in Lake Como, hiding from the paparazzi and contemplating his next move. Since filming in the idyllic Italian retreat was not an option, Coates created the Piazza Cavour setting via two cobblestone streets in Los Angeles' Pico House with the help of special effects. A drone captured a peninsula in Lake Como that served as a visual placeholder for Kessler's villa. The designer found a Wallace Neff-style villa in California's Sierra Madre, which was built in the 1920s and based on one in Florence (rumored to be designed by Michelangelo). Working with set decorators Nya Patrinos and Shauna Aronson, he explains, "It was stark white with no window dressings, so we landscaped the whole thing and furnished drapes, painted, added faux stone and marblework, and created some of the furniture." A Ruhlmann entertainment unit was built from scratch as they wanted Italian style pieces that did not read "prop house." Paintings from the Lake Como region were added for a sense of history and affluence. "The villa needed to look like many generations of families who looked like they had money, elegance, and did not show off."
Creating an authentic aesthetic was paramount as Coates reflects, "Our director Mimi Leder is friends with Clooney (who lives in Lake Como with his family) and has been to his place many times, so the pressure was on!"