Between world-famous art museums filled with the work of Old Masters and the more infamous attractions of the Red Light District, Amsterdam offers a mix of high and low culture as varied as its region's many tulip genuses. It's also a treasure trove of design inspiration, filled with countless stores, cafes, restaurants, and bars that veer from joyfully vibrant (all the better to brighten a dark Dutch winter) to lusciously moody (think a Vermeer palette come to life). It's a place where you'll want to wander for hours, ducking into quaint boutiques tucked down quiet residential streets and browsing the shops overflowing with design books and small-batch art zines.
Not sure where to start? However touristy it may seem, you won't regret taking a guided canal tour; viewing the city from the water is an excellent way to get your bearings (and see some of Amsterdam's incredible canal-front architecture) while enjoying a glass or two of wine. History buffs and style-seekers alike will love the private saloon-boat cruises offered by Context Canal Tours, which are led by local scholars. When you're done, check out a few of the spots on our itinerary below!
---
SHOP
EDIBLE TREASURES
Jacob Obrechtstraat 75
Full of stylish and unique homewares, the old butcher's shop has been redesigned to house an artisanal coffee shop and bakery, a small test kitchen, and a store offering everything from pamphlets on bread baking to baby toys shaped like turnips. On weekends, the local farmer's market sets up a block away.
Open Wednesday – Saturday, edible-treasures.com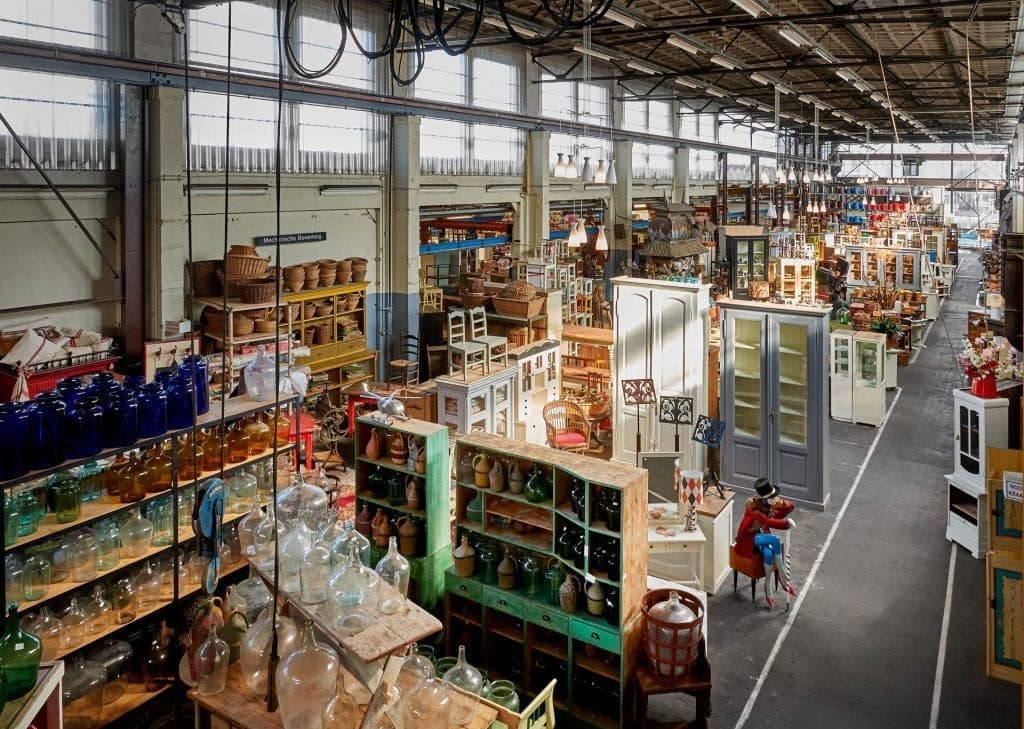 VAN DIJK & KO. ANTIQUES
Papaverweg 46
Take a ferry to this warehouse full of antiques for an afternoon of treasure-hunting. From Danish mid-century modern to 16th-century candlesticks, there is something for every taste. Make sure you have a hearty lunch beforehand—there is much to explore.
Open Tuesday – Sunday, vandijkenko.nl
STUDIO HENK
Rozengracht 204
Started in the garage of the founders' uncle, Studio Henk makes timeless furniture right in Amsterdam. With an eye towards decreased resource consumption and sustainability, the studio has expanded from a single table into a full line with chairs, sofa, and bookshelves steeped in signature utilitarian ideals. Think Bauhaus for the homes of today.
Open daily, studio-henk.nl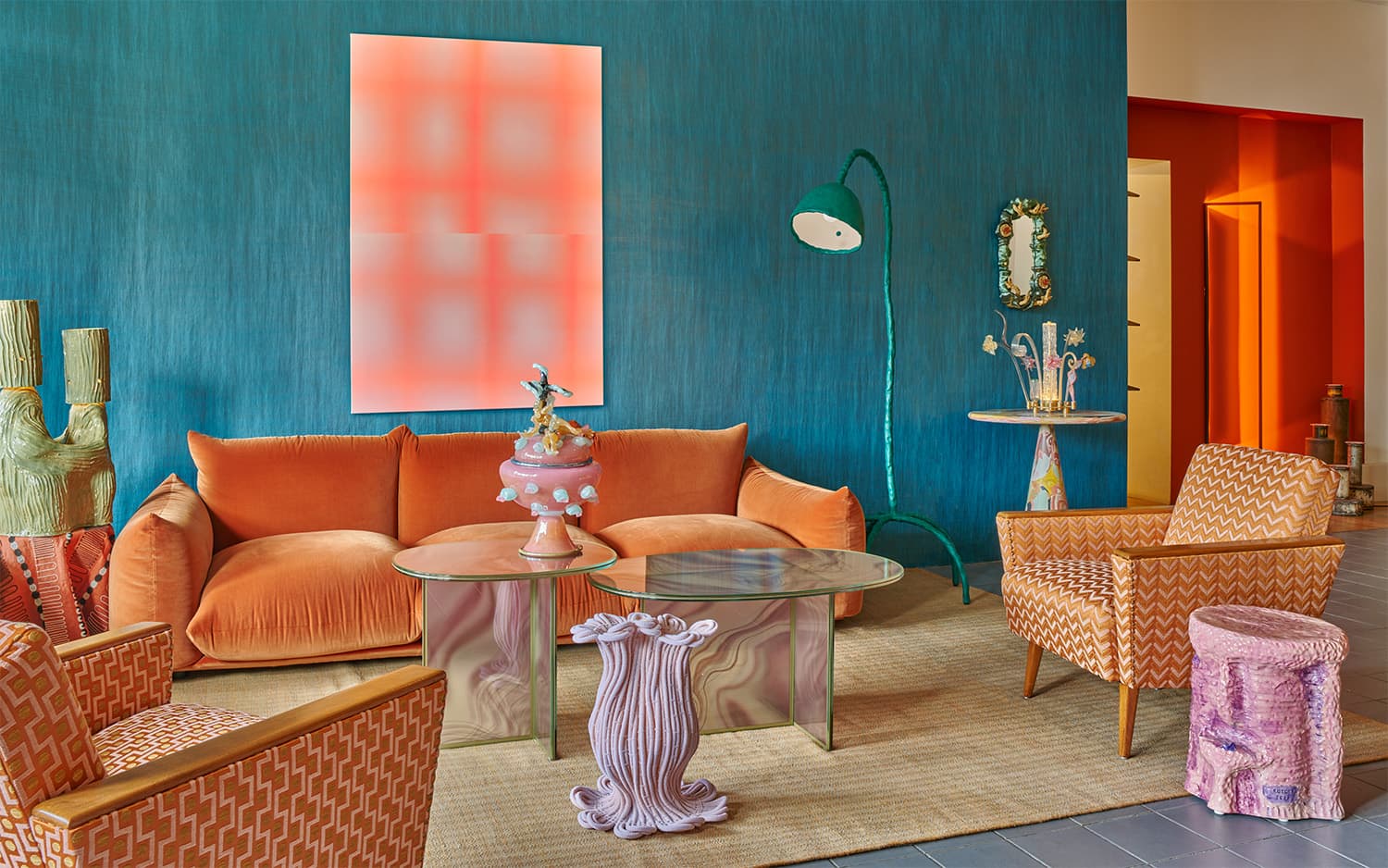 FROZEN FOUNTAIN
Prinsengracht 645
Featuring new and mid-20th century modern furniture and home accessories, Frozen Fountain showcases the best of Amsterdam's vibrant aesthetic. Never shying away from bold colors and unusual shapes, the store pushes the boundaries of design to new heights.
Open Tuesday – Saturday, frozenfountain.com
CARMEN
Keizersgracht 600
Fusing fashion, home, and a pop-up dining club, Carmen is the ultimate cool-kid shop in Amsterdam, boasting collaborations with brands like Tekla and an in-house apparel line. There's even a small guest room for rent if you want to really immerse yourself in the brand's chicly minimalist design aesthetic. You'll return home a new person—inside and out.
Open Tuesday – Sunday, carmenamsterdam.com
---
SEE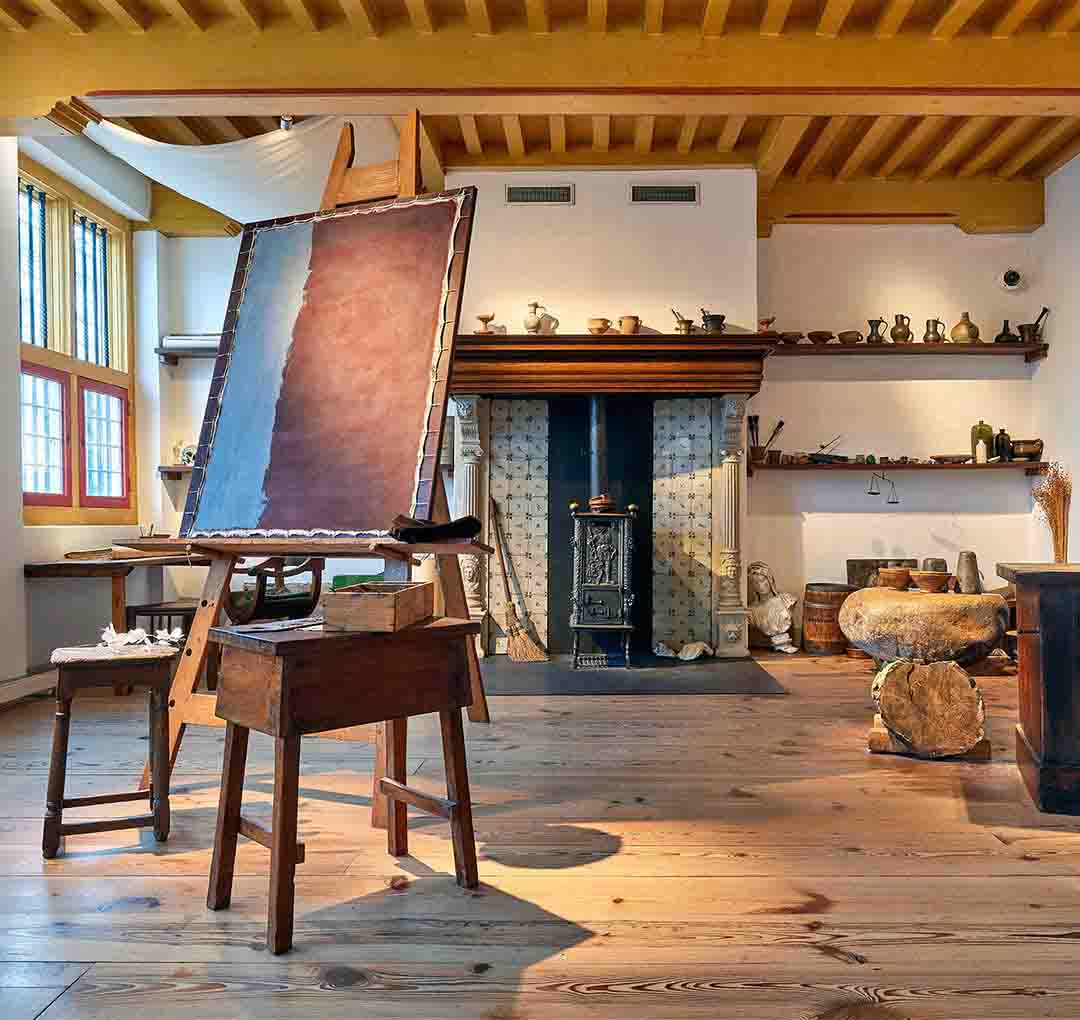 REMBRANDTHUIS
Jodenbreestraat 4
A beautifully preserved example of 15th century Dutch architecture and design, the house and studio once occupied by one of the most famous Dutch artists, Rembrandt van Rijn, is the perfect destination for experiencing what it was like to live in a wealthy Dutch home during one of the country's most prosperous era.
Open daily, rembrandthuis.nl
MUSEUM VAN LOON
Keizersgracht 672
Beautifully preserved interiors draw design aficionados to this historic museum on the Keizersgracht canal. Originally built in 1672, the house was purchased in the late 19th century by the prominent Van Loon family—descendants of one of the founders of the Dutch East India Company—and decorated in the high style of the era. Inside, you'll find grand drawing rooms and bed chambers filled with family portraits and heirlooms; downstairs, the former servants' hall and kitchen features stunning Dutch tilework, china collections, and more. Make sure to head out back to see the formal gardens and carriage house.
Open daily, museumvanloon.nl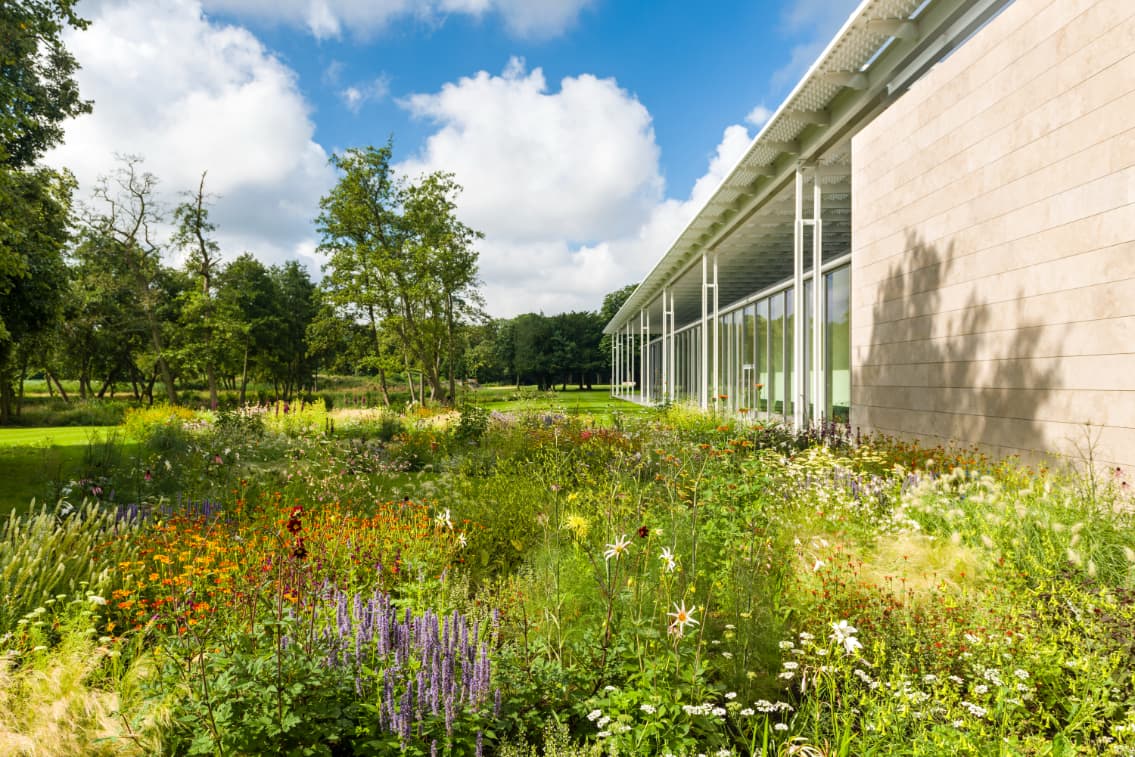 VOORLINDEN
Buurtweg 90, Wassenaar
Surrounded by impressionistic perennial gardens by famed landscape artist Piet Oudolf, the museum is the perfect weekend destination. Engaging installations fill the maze of galleries with permanent and temporary exhibitions featuring some of the greatest artists of the 20th and 21st century such as Edith Dekyndt, Man Ray, Alex Katz, and Richard Serra. Have a beer or lemonade in the garden afterwards while admiring the architecture and sculpture garden.
Open daily, voorlinden.nl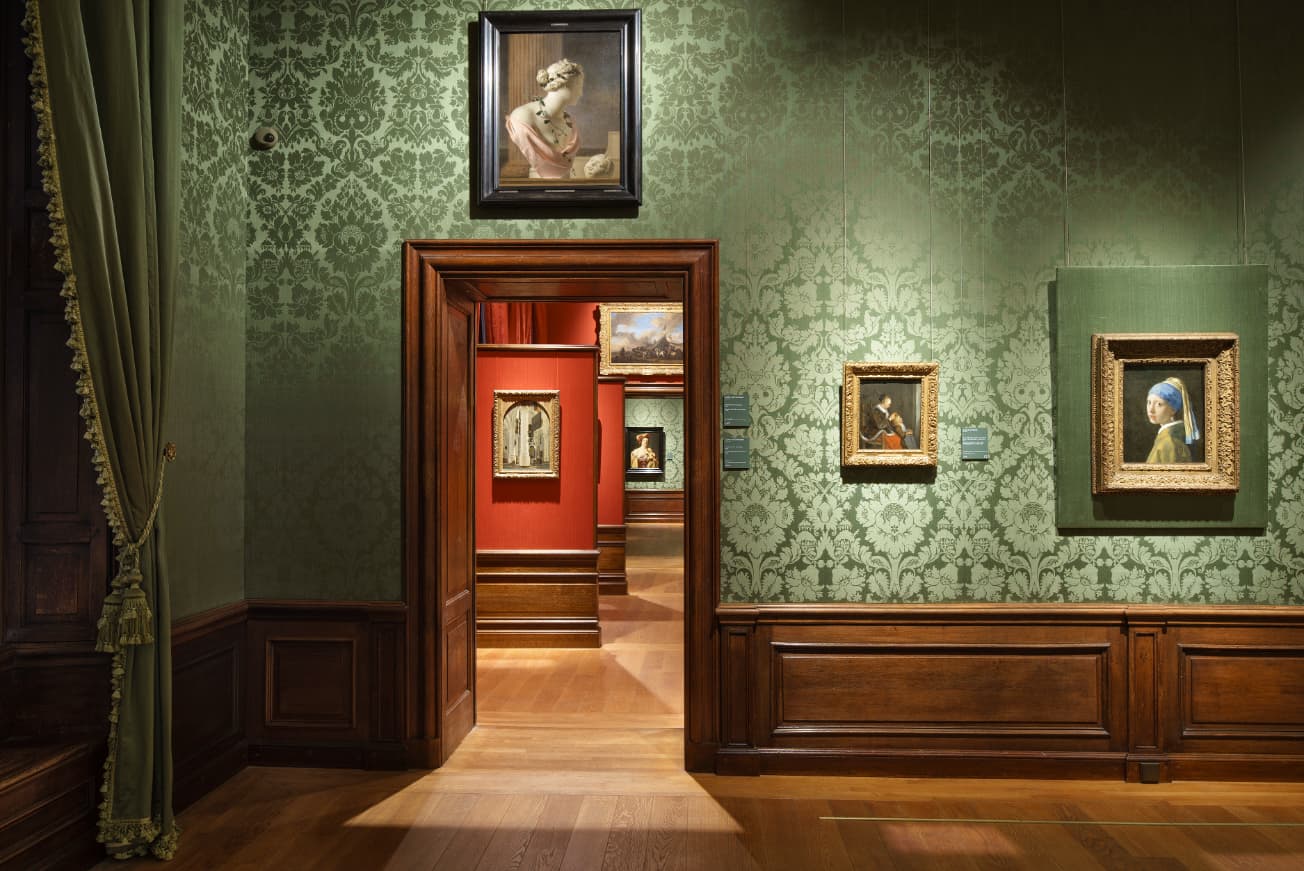 MAURITSHUIS

Plein 29, The Hague
Only a train ride from Amsterdam Central Station, The Girl with a Pearl Earring by Vermeer sits in  a jewel of a museum: Mauritshuis. Once home to a wealthy merchant, it holds an astonishingly large collection of 17th-century Dutch art. Situated next to the King's Cabinet, the museum is full of breathtaking interiors and quirky hidden gems such as forearm-shaped, candlestick-holding sconces in the main dance hall. They have to be seen to be believed.
Open daily, mauritshuis.nl
---
EAT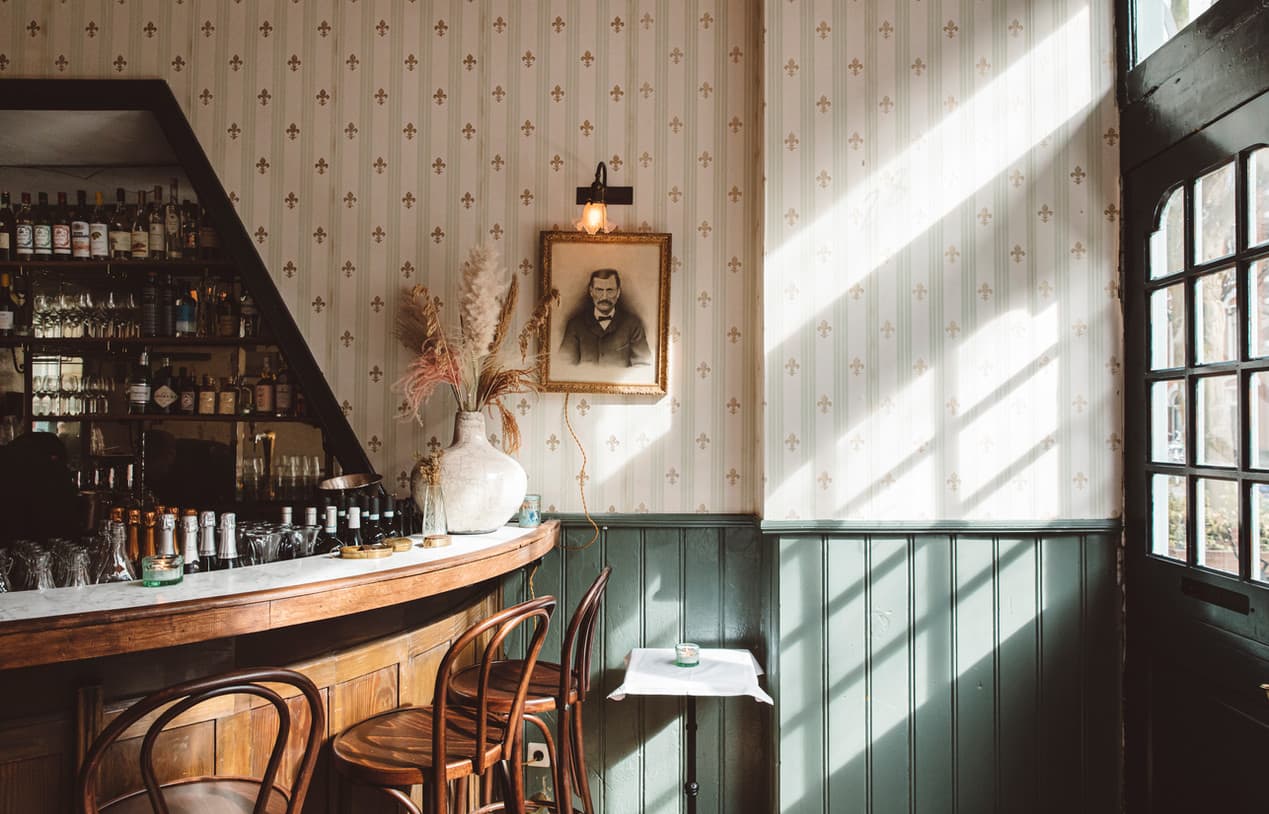 GERTRUDE
Bosboom Toussaintstraat 28-H

This hip spot in a quiet neighborhood near Vondelpark is the place to be any night of the week. Focusing on traditional northern European bistro fair, it's experimental without being precious, and the extensive wine list is worth the visit alone. We recommend the chef's tasting menu, finished off with a glass of dessert wine and their Dutch-style bread pudding.
Open daily, gertrudeamsterdam.nl
MARIE
Nieuwe Doelenstraat 2-14
Situated within the iconic Hotel De L'Europe, this is not your typical hotel restaurant. Marie a culinary delight in an expertly designed space with impeccable service, to say the least. Do not miss the millefeuille à partager (Hazelnut praline): It feeds two, but order it even if no one offers to share it with you—when it arrives, everyone will want a bite.
Open daily, marieamsterdam.com
DE MARK
Durgerdammerdijk 73
About 20 minutes from the center of the city is a little coastal town where the roads turn to gravel and sand and the locals have small seasonal cottages facing the water. Almost lost among the little houses sits the recently restored restaurant De Mark. On nicer days, you can sit on their dock at the water's edge and feast on expertly crafted dishes made with local ingredients. Every bite is sensational and the restored 17th century house is stylish without being fussy.
Open daily, restaurantdemark.com
---
STAY
HOTEL DE L'EUROPE
Nieuwe Doelenstraat 2-14
In the heart of Amsterdam is the stunning Hotel De L'Europe. While the hotel may be young compared to its neighbors, it is a fixture and champion for art and design from Amsterdam. The arresting façade and fabulously elegant interiors are a design-lover's dream. Dive into their expansive library or treat yourself at their spa before having an afternoon coffee overlooking the canal.
For rates and availability, visit deleurope.com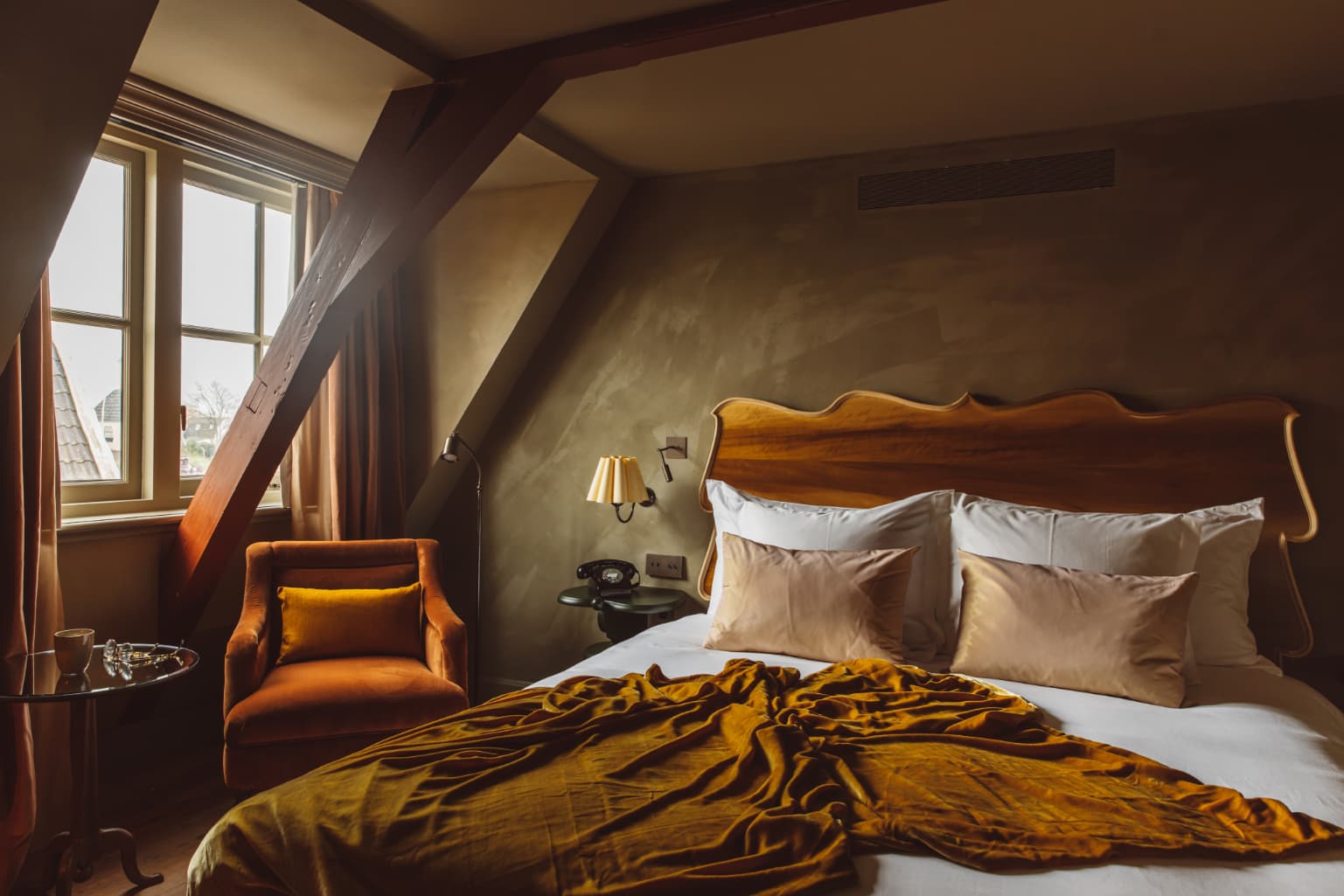 DE DURGERDAM
Durgerdammerdijk 73
Behind De Mark is a little inn with rooms overlooking the water and a sweet garden terrace. Go for long meandering walks along the shore and take in the sweet air before a gourmet breakfast and a little boat cruise or tuck into one of their many reading nooks with a book and a glass of wine.
For rates and availability, visit dedurgerdam.com