Driving by this regally understated Federal-style pile in Atlanta's Buckhead neighborhood, its slate-and-brick façade frosted with tightly clipped topiary and fairy-tale dormer windows, you'd never suspect that it was built nearly a century after its 1920s-era neighbors. You'd also never guess at the artful tug-of-wars unspooling within—between modernity and tradition, the sophisticated and plainspoken, the timeless and contemporary—that encapsulate an insouciantly uncategorizable way we want to live today.
"We set out to design a new house that felt comfortable and approachable," says locally based architect D. Stanley Dixon of the residence, featured in his forthcoming monograph, Home: The Residential Architecture of D. Stanley Dixon (Rizzoli). "It had to strike a balance between elegant and casual and couldn't feel pretentious or overbearing." Interior designer Carolyn Malone, his collaborator and a fellow Atlantan, puts it colorfully: "We laughed about it being 'humble Regency.'" That's an evocative way to describe a house that unfolds with idiosyncrasy, where soaring public spaces like the foyer and living room—replete with Swiss meringue-like millwork and pedimented doorways—yield to unflashy private environs, like a cosseting kitchen with unadorned plaster walls, exposed whitewashed brick, and weathered stone floors. Their lodestar for all this character? Discerning, design-savvy clients who entertain with ease and have a strong point of view.
"It's a family with a collection of heirlooms that they wanted to recast in a young, fresh, and unpretentious way," says Dixon. "Their sensibilities lean more modern, but they have an emotional tie to family pieces and were seeking a way to blend them together." Key to making that mix feel inevitable was a reliance on time-honored materials and craftsmanship. "We used reclaimed brick and painted it for a sense of authenticity and age," says Dixon. Thin 1920s-style muntins on the doors and windows and unlacquered brass hardware help create the illusion of an abode with a past that evolved over time, as does the kitchen, "inspired by a classic Southern kitchen house or mews completely stripped of any formality," says the architect. Adds Malone, "It's meant to look as though the room was filled in around original exterior walls. There are honed marble counters that resemble old slabs for baking, transoms that open for ventilation, and a small raised fireplace that is constantly in use." In other words, comfy-cozy central.
But even the grand spaces aren't entirely grand. "The entryway, living room, and dining room are sophisticated," says Dixon, "but there are subtle hints that knock them down," like wide-plank floorboards and boarded ceilings, which counteract pediments and dentil moldings. The foyer is dominated by a sweeping staircase that in less subtle hands might have showboated a little. But Dixon keeps its scale down to earth, and he and Malone speak of its pickets with the pride of parents; they had them hand cast in bronze to mimic branches of bamboo. "It mines that space between high and low that we wanted to be in," says Dixon.
Malone's decorating drives the point home with relaxed, barefoot-chic refinement. There is the carefully calibrated palette, mostly limited to black and white, but rendered in a tantalizing array of textures and patterns. In the living room, cushy armchairs and a ruffled custom banquette are covered in Schumacher's iconic Pyne Hollyhock chintz—read: homey and stylish. "In the late afternoon, the light falls across the room in gleaming chunks that are mesmerizing," says Malone. To help counter the low-key grandeur of the staircase, the landing got a sleek black marble pedestal table, vintage Baumann chairs, and a vivid Jonathan Sobol painting. In the dining room, a rustic embroidered Carolina Irving tablecloth and graphic striped custom rug somehow unify—and electrify—an antique dining table with a mismatched collection of chairs inherited from the wife's grandmother.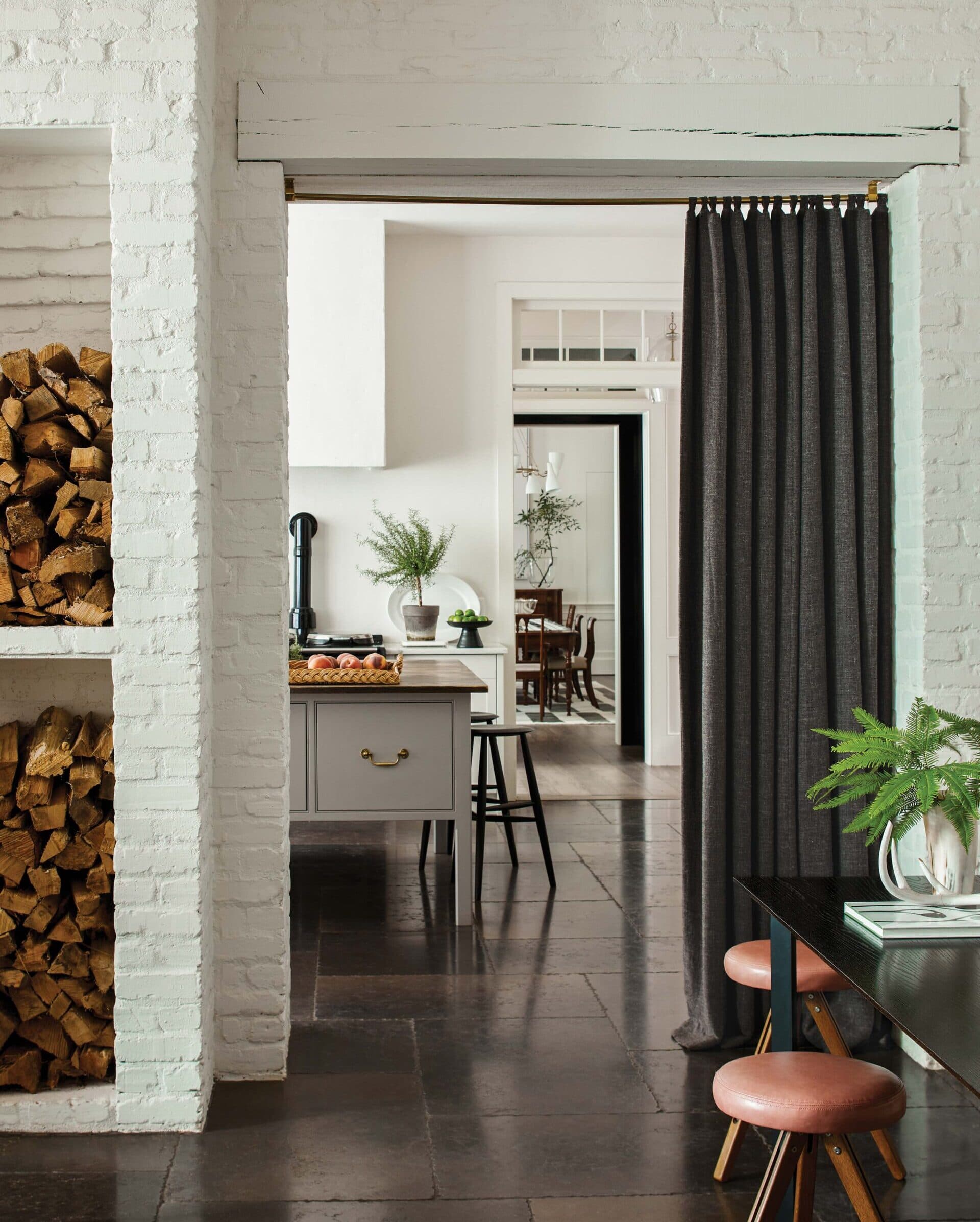 The strict scheme diverges in the primary bedroom, a sea of greiges and shell pinks, and more dramatically in the jewel-box butler's pantry, a dream come true for a dedicated hostess with an arsenal of Spode and Limoges. "She has so much heirloom china that she really uses," says Malone. "So we celebrated that with a dish closet hidden behind secret doors in the dining room." It's both architect's and designer's favorite space, a concise rendering of their alchemy of old and new, form and function. "These clients live, work, entertain and inhabit every inch of this house," says Dixon. Adds Malone, "We were telling a story, and they made us want to create something classically beautiful."