The worlds of Buckingham Palace and the White House collide in Red, White & Royal Blue, the buzzed-about new rom-com on Prime Video. Based on author Casey McQuiston's best-selling novel of the same name, it's a classic "rivals turned lovers" story with a modern twist: The son of the American president meets and falls for Britain's Prince Henry.
A study in diplomatic design, production designer Miren Marañón envisioned a tale of two contrasting cities (with a bit of Texas thrown in for good measure). "Washington, D.C. was about architecture, and we looked at hundreds of books," says the designer who recently created Taylor Swift's "I Can See You" music video. "We wanted a more bolder, more modern, and a bit more adventurous kind of aesthetic," she says. "For the United Kingdom, it was much more understood what we were looking for, and we wanted to show more traditional colors and do something more complex." The color palette was representative of the locations as well: In addition to the titular reds, whites, and royal blues, the White House–set scenes feature tones of burgundy and burnt orange (paying homage to the President's home state of Texas), while the U.K. palette incorporates more greens.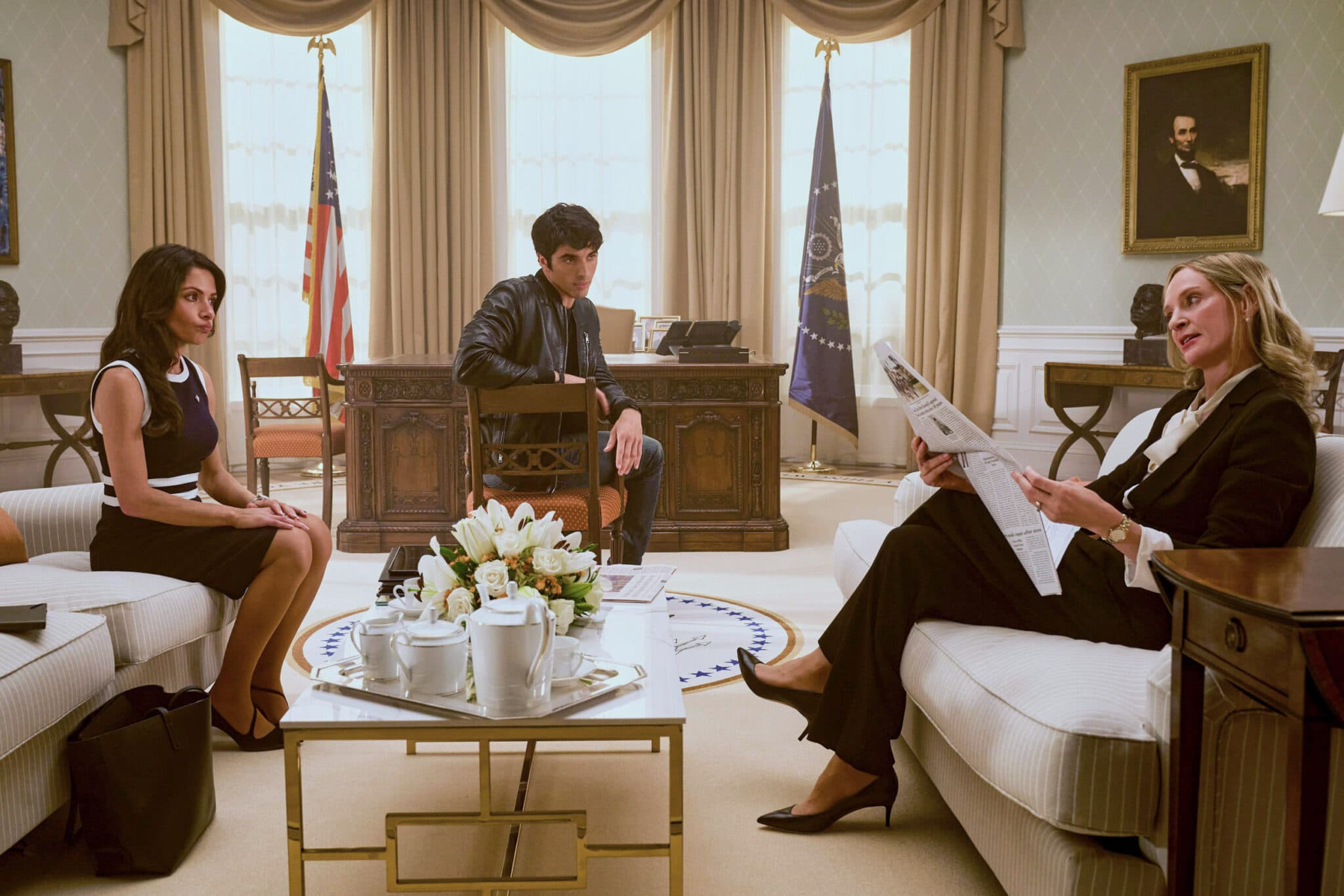 Since filming at the actual White House or Buckingham and Kensington Palaces was clearly out of the question, the production team had to recreate their interiors at a mix of locations and soundstages throughout England. For Marañón, the opportunity to design an Oval Office and Executive Residence for the first female Commander-in-Chief (played by Uma Thurman), Ellen Claremont, was enticing. "We wanted to make it cleaner and more modern, but also softer for a southern woman who likes colors and certain shapes," notes Marañón, who studied photos of White House decor from every administration as well as images of the Oval Office from TV shows and movies. "In the story, she gets to where she is by being honest and direct with the public, and I wanted to portray that in the designs." Sculptures of women ranging from Lady Liberty to a Valkyrie warrior are also displayed in the office, along with the iconic Resolute desk.
Great production design gives the attentive viewer many clues into the characters' inner lives. When it came to designing First Son Alex Claremont-Diaz's (Taylor Zhaker-Perez) room, Marañón took the advice of the film's director Matthew López, who told her to "imagine they are renting for four years." Working with set decorator Neil Floyd, that translated into a youthful, modern space filled with contemporary furnishings and a painting that says "cielo y tierra," a nod to his Mexican roots. "Alex makes his room his own. It's designed for the person he is now," Marañón details.
In contrast, Prince Henry (Nicholas Galitzine) resides in his ancestral home of Kensington Palace. "Since birth, Henry—also known as the "spare to the throne"—"knows what he wants to be and what he can and cannot do," says the designer.  "Kensington Palace is all about creating the sense that every book and painting has been there for hundreds of years untouched. Everything is kept beautifully, and you are not allowed to move it." For Henry's room, the designers opted for a muted mossy green wallcovering as the backdrop, with a landscape painting by British artist John Constable hanging over the bed.
The film's production design extended beyond creating stately offices, damask-and-gilt drawing rooms, and manicured English topiary gardens: In one of the film's opening scenes, the feuding soon-to-be lovers find themselves the subjects of tabloid speculation when an altercation results in a giant wedding cake crashing to the floor. "We created at least 15 versions of a fake cake made of latex, along with buckets and buckets of buttercream and soft materials that resembled the cake's interior," explains Marañón. "At at the end, Matthew [López] and I were splashing frosting on all the actors!"