First, a few facts about the world's most famous doll:
Barbie was born on March 9, 1959, at the eternal age of 19. Since then, her creator, Mattel, has sold over one billion dolls. Ever a career woman, Barbie has worked in over 250 professions ranging from surgeon to firefighter to journalist, and even made a run for the presidency. The blonde icon has proved so valuable that an original 1959 Barbie is worth more than $25,000 today. And now, Barbie is also the subject of one of the highest-grossing movies of the year.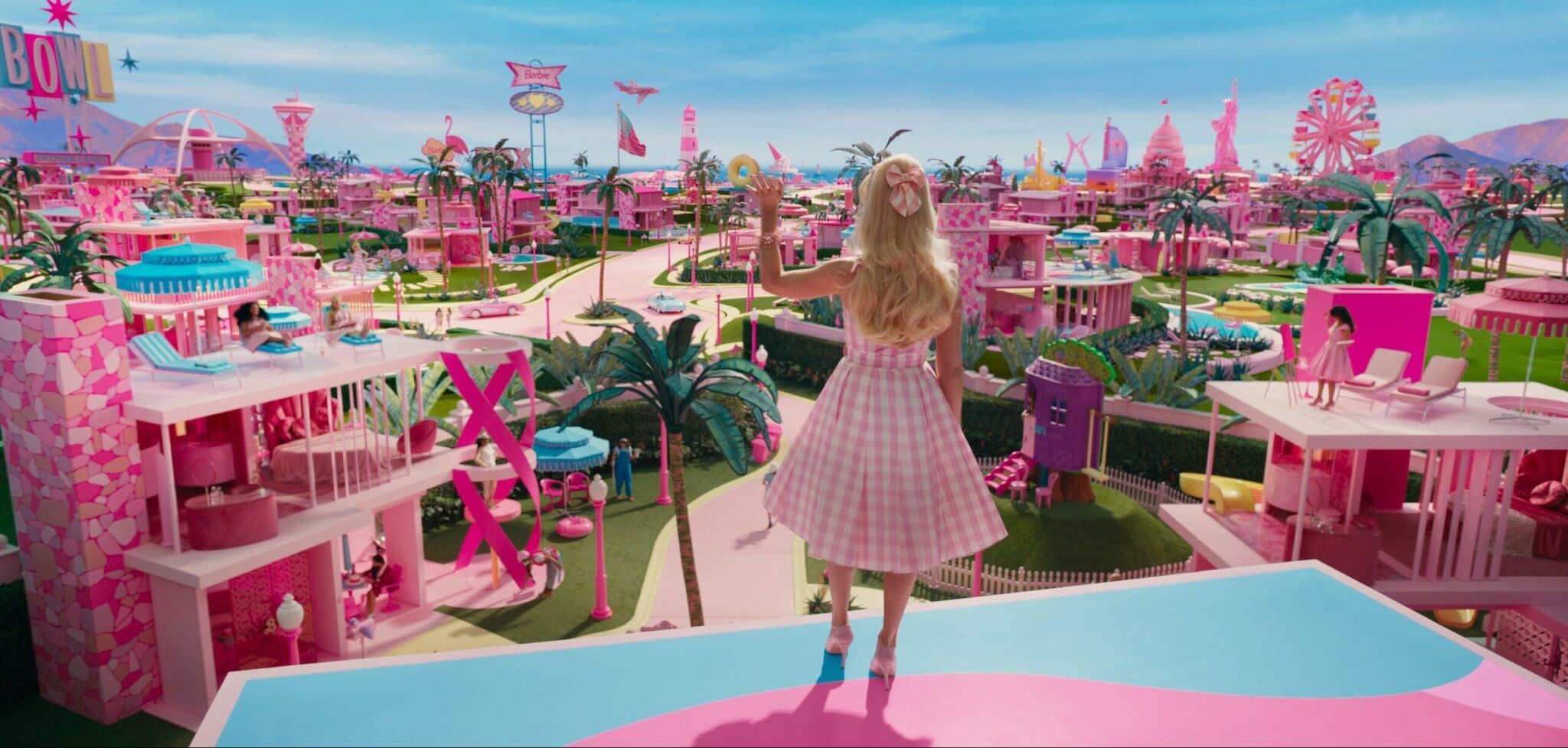 Barbie's protagonist—known as "Stereotypical Barbie"—is played by actress Margot Robbie (of I, Tonya and Once Upon a Time in Hollywood fame), with Ryan Gosling co-starring as boy-pal sidekick Ken along with dozens more Barbies and Kens. (There is even a pregnant Midge and Ken's short-lived buddy, Allan.) Set in the colorful toy-box world of Barbieland, it's the ultimate girly-girl fantasy—a mix of Golden Age Hollywood glamour, whimsical midcentury modern, '70s disco dream sequences, and plenty of '80s neon.
While director and co-writer Greta Gerwig came into the project already a Barbie fan, the film's U.K.-based production designer Sarah Greenwood and set decorator Katie Spencer (who have shared six Oscar nominations for their period-perfect sets of movies like Anna Karenina and Pride and Prejudice) were less familiar: Neither had owned the doll (or her British counterpart, Cindy) growing up. So before starting on production, the team kicked things off with a visit to Mattel headquarters in El Segundo, California, for a Barbie Bootcamp. After touring her vast wardrobe and Dreamhouse, they established the rules for a world where the Barbies live in a gated community set against a backdrop of hand-painted palm trees and vividly colored mountains.
When it came to bringing Barbieland to life, the filmmakers relied on practical effects instead of CGI whenever possible to help create a sense of "authentic artificiality," a term coined by Gerwig. "Our [previous] work is very layered, all about patinas, aging, and darkness, and this was just the opposite," says Greenwood, whose most recent Oscar nomination was for 2018's Darkest Hour. The Barbie Dreamhouses, just like their real-life plastic counterparts, have no walls or staircases (Barbie simply "floats" from floor to floor, as if carried by an unseen hand), and the proportions are purposely off: "What makes it fun is the scale—we reduced the size of the houses and the cars by 23 percent to create the feeling of them being toys," explains Greenwood. "We also made a few of the props larger, like her hairbrush and toothbrush."
If the cul-de-sacs of Barbieland look familiar, that might be because the set—built on a soundstage outside of London—was heavily influenced by the midcentury desert oasis of Palm Springs. The houses' candy-colored flat roofs and open floor plans evoke Richard Neutra's famous (also prominently featured in last year's Don't Worry Darling), and the picture-perfect vignettes of everyday life seem to be pulled straight from a Slim Aarons photo. There are plenty of nods to Golden Age Hollywood, too, evident not only in Barbie's myriad choreographed song-and-dance numbers but also a (water-free) swimming pool inspired by the iconic Hollywood Roosevelt Hotel. Avid filmgoers will also note visual references to movies from 2001: A Space Odyssey to Pee Wee's Big Adventure to The Wizard of Oz.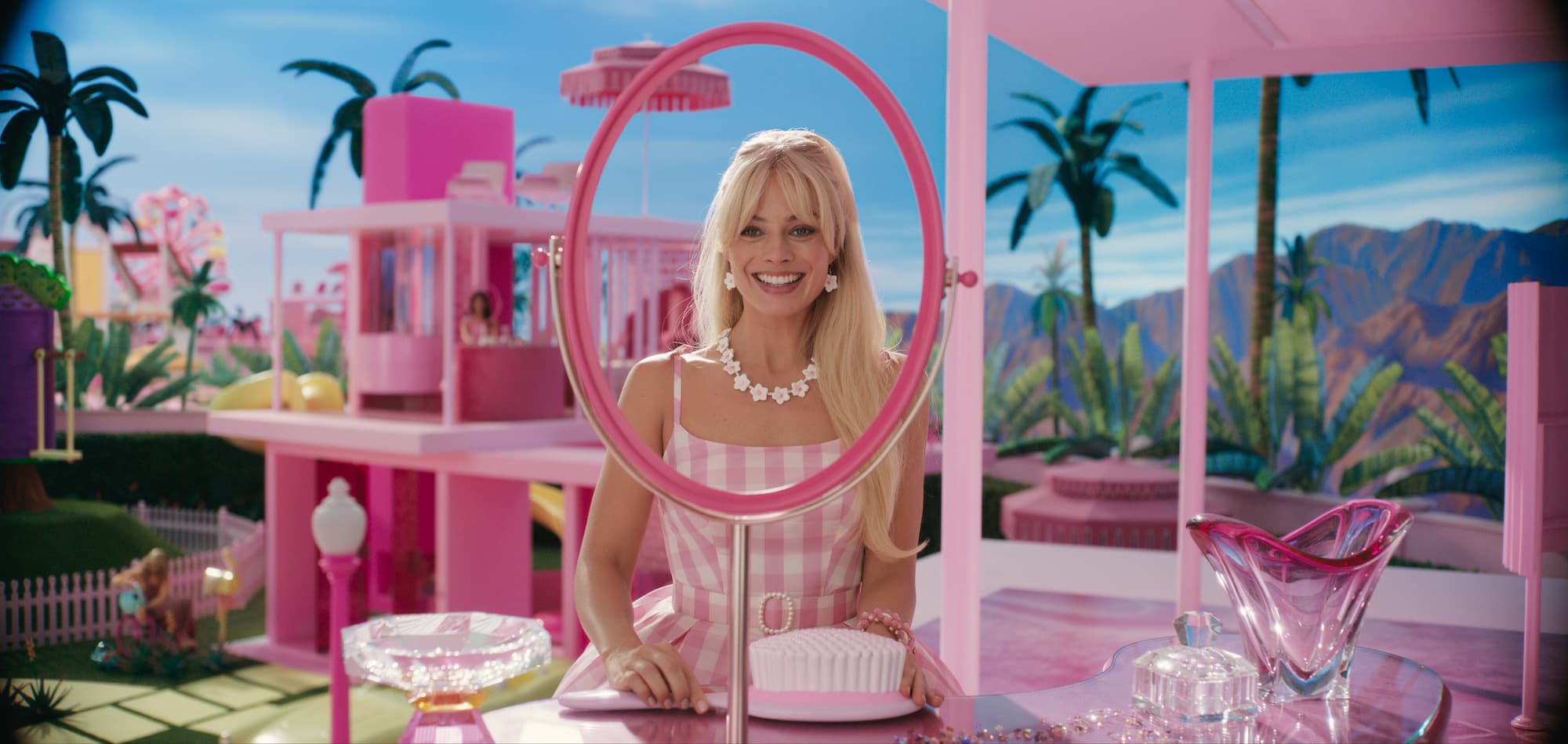 And then there's the sheer pink of it all. "It was all about pink, pink, pink," says Greenwood. "We literally started with hundreds of shades and whittled them down to a dozen key pinks that we used across the board for set decor, costumes, props, and vehicles." (In case you missed the headlines, the production required so much pink paint that it exhausted the global inventory of its supplier, Rosco.) Buzz around the film's release—aided by the inescapable marketing campaign around it—has exploded far beyond the confines of the screen, igniting a pink-drenched "Barbiecore" moment that's swept the worlds of fashion, beauty, and yes, interior design. (For proof, look no further than decorator Sasha Bikoff's room at the 2023 Kips Bay Decorator Show House, a Y2K fantasy of bows, pastels, and plenty of sparkle.)
Even Greenwood has found herself a convert to the Barbie way of life: She recently repainted her bedroom—you guessed it—pink.