In our ongoing series Screening Room, we go behind the scenes with the uber-talented production designers and set decorators of today's most visually alluring TV shows and movies for a deep dive on how they whipped up such indelible backdrops. This week: Beth Rubino, the design mastermind behind the soft, dreamy and exquisitely detailed interiors of the beloved Nancy Meyers films It's Complicated and Something's Gotta Give.
• • •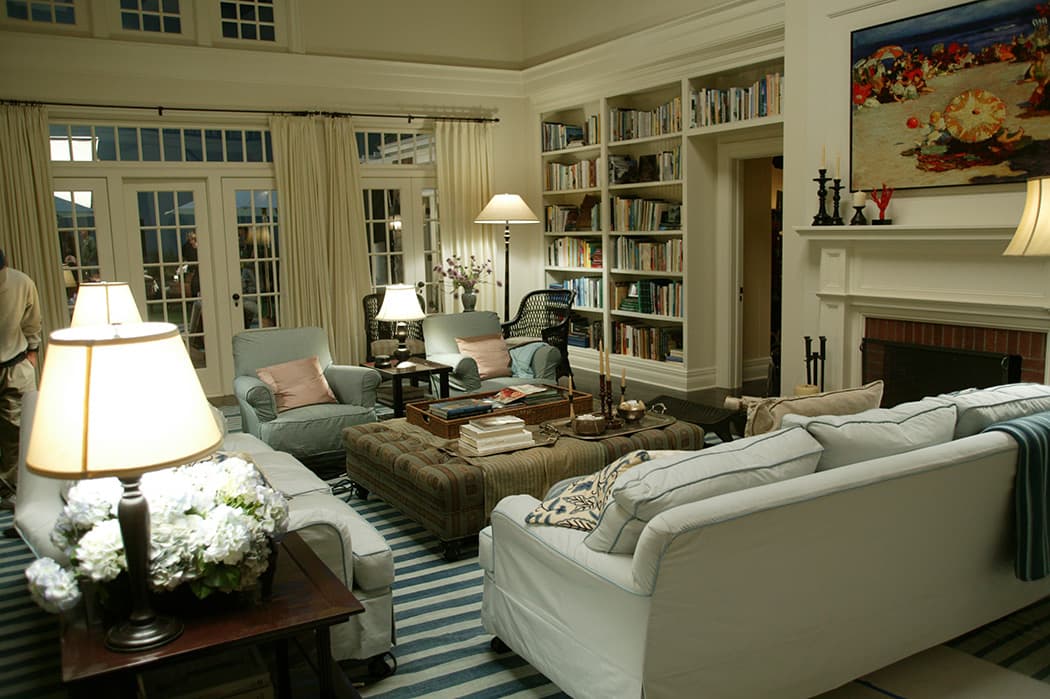 Ask Beth Rubino what she does, and she'll tell you: she's a method designer. "Just like a method actor, I have to build a back story to be able to create the environment [on a movie]," says Los Angeles-based Rubino—an approach that's served her well enough to snare two Academy Award nominations (for 1999's Cider House Rules and 2007's American Gangster). The decorator's onscreen career so far has been eclectic: It was her vision that established the palette of the pilot of American Horror Story; currently, she's busy creating a world for Queen Latifah's Robyn McCall to inhabit in the remake of The Equalizer. Beth might be best known, though, for her enduring movie partnership with director Nancy Meyers. The pair has collaborated on several movies, notably It's Complicated and Something's Gotta Give, and even on a real-life home that Meyers wanted to remodel before selling.
Mention a Nancy Meyers movie, and its aesthetic is instantly conjured up. "Other writers write to the characters moving through a space, but her characters live in the environment, and spend extended periods of time in them. She's a visual storyteller," notes Rubino. Meyers differs from many directors, Rubino stresses, in that she treats the built environment as if it were another character in the script. Indeed, often her movies unspool like plays, in a consistent but small number of locations—think the hour or so of Something's Gotta Give where the story roams between just five rooms. Such attention to detail has been a hallmark for Meyers since her very first movie, 1980's Private Benjamin. The rookie writer-producer squabbled with the set designer, who'd decorated the teenage bedroom of Goldie Hawn's Jewish-American princess character with WASPy shots of her playing hockey; the photos were eventually removed.
Together, Meyers and Rubino have created a crave-worthy world, and one that's distinctly all-American—plush neutral fabrics, the set designer notes pointedly, rather than prints and patterns that would more readily suggest the fussier approach of Europe or Britain. Theirs is a red-wine-free world, where sandy taupes and ecrus dominate; the palette redolent of most private jets, another way to evoke the wealth of the Meyers milieux. However rich, though, these rooms and homes are determinedly casual—and intentionally so. "The appreciation of beauty in the worlds she's created never feels forced, so it doesn't wake you out of what you're watching," Rubino explains.
The pair's first project together was Something's Gotta Give in 2003. Although the exterior was a home on Long Island— Rubino calls it a "visual barometer" for the movie—the team had to create a Hamptons house from scratch. Locals in such tony enclaves are often leery of renting to movie productions, so Rubino evoked the East End on a soundstage in Culver City, California, deploying some signature method touches. "We had all the actors come through a few days before principal shooting started, and I had put a little bit of sand on the mats and sprayed sun tan lotion through the house, so everyone was immediately transported," she says, "The house was so encompassing, and suddenly you had the familiar smells of being by the beach."
Look closely at the design of the home, and you'll notice subtle details that underscore that Diane Keaton's character—a successful, divorced playwright—has built a home catering solely to her own needs: no double sinks in the bathroom, for example. Rubino also tapped New York's Strand bookstore's movie and TV book-rental service service for 3,000 titles to decorate different rooms, theming them carefully: the books in Keaton's bedroom, for instance, are all reference, kept close at hand by the desk where she works.
Books were also key to Rubino's work on It's Complicated, the 2009 film headlined by Meryl Streep about a Santa Barbara-based bakery owner. The set designer spoke with a real life baker in New York's West Village and was startled to hear that she didn't stack her shelves with recipe Bibles. "She was an avid crossword puzzle fanatic, because she needed the absolute opposite of working with her hands. That blew me away."
Look closely at the equipment in Streep's onscreen kitchen, too: fittingly, for someone with a career in the kitchen, it's patinated and elegantly worn. Rubino picked up what she could from antique stores and eBay—a cured cast iron pan, an old copper pot perhaps—but she sometimes had to rely on the scenics to assist. "If a pan was going to be cooked in, they'd use glycerine on it, browning it, cooking with it, and scorching it that way," she says, noting that this made it safe for Streep and her costars to eat anything cooked in the pan. The kitchen is central to the plot, of course, where Streep's character is undertaking a pricey remodel and Rubino was tasked with creating a room that viewers would understand as needing an upgrade. "I put a real density of goods in the kitchen, just to sort of help the narrative that she needed a bigger place, but Nancy came in and had me edit out 10 to 15 percent of the clutter. She had a different barometer of that."
A good thing, too, as viewers freeze-frame to pore over every detail of those rooms. "I get emails saying 'I love the egg holder in the refrigerator, and I've been looking for one like that for 15 years—where did you get it?'," she laughs. "I have worked on a lot of projects and that has only happened with Nancy's films—analyzing, looking at every detail."