Alittle bit preppy, a lot punk rock, the dandy is subversive self-fashioning at its finest—think Marlene Dietrich's top hat and tuxedo, Oscar Wilde's cheeky knee-breeches, prince's fastidious cravats. From opera buffa to surrealism and beyond, this arch and knowing mode of gender-bending—prim yet provocative, flamboyantly restrained—has inspired artists across time, and remains a radical invitation open to anyone who cares to delight in its pleasures.
---
DECORATE
Buttoned-up stripes and graphic motifs get a Mad Hatter–worthy makeover in bold, unexpected hues. A common color thread and liberal doses of pitch black keeps the circus-like palette in check; the simple brown Parsons console brings eclectic antiques back down to earth.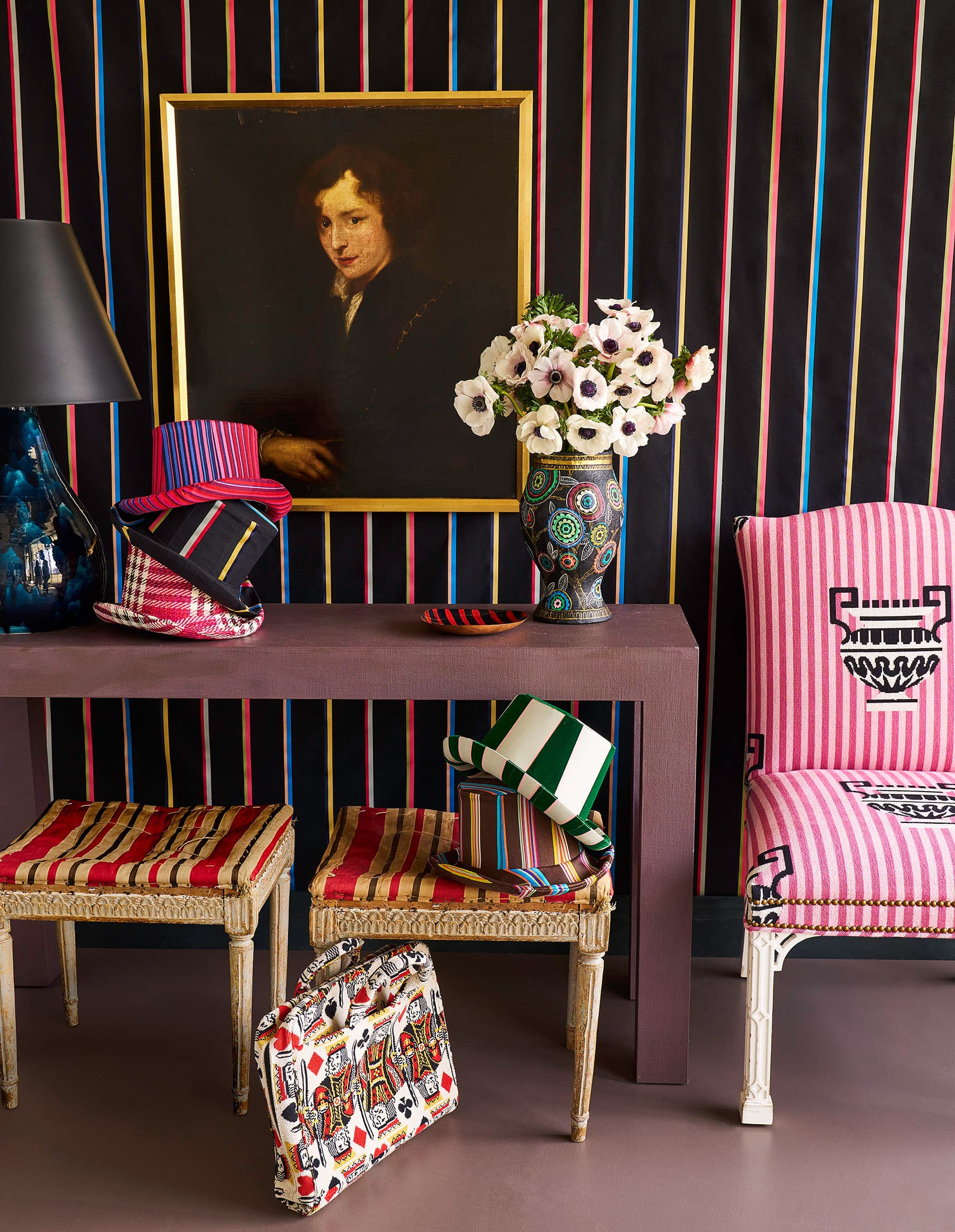 ---
SHOP
When it comes to bringing their swinging sensibility into the home, the domestic dandy turns the volume down a notch by injecting stripes and plaids in small doses or neutralizing bright colors with drab backgrounds. Bonus points for motifs that wink at the dilettante's favorite vices—cards, anyone?
---
STAY
For more than 50 years, dapper gents and ladies have flocked to Paul Smith for his oh-so-British spin on classic tailoring with a dash of groovy style. This year, he adds his signature stripes to a new canvas with the debut of the Sir Paul Smith Suite at Brown's Hotel in London, decorated in collaboration with Rocco Forte Hotels' Director of Design, Olga Polizzi. We like to think that onetime Brown's resident Oscar Wilde would very much approve.
---
WEAR
From New York to London to Milan, designers are reimagining classic menswear staples—tailored suits and outerwear, checks and stripes—on the womenswear runways with eye-catching colors and bold, oversize silhouettes. Think Savile Row with the volume turned way, way up.
---
ACCESSORIZE
Unisex—or simply unilaterally pleasing? The geometric graphics of these covetable leather goods, jumpers, slippers, and more traverse the style spectrum, ranging from conservative to flamboyant while always maintaining a 100 percent rating in the classics department.
---
HALL OF FAME
When Charles Baudelaire decreed in 1863 that dandyism "is first and foremost the burning need to create for oneself a personal originality, bounded only by the limits of the proprieties," he traced this "cult of the self" back to Caesar. Here, a roundup of our favorite envelope-pushing tastemakers from past and present.
Art-world legends Cecil Beaton and David Hockney make it look easy.
Sockless in a suit, interior designer Corey Damen Jenkins shows how it's done.

Oscar Wilde, über-aesthete.

Every day is a black-tie affair for decorator Miles Redd.

On Tilda Swinton, a hot-pink suit leans subversive, not Barbie.

Brit design darling Luke Edward Hall does disheveled debonair.

James Baldwin's personal style rivaled his prose.

Marlene Dietrich brought a gender-bending aesthetic to Hollywood in Morocco.

World of Interiors editor in chief Hamish Bowles perfects the triple-check.

House of Waris founder Waris Ahluwalia is a Wes Anderson favorite.

David Bowie's rock-and-roll androgyny spurred a worldwide sensation.

Creative director Maximilian Hurd's flamboyant style is the talk of the town.

Author and rebel Radclyffe Hall's disregard for traditional gender roles paved the way for many.