Set atop a hill in Atlanta's leafy Buckhead neighborhood, Suzanne Kasler's house looks exactly as one might imagine: stately yet understated, perfectly manicured yet utterly welcoming. The award-winning designer and author of Edited Style transformed the Federal-style fixer-upper, built in the 1930s, into a stunning Georgian-Regency–inspired backdrop for her personal collections of everything from cherished family photos and travel souvenirs to fine art.
While Kasler might be known for her carefully edited interiors, she's also an avid collector—and not just of precious art and antiques. Throughout her home, you'll find everything from an assemblage of miniature Eiffel Towers to stacks of travel books to shelves filled with cards from her daughter. "I think my house has really positive energy, and a lot has to do with the memories," she says. Here are just a few ways that she makes her most personal items feel of a piece with their high-design surroundings.
---
Think Like an Editor
Several years ago, Kasler took the growing fascination with "decluttering" as an opportunity to take stock of her strategy. "I started thinking about how do we edit? It doesn't mean not collecting. It doesn't mean that you are cleaning out everything and having it be minimal," she explains. "It's just how we put those collections together and how we end up displaying our favorite pieces."
Choose a Clean Backdrop
When redecorating her house 10 years ago, Kasler tested a long list of potential paint colors. "I ended up back with Benjamin Moore's White Dove," she says of the cult-favorite shade. "White paint just gives you this background that everything can be layered on."
Dedicate Specific Surfaces
A marble table found at the Paris flea market holds an assortment of treasures in Kasler's living room. "I love putting a library table in a living room because then you can put all of your collections in any kind of composition that you find—books and objects and sculptures and paintings.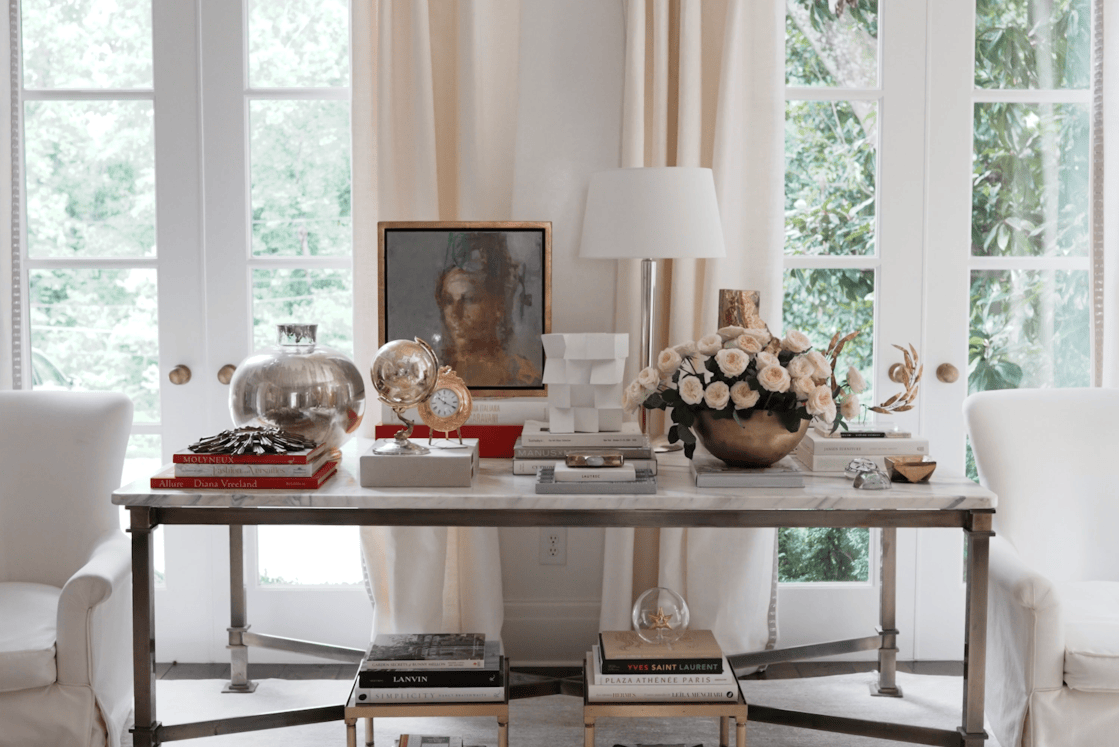 Elevate the Little Things
In the family room, Kasler finds ways to make simple mementos feel extra-special. An invitation that her parents received to the White House is artfully framed; snapshots, postcards, and beads from a family trip to Africa were turned into a pinboard collage. "I love how you can mix in these kind of pieces with modern art just to make it more personal," Kasler says.