Just as the flourish of an Hermès scarf can hide all manner of sartorial sins, patterns can do magic tricks for architecture. Just ask designer Andrew Howard, who turned to their transformative power when he was enlisted to revamp a family's circa-1890 home in Summit, New Jersey. "It's common in old houses like this one for the walls to follow the roofline," says the Jacksonville, Florida-based designer. "Because so many of the walls were pitched, we couldn't really hang out, so we needed something that stood on its own."
Enter a bevy of statement-making wall treatments: In the attic-turned-playroom, Ottoline wallcovering with French ticking-esque vertical stripes lends the knee-wall space "the illusion of height," Howard says. A child's slant-walled bedroom, swaddled in Beata Heuman's Florentine Flowers wallpaper, is as transportive as any Roald Dahl book. In a tiny powder room, a vibrant Soane Britain floral creates a cozy cocoon.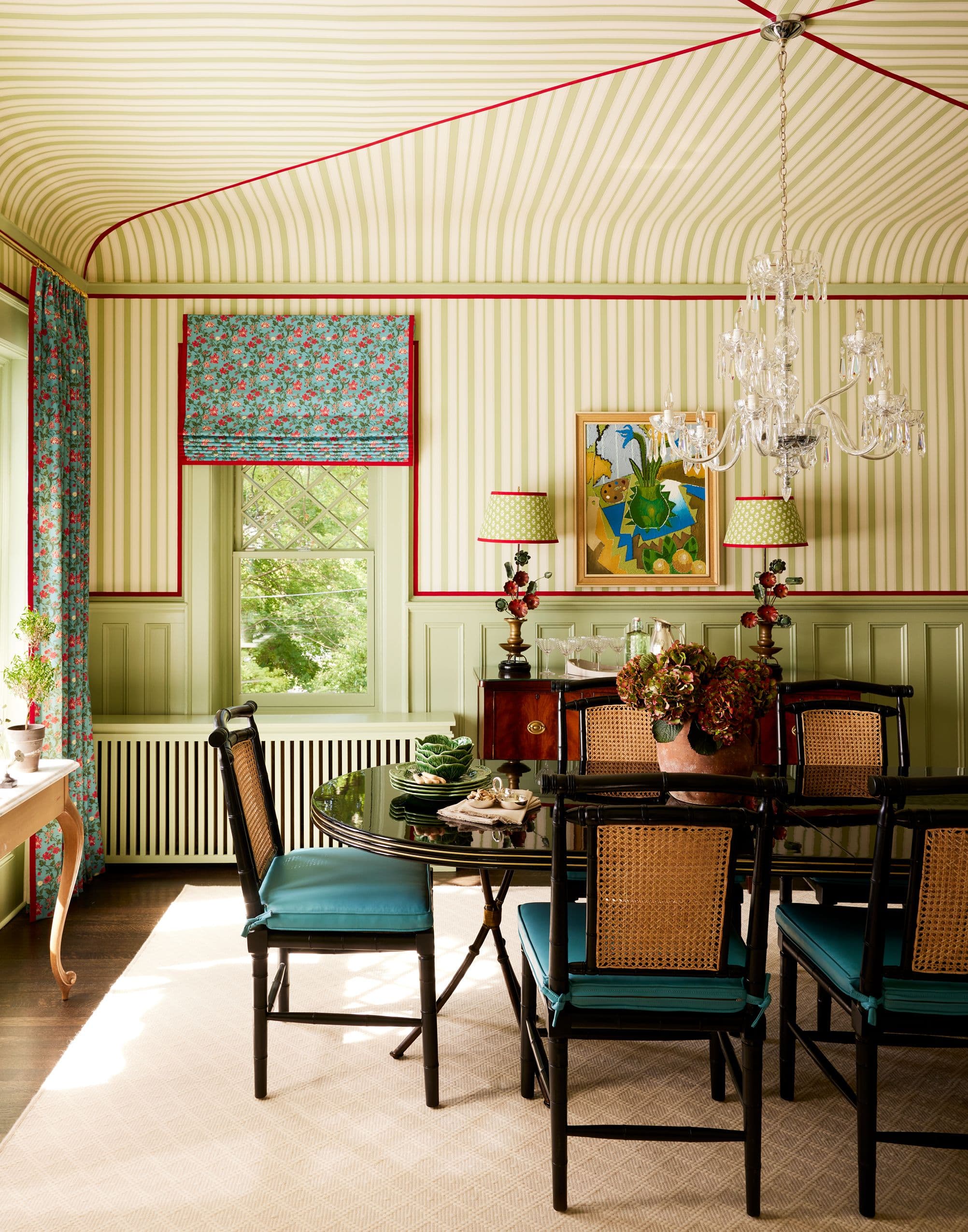 The project's primary approach was to respect "what it was trying to be, the all-American house on the street," says Howard, who worked on the house with designer Lindsey Gerlock Waters, a project manager at his firm. Throughout, the palette of largely reds, whites and blues has a distinct lineage. The client "wanted an old 1920s, 1930s Hamptons, shingle-style, Kennedy-style house."
One of the first questions—a common one in old houses—was "what to paint and what not to paint," Howard says. "This house had a lot of dark stained wood, and we were thinking, 'Do we paint this—and if we do, where do we stop?'" If you, too, have that same sleepless worry, Howard's advice is to go with what you actually want instead of buckling to some imagined guilt trip of previous generations. "I think people get it in their head that they're destroying this wood that has been around forever and it really wasn't all that valuable to begin with. Unless it's really fine, like a zebra wood or something similar, wood is meant to take a finish, and paint is just as much of a finish as a stain." After much back and forth, Howard and Waters ended up swathing almost all the woodwork in unexpected colors, such as Benjamin Moore's Geranium (a soft vermillion) and Weeping Willow (a sage-y grass green).
Their biggest challenge—making it all feel authentic—is one that arises frequently in historic home projects, Howard says. "The worst thing you could do to an old house is put a bunch of new stuff in there," he notes. "So typically, when I take on projects like this, I have a conversation with the clients where I tell them that we have to commit to getting new upholstery and old things, because these old houses that you fill full of new stuff just seem disjointed to me. To make the furnishings feel like they've been in the house for a hundred years is always a balancing act."
They whipped up an entirely new kitchen with that same directive: the feeling that it had always been there. "You don't want to walk into an old house and see a kitchen that feels brand new, especially when the rest of the house feels like it's in the 1800s," Howard says. Key to the look was the Tabarka Maghreb handmade terracotta tile backsplash, Vaughan pendant lights with box-pleat shades, and the leaded-glass cabinet inserts Howard designed "which might be something you would've seen around the turn of the century," he says. In short: pattern makes perfect.