In his very first book New York Interiors (Vendome), renowned photographer Simon Upton takes us on a tour of 29 of his all-time favorite interiors shot over the course of his decades-long career—from Miles Redd's kaleidoscopic masterpiece in the West Village to Lisa Perry's ode to modernism on the Upper East Side to the bucolic country retreat of Jack McCollough and Lazaro Hernandez of Proenza Schouler. In contrast to this new age of post-pandemic maximalism, we were especially drawn to the soothing earth tones and warm minimalism featured in the East Village apartment of designer and Ralph Lauren alum Alfredo Paredes and his young family. In the excerpt below, Paredes describes the moment he fell in love with his light-drenched abode and the inspiration behind his design.
. . .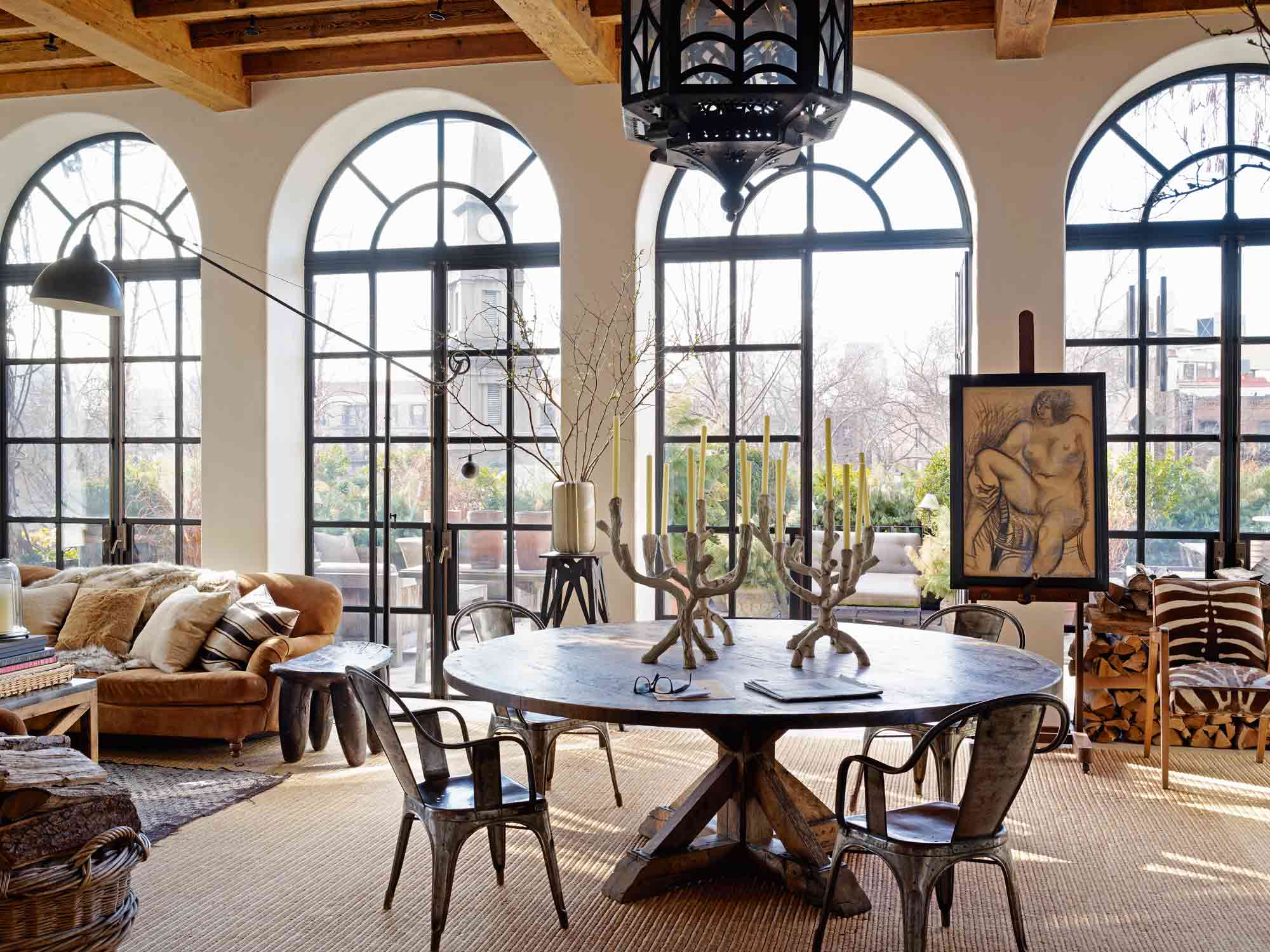 For years, I lived in Tribeca, and though I loved all the old industrial buildings there, it never felt like home. So, after 10 years, I started looking around. I found this place in 2009 and it really captured my imagination. It had been renovated a decade or more earlier and needed lots of work, but there was just something special about the place—I couldn't stop thinking about it. I came to see it four times over several months before making an offer. It wasn't just the 14-foot ceilings, the abundance of natural light, and the large terrace that got me (though they were big selling points). Somehow, I saw a long future here.
It took about 18 months to pull it all together; basically, I took the place down to its concrete shell and started over. While I wanted to create the overall impression that the apartment had existed in its present form forever, much of it is brand new, including the stone staircase, the casement windows, and the distressed oak walls. In other areas we used salvaged materials, such as the fireplace mantel sourced from an old residence on the Upper East Side, and the wood for the beamed ceiling, which came from an old barn, and which we stained a darker color. I worked on the structural side with Michael Neumann Architecture, but the vision for the space is entirely my own, with inspiration from the work of Axel Vervoordt. Given my background at Ralph Lauren, I'm accustomed to creating evocative environments, but this was the first time I'd really been able to do it in a major way for myself and my family.
Even though there are loads of great places to eat in the East Village, almost immediately my husband and I found it more fun to eat at home, inviting friends to gather around the long table on the terrace or the circular table in the parlor. It doesn't hurt that my husband's a great cook! Now that we have two young children, meals have become more of a family affair. We've lived here for more than 10 years and I still love everything about the apartment, and the space inspired me to acquire some of my all-time favorite pieces, like the console table against the wall in the living area, and the glorious Pat Steir artwork—November Rain—that hangs above it. When we moved in, I never imagined it would accommodate not just us and our two dogs, but our two children as well. Today, it's become the heart of our family life.
. . . 
ADAPTED FROM New York Interiors
(Vendome).