An extraordinary crafting legacy that began in early 19th century Alabama, the kaleidoscopic quilts from Gee's Bend go beyond art in documenting the community's history of struggle, survival and miraculous making.
In 2002, the New York Times compared the pieces by the quilters from Gee's Bend, Alabama, to works by Piet Mondrian and Paul Klee. Critics gushed over the vibrant, abstract creations and the quilts went on a blockbuster tour of leading art museums across the U.S.—The Whitney, the Boston Museum of Fine Arts, the de Young Museum, Houston Museum of Fine Arts and the Corcoran Gallery of Art among them. The Gee's Bend quilts were major news, and they seemed to have come out of nowhere.
But of course, that isn't true.
Women have been making quilts in Gee's Bend since at least the early 19th century, when they labored as slaves on the surrounding Pettway plantation and passed down their traditions from one generation to the next. Because the land of Gee's Bend is isolated—a peninsula hemmed in on three sides by a bend in the Alabama River, with only one road in or out—a distinctive quilting style evolved across two centuries in an unbroken chain. It was an art of making do and using up what they had: worn-out overalls and ragged work shirts, empty fertilizer bags, even scraps of fabric found on the roadside and brought home and washed. It was an art of transforming something discarded and old into something thrilling and new.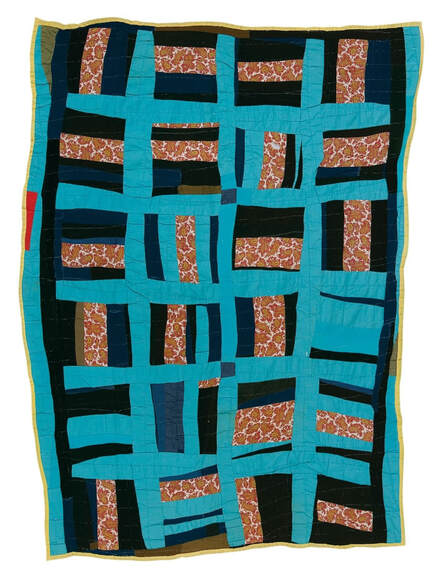 Gee's Bend, the quilts and the place, had had earlier brushes with fame. When slavery was abolished, most of the laborers from the Pettway plantation stayed on as sharecroppers, but in 1932, just as the Depression was gathering steam, a major creditor servicing the community died, and his heirs seized nearly everything of value—livestock, seeds, tools, food. Gee's Benders were left destitute. Over the next few years, different agencies within Roosevelt's New Deal swooped in to try to alleviate the extreme poverty. As part of those initiatives, a photographer was dispatched to document the town's conditions. Some of those photos ran in the New York Times in 1937, including one image of Lucy Mooney and her granddaughters Lucy P. and Bertha Pettway working on a quilt.
More attention came in the 1960s, with the founding of the Freedom Quilting Bee in a neighboring town. The Bee helped raise funds for voting rights drives and Civil Rights marches in Selma. Martin Luther King visited Gee's Bend in 1965. In a horrifying twist, the white population in nearby Camden cut ferry service to Gee's Bend to prevent Gee's Benders from voting. But the Freedom Quilting Bee did help generate revenue for the quilters. Diana Vreeland promoted the quilts in Vogue and Bloomingdale's carried them in their stores. Quilters earned enough to fix up their homes, pay for college, install indoor plumbing.
By the 1980s, quilts had fallen out of fashion, and anyone with ambition started leaving Gee's Bend. A few curious outsiders came to town over the next decades looking for remnants of the Freedom Quilting Bee. By that time, only five or six women were still quilting, making the same exciting work in relative obscurity.
In 1998, one of those curious outsiders—the curator and art collector William Arnett—arrived in search of an astounding quilt he'd spotted in a photo. He tracked it down and paid the owner, Annie Mae Young, thousands for it. He met other quilters and bought up their quilts too. His enthusiasm for the work soon spread within his own community of museum curators, resulting in that first exhibition in 2002 at the Museum of Fine Arts in Houston. In 2006, The Postal Service dedicated a series of stamps to the quilts of Gee's Bend. A few pieces sold for more than $20,000. Gee's Bend now has a quilting collective and hosts annual quilting retreats.
The extraordinary crafting legacy of Gee's Bend lives on, and each piece carries in it the community's history of struggle, survival and miraculous making.