Forget the solemn medieval iconography and florid gothic-revival motifs: in the hands of modern-minded artists and designers, colorful stained glass—stripped down to its bare essentials—feels like a fresh idea.
---
THROUGH A GLASS BRIGHTLY
A striped paper lantern mimics the stained-glass windows of designer Synnöve Mork's summer house in Gotland, Sweden.
---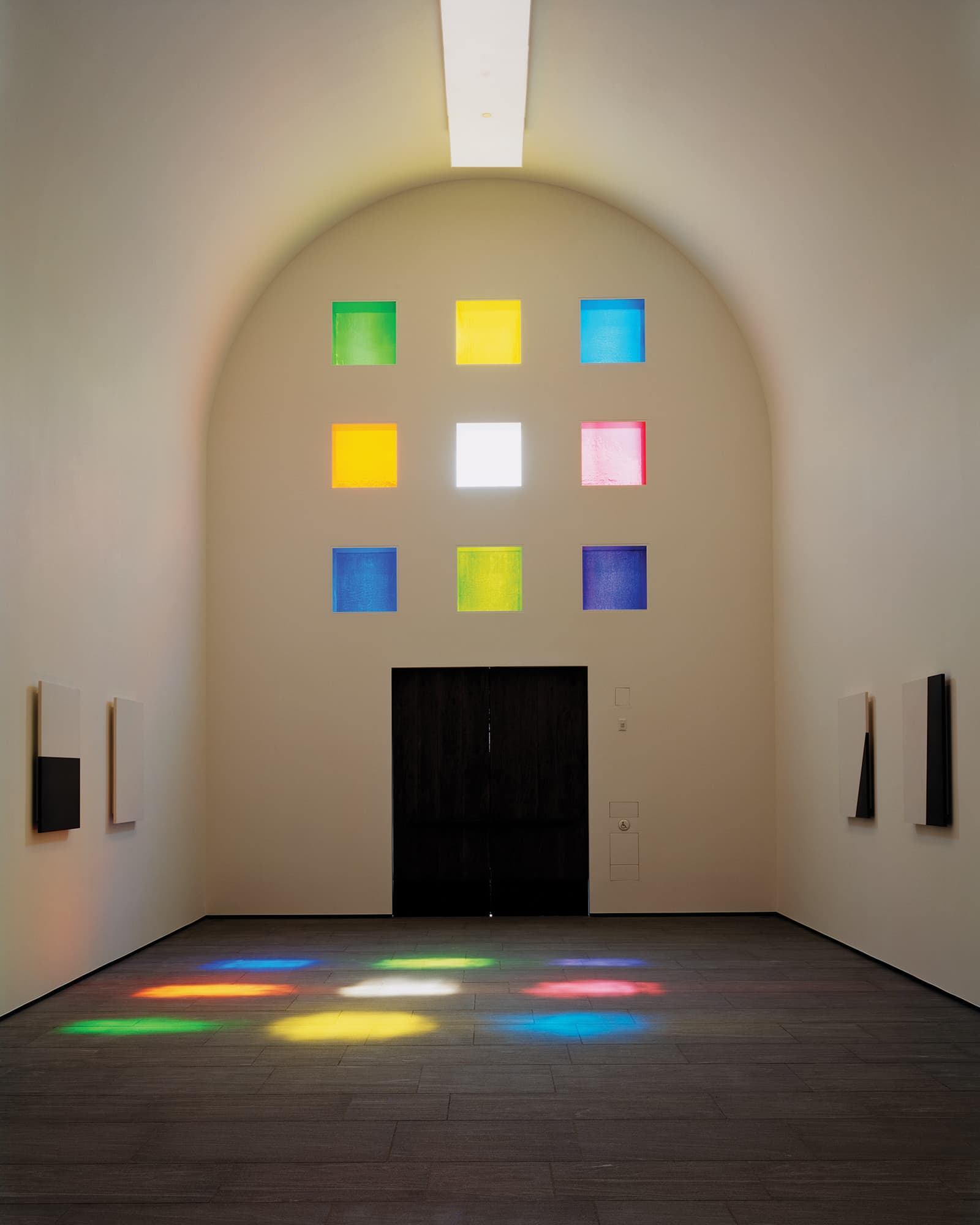 TEMPLE OF LIGHT
Completed in 2015, Ellsworth Kelly's Austin (in the city's Blanton Museum) was the artist's final project—and the only building he ever designed. The 33 mouth-blown glass windows echo Kelly's color-block art.
---
PAINTER'S PALETTE
An unconventional combination of hues—rusty orange, ultraviolet, aquamarine—brings electric energy to the entrance hall of a home in Burgundy, France.
---
CHROMATIC
SCALE
Frances Merrill of Reath Design installed stained-glass panes throughout an actress's 1937 Los Angeles home for a fitting dose of Arts and Crafts–inspired creative energy.
---
ORGANIC PHENOMENON
In rich shades of sapphire, ruby, emerald, and peridot, chunky stained-glass panes shine like unpolished gemstones embedded in the rough plaster walls of Sardinia's Hotel Cala di Volpe, designed by the late French architect Jacques Couelle.
---
POWER GRID
In the entryway of a Milanese apartment building designed by Gio Ponti, a seemingly random scattering of colorful panes turns a tight grid window into a quotidian work of art.
---
COLOR THERAPY
Sculptors Jean-Michel Othoniel and Johan Creten conserved the original frosted-glass window in their 1840s house in Sète, France, pulling its shapes and hues throughout the space.
---
SACRED GEOMETRY
Take a pilgrimage to Henri Matisse's Chapelle du Rosaire in Vence, France, where the artist reimagined his cut-paper collages and line drawings as awe-inspiring windows and murals.