In the film industry, design inspiration can come from a wide variety of sources: An archival photograph, a classic movie moment, or simply a color that reflects the mood of a script. For production designer Rick Heinrichs, it all started with an onion.
The Oscar-nominated Netflix film Glass Onion: A Knives Out Mystery is an Agatha Christie-style whodunit take of an egotistical billionaire tech guy Miles Bron (played by Edward Norton), who hosts his long-time frenemies for a weekend of games that ends—of course—in murder. Following writer-director Rian Johnson's enormously popular Knives Out (2019), Daniel Craig returns as the eccentric private detective Benoit Blanc, accompanied by actors Leslie Odom Jr., Janelle Monáe, and Kate Hudson.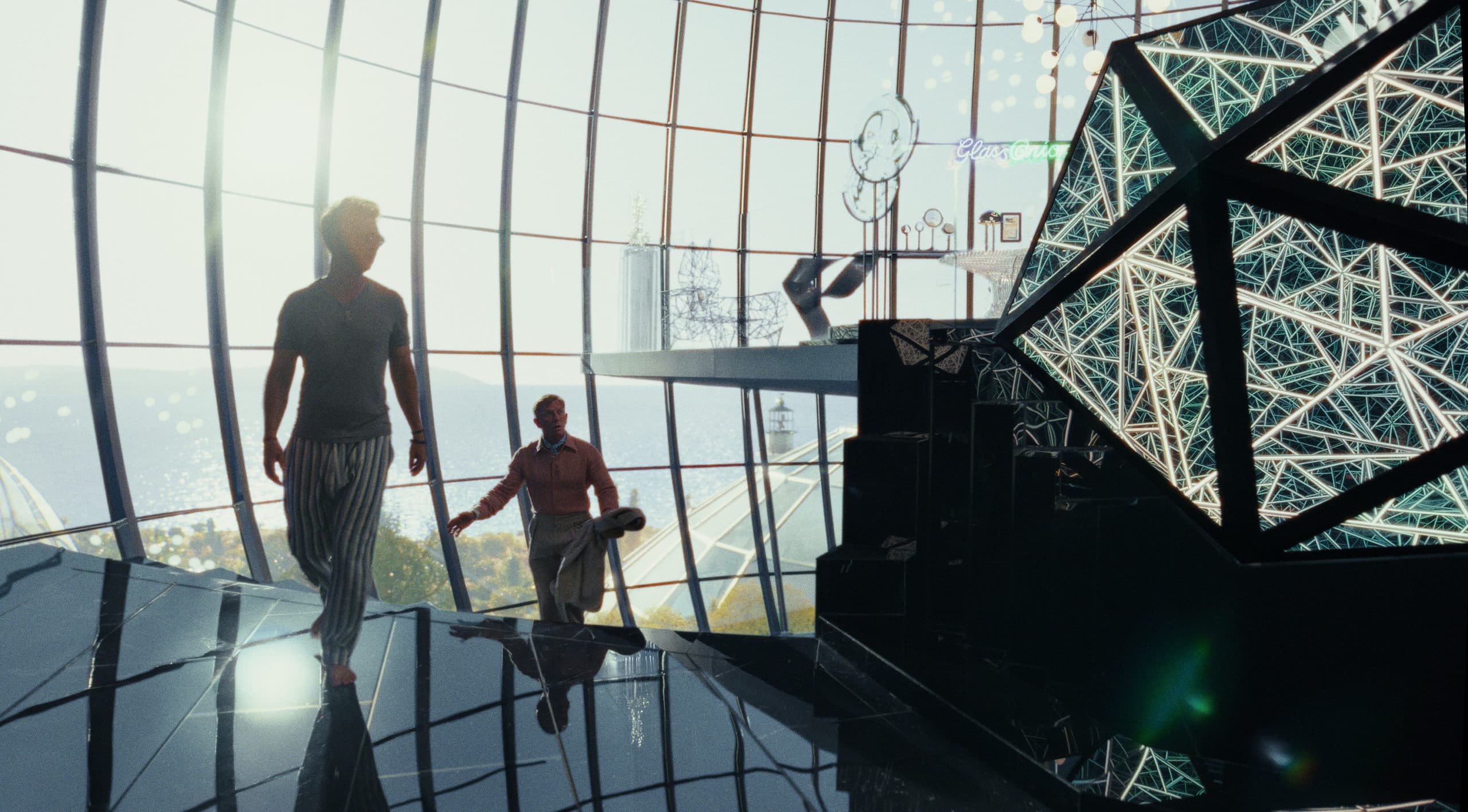 The setting is an ultra-sleek villa on a private island in Greece—the Peloponnesian peninsula, to be exact. Coined "Miles's Isle," the real-life villa is part of the Aman-owned Amanzoe resort in Porto Helli, which caught the eye of the filmmakers due to its stunning modern yet classical Greek architecture. Built by the late architect Edward Tuttle, it was tailor-made for a billionaire with a penchant for the arts.
Located in an enormous refractory dome, the titular Glass Onion that contains Miles's office is the centerpiece of the set; it was built separately and added on digitally to the villa. For the design process, Heinrichs took an actual onion, peeled back the layers to study its structure, and came up with a plan. "One question from the beginning was, 'Is it a literal glass onion, or is it a dome where if Miles pointed at it and said it's a glass onion, you'd believe that?'" notes the Oscar-winning designer. "We definitely had to find the Goldilocks zone of whatever that was, but it really was a case of Rian pushing for something that was representative of Miles as a character. To me it was like Miles's big head, his inflated sense of himself."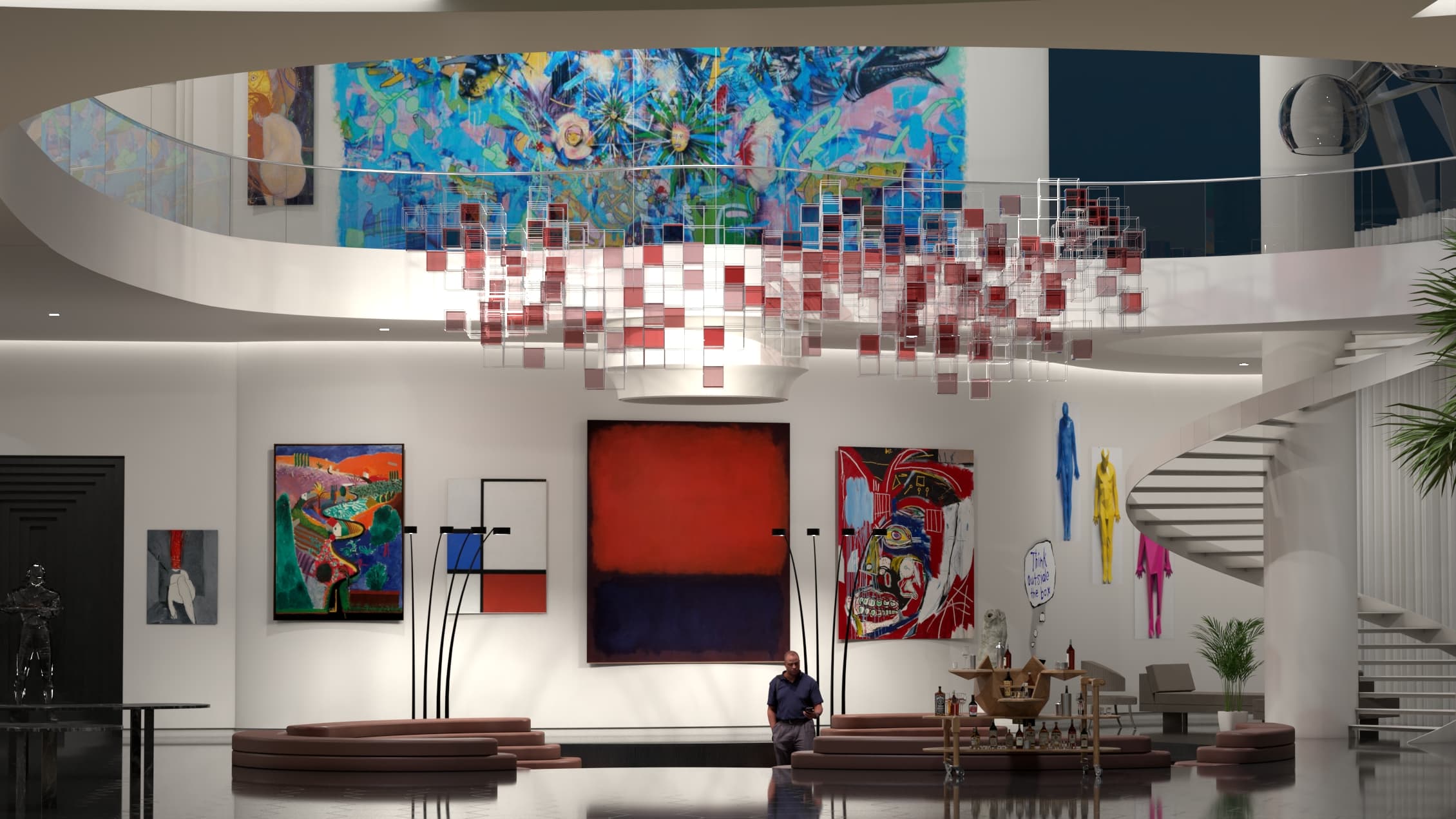 The main villa is a study of character-driven design, an embodiment of grandeur and greed, complete with all the accoutrements of a master of the universe living on a private island. The main living space's furnishings are Art Deco–meets-sleek-modern-meets-Grecian, with high-ticket items like Ubald Klug's tomato-hued De Sede "Terazza Landscape" sofa (with a scarlet coffee table and shag rug to match) and Kenneth Cobonpue's Red Bloom chair. Greek columns and frescoed panels were added to the dining area, where the majority of the film's cat-and-mouse games take place.
Miles's extensive collection of museum-worthy art and sculptures is the real star of the villa, representing his insatiable lust for the proverbial trappings of wealth. "Something that grew in conviction with Rian is that the villa needed to house an art collection to show that Miles is projecting himself as someone well-off enough to have all this famous art by famous artists," says Heinrichs.
The walls are a virtual who's who of the art world, with works from Jean-Michel Basquiat, Mark Rothko, David Hockney, Francis Bacon, Cy Twombly, Banksy, and Henri Matisse (hanging prominently in the loo). Miles's pride and joy, Leonardo da Vinci's "Mona Lisa," on loan from the Louvre, is surrounded by an assortment of glass sculptures (designed in the glassmaking capital of Prague but in fact made from a breakable resin) that play a key role in the story.
Of course, no self-respecting egotist would be without a self-portrait in which he poses shirtless. "Our inspiration was Lucien Freud," details the Heinrichs. "We came up with this idea of Miles having hired him to paint his portrait because he has such a recognizable style. His wealth, his projection of being a bad-boy disruptor, his inflated ego, and his desire to impress people was all part of that."
Color also comes into play, especially in the homes occupied by the weekend guests, which Heinrichs designed with set decorator Eli Griff. The colorful character Birdie Jay (played by Kate Hudson) is surrounded by bold tones and scenic wallpaper panels—filled with birds, naturally—while Claire Debella's (Kathryn Hahn) palette is monotone beige. Lionel Touissaint's (Leslie Odom Jr.) decor is masculine and orderly.
And, yes, in case you were wondering, the glass onion motif is an homage to the Beatles' White Album song of the same name (and the name of the bar where Miles first meets his friends).
Perhaps John Lennon explains the reference best in the song's lyrics:
I told you about Strawberry Fields,
You know the place where nothing is real.
Well, here's another place you can go where everything flows.
Looking through the bent back tulips to see how the other half lives.
Looking through a Glass Onion.