Between the passing of Queen Elizabeth II and the constant tabloid headlines surrounding her children and grandchildren, it's been another tumultuous year for the royals—and their dedicated royal-watchers. But the modern-day drama pales in comparison to the scandal-filled happenings that take place in season five of Netflix's The Crown.
The new episodes of the Emmy award–winning historical drama follow the Windsors from the end of the 1980s through the mid-'90s, as pomp and pageantry take a back seat to modern-day trials and tribulations. The Queen (played by Imelda Staunton) experiences annus horribilis with plummeting ratings, the divorce of Prince Charles (Dominic West) and Princess Diana (Elizabeth Debicki), a fire at Windsor Castle, and the publication of Andrew Morton's shocking tell-all book, Diana. Audiences are introduced to father and son Mohamed and Dodi Al-Fayed, plenty of new design-worthy sets, and of course, Diana's now-iconic "revenge dress."
Production designers Martin Childs and set decorator Alison Harvey reprise their off-camera roles (the pair has been on board since the show's inception), designing some 1,600 sets that are part design porn and part travel wanderlust. The familiar environs of Buckingham Palace (shot at Lancaster House), Balmoral (Ardverikie and Knebworth Houses), and Kensington Palace (Brocket House and Elstree Studios) are back; we get our first glimpses of Dodi's Paradise Cove Home (Malibu), the Al-Fayeds' opulent Ritz Hotel in Paris, and the refurbishment of Prince Edward and Wallis Simpson's Villa Windsor (Halton House in Buckinghamshire). Egypt via Spain and the Queen's visit to Moscow (recreated in a northern industrial town in the UK) are also part of the mix.
"For season five, Diana's world is increasingly separate from Charles, and needed a space more personal to her and less of a part of Charles's 'Highgrove Set,' so she receives new digs at Kensington Palace," says Harvey. The set decorator, who favors history, research, and period dramas (and it shows), looked to Henrietta Spencer-Churchill's Classic English Style and Colefax & Fowler by Chester Jones for inspiration—specifically an "'80s and '90s take on English country house style."
The design plan for Diana's flat germinated from a discontinued damask wallpaper by Beaumont and Fletcher in soft terracotta and sand, followed by pale blue gingham checks, ceramics, and a cream trellis Marvic fabric, which Harvey used to reupholster furnishings sourced from eBay. A moment of serendipity occurred when she found a bookcase at auction designed and built by Lord Lindley, Princess Margaret's son. Enjoying carte blanche on the designs, she reflects, "Diana's space needed to be a feminine but elegant, and rather isolated and melancholy. There are also nods to Charles in the shared spaces [of the flat]—petrol blue, more masculine dressing, a run of 18th-century engravings, toile fabric, and architectural prints—but not as much, as we needed it to be defined as Diana's."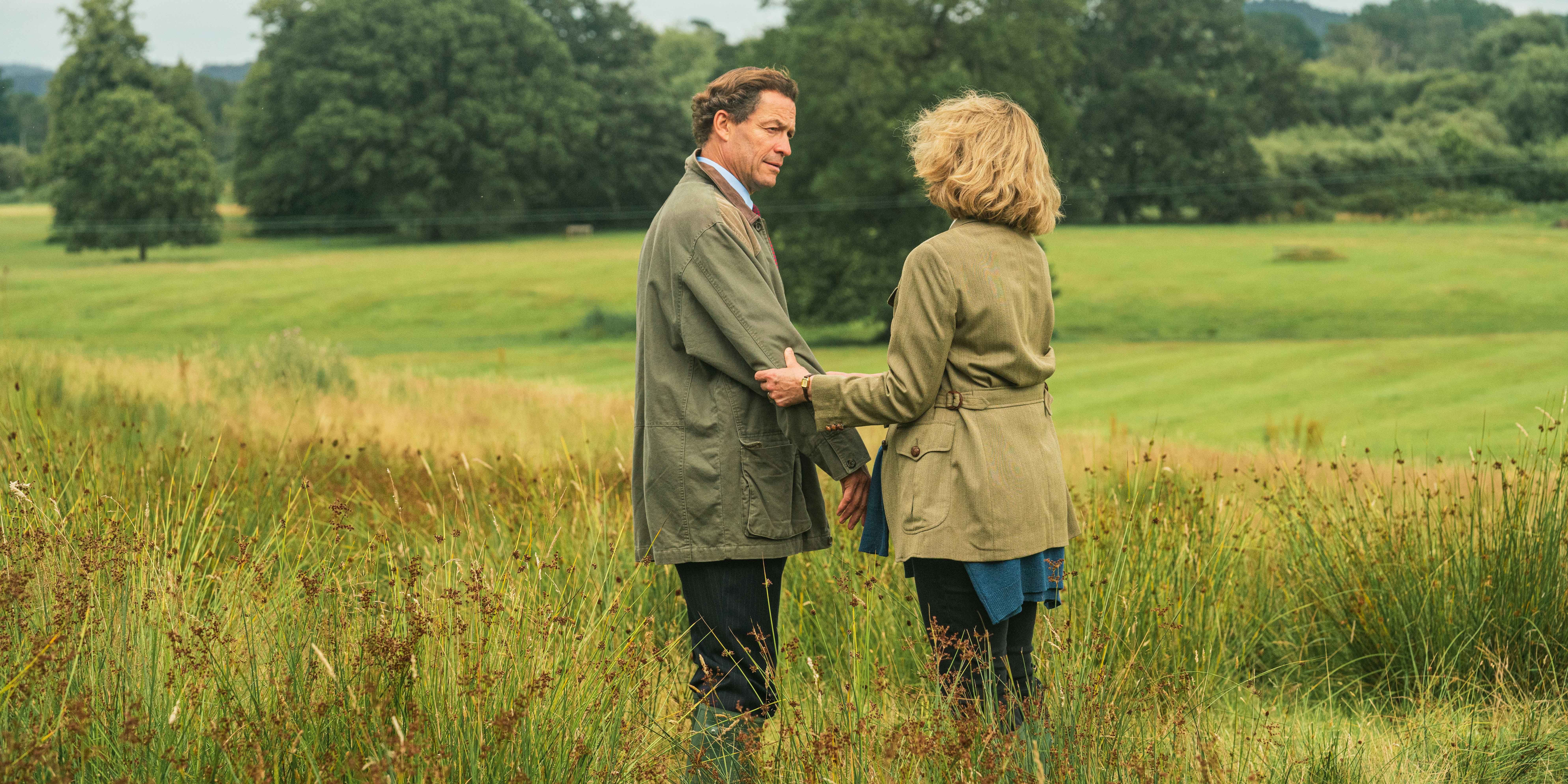 Built from scratch on three separate soundstages at Elstree, the royal family's vessel HMY Brittania is one of the season's more interesting sets. After a visit to the real Britannia, Harvey opted for accuracy as much as possible. "The interiors were designed from scratch in the 1950s, so they have a lovely mid-century flavor with the furniture and taste—although chintz always seems to get in there somehow."
The designs for the Queen's beloved summer retreat Balmoral House can best be summed up, Harvey notes, as "tartan, tartan, and more tartan. Balmoral has tartan carpets, tartan drapes, and tartan cushions. It seems like a Scottish parody, but that's what it's like. Queen Victoria built and furnished it, so it's very much a Victorian pastiche of 'Scottishness,' and I don't think it's changed much since."
Villa Windsor (the former house of the Duke and Duchess of Windsor), which receives a facelift in the show thanks to new owner Mohammed Al-Fayed, proved to be one of the most fun (albeit challenging) designs. "The interiors are well-documented, so I tried to be as true as possible to the spirit of them," Harvey details. "It's great to dip into a bit of American glamour of the '40s and '50s. The UK was pretty dour at this point, being post-war, so it was a treat to be able to bring some gilt, leopard print, and chic American and French design to the The Crown."
And what is it like working on one of the decade's most popular shows? "My day is mainly lot of research, sourcing and just working out and trying to condense the era, looking at locations and working out which elements are going to the be most difficult or time-consuming to achieve," Harvey explains. "For example, the embroidered throne cloth for Buckingham Palace took about four months from start to finish. A lot of time is involved with copyrights, clearances and graphics; books, any ephemera, and newspapers have to be generated. And the logistics of reading and keeping on top of 10 changing scripts, five directors, and multiple locations all over the UK and abroad can be a challenge." But Harvey wouldn't trade it for anything else: "It's a fantastic job that I love—I'm so very lucky!"