We have a well-documented fondness for natural materials, so when we heard that Schumacher was teaming up with handbag designer Pamela Munson for a capsule collection of party-ready minaudières in her signature woven raffia, we immediately knew they'd be going straight to the top of our summer wardrobe shopping list. Launching this week, the chic bags are based on three of Schumacher's most beloved patterns—Hydrangea Drape, Chenonceau and Joni Chintz—reinterpreted in hand-woven motifs. Keep reading to find out more about how Munson's team chose these iconic prints from the Schumacher collection and how the designer is planning to style them for her own summer outfits!
• • •
FREDERIC: Tell us a little bit about how your partnership with Schumacher came about.
Pamela Munson: It's truly been a dream collaboration. Schumacher has always been one of my favorite interiors brands and I knew they were open to fashion partnerships. I thought it could be lovely to interpret Schumacher designs through the lens of embroidery. For us, our hand-embroidered minaudières bring such an emotional, romantic element to every collection.
What was the inspiration behind the new collection?
Summer florals were the inspiration for this capsule. We had decided on a June launch early on so it felt natural that the pieces would celebrate the start of summer. Schumacher has created some of the most heavenly, iconic florals so I wanted the collection to celebrate these joyful prints that are in the spirit of the season.
There are so many iconic patters in the Schumacher catalog—how did you narrow it down to just three?
I had my team approach the project by narrowing in on our favorites first. We went through the Schumacher archives and looked through all of the floral prints. From there, we did an edit based on seasonality—what felt most summery and special. Lastly, we did a final review based on what could be best engineered to our classic minaudière silhouette. From there, we sampled about eight styles and then selected our favorites—Joni Chintz, Hydrangea Drape, and Chenonceau in two colorways.
Tell us about the process of how you go about turning a wallpaper or fabric pattern into a handbag. Are there any special challenges that come with trying to recreate them with the natural materials you use for your bags?
My head of design translated—and in some cases reinvented—the prints to accommodate the minaudière silhouette and bring out the best aspects of each design. Not every print translates well in this medium. For example, Marella is one of my forever favorite Schumacher prints—and a print we considered for this project—but it didn't sample well. All of our embroideries are handwoven by a third generation embroidery house in the Philippines. The raffia fibers are dyed by vegetable dye so there will be variation in color from bag to bag. It's challenging to get muted pastels, bold color is best. The beauty of hand embroidery is that no two bags are the same and you will have a special, one-of-kind handbag treasure.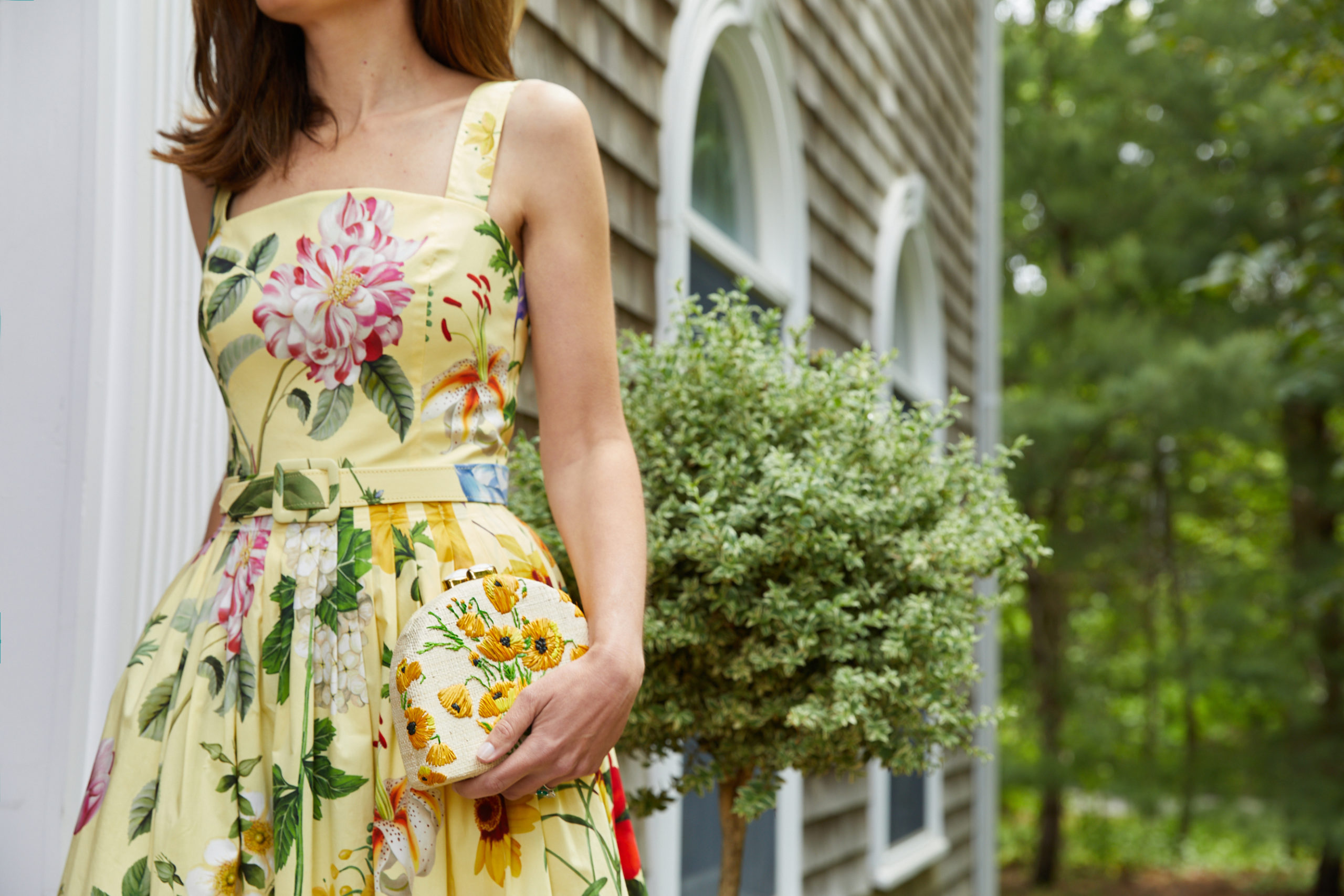 I know it's hard to play favorites, but if you had to pick one piece from the collection that you're most excited about, what would it be? And how do you plan to style it this summer?
My favorite piece in the collection is the Joni Chintz in yellow. It's the most joyful print and the embroidery work we did is exceptional. It's one of a few bags we've ever created that makes me smile. Joni Chintz has vintage feel which I love—it's like a handbag you found in the back of your mother's closet. I love yellow; it's a great neutral that will pair beautifully with my summer wardrobe, which is all about whites, navy and multicolor florals.
---
Shop the Collection