Undoubtedly the nation's most famous address—not to mention one of its most-reproduced—1600 Pennsylvania Avenue becomes a cinematic backdrop yet again in Showtime's anthology series The First Lady. Depicting the personal and professional lives of the women behind the most powerful men in the world, the 10-part series follows the trial and tribulations of Eleanor Roosevelt (Gillian Anderson), Betty Ford (Michelle Pfeiffer) and Michelle Obama (Viola Davis) from childhood to their positions in the White House. Their contributions, challenges, and even decorating styles left a footprint on the eras they inhabited, from The Great Depression and World War II to post-Watergate and the modern day.
Emmy Award–winning production designers Tony Fanning (The West Wing) and Todd Fjelsted (Glow) were charged with recreating each administration's version of the Oval Office—as well as the First Family's seldom-seen private quarters—on a soundstage in Covington, Georgia. As luck would have it, Tyler Perry Studios in nearby Atlanta happened to already have a built-to-scale replica of the White House itself, where the show's exteriors were captured.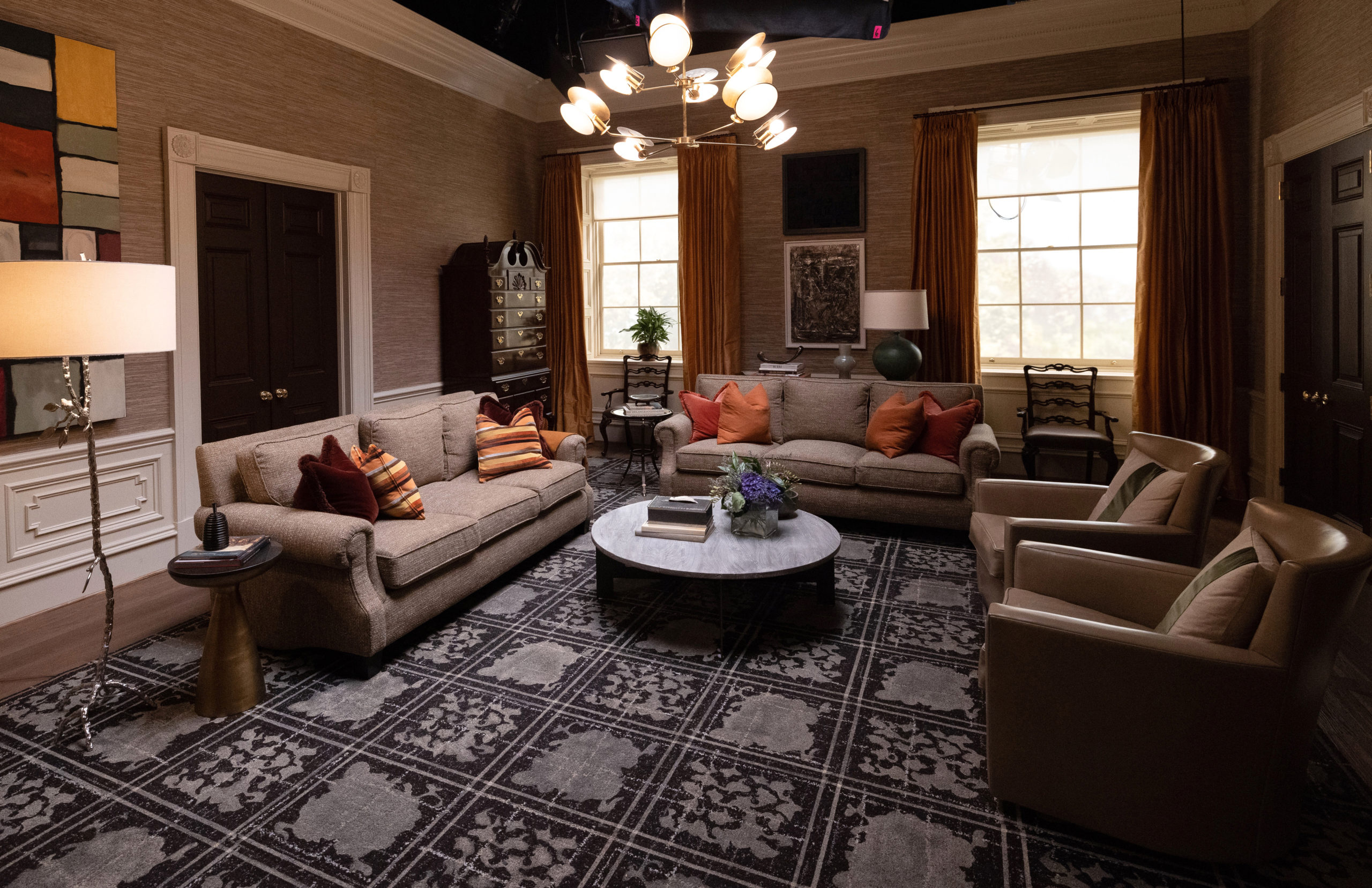 Set decorators Cynthia Slater and Bryan Venegas took on the challenge of sourcing the furnishings from the wide variety of eras depicted in the series.  Armed with a team of buyers, they scoured antique shops and flea markets, eBay, estate sales and prop houses everywhere from New Orleans to Florida to California.
Historical research was crucial: The designers visited the Franklin D. Roosevelt Presidential Library in Hyde Park, New York, the Gerald R. Ford Presidential Library in Grand Rapids, Michigan, and Obama Presidential Archives, and viewed countless newsreels, clippings, and archival photographs from the White House Historical Association. The result of their research is a combination of a reinterpretation and a replica of the First Ladies' public and private spaces, filled with intimate dinners, beloved dogs, memorabilia—and Betty Ford posing on a conference table on her last day in the White House.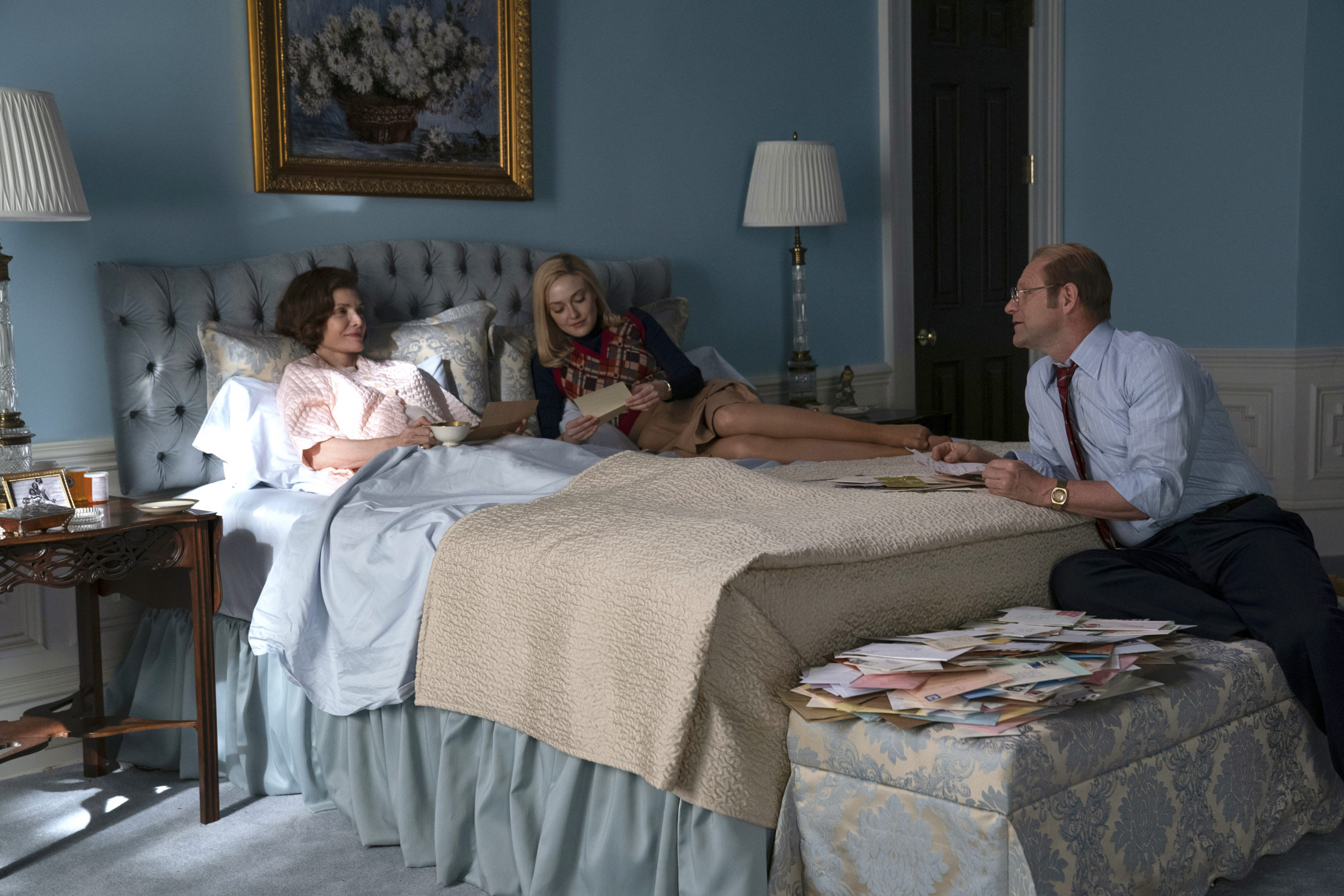 Eleanor Roosevelt
When it came to the Roosevelt White House, Fanning and his team imagined that instead of hiring a professional designer, the First Lady might have enlisted her mother-in-law's help. "Eleanor was not much of a decorator and did not care, and Franklin was very isolated," says Fanning. "Historical research showed us that it was heavily cluttered—the Roosevelts liked to have a lot of memorabilia constantly around them."
During his term in office, President Roosevelt expanded the West Wing quarters, moving the Oval to the southeast corner of the house. "He made a lot of changes that addressed his handicap and gave him more privacy, like the walk we always see the presidents making around the Rose Garden through the colonnade. He liked to go back and forth to the Oval without being seen by the staff," the designer says.
The President's office was designed in a light blue that Fanning notes was not historically accurate. "Most of his stuff was based around his love for the water, boats, and sailing, so we gave him marine colors of blue, green, grey, and white," explains Fanning. In the private living quarters—which was home not just to the Roosevelts, but also their significant others—the designers dressed Eleanor's spaces in shades of blue, green and lavender, while her girlfriend Lorena "Hick" Hickok had a palette of burgundy, red and deep purple. "If you are 'paletting' paint between blue and red, you get purple, which reflects the fact that we were dealing with a relationship of three," notes Fanning.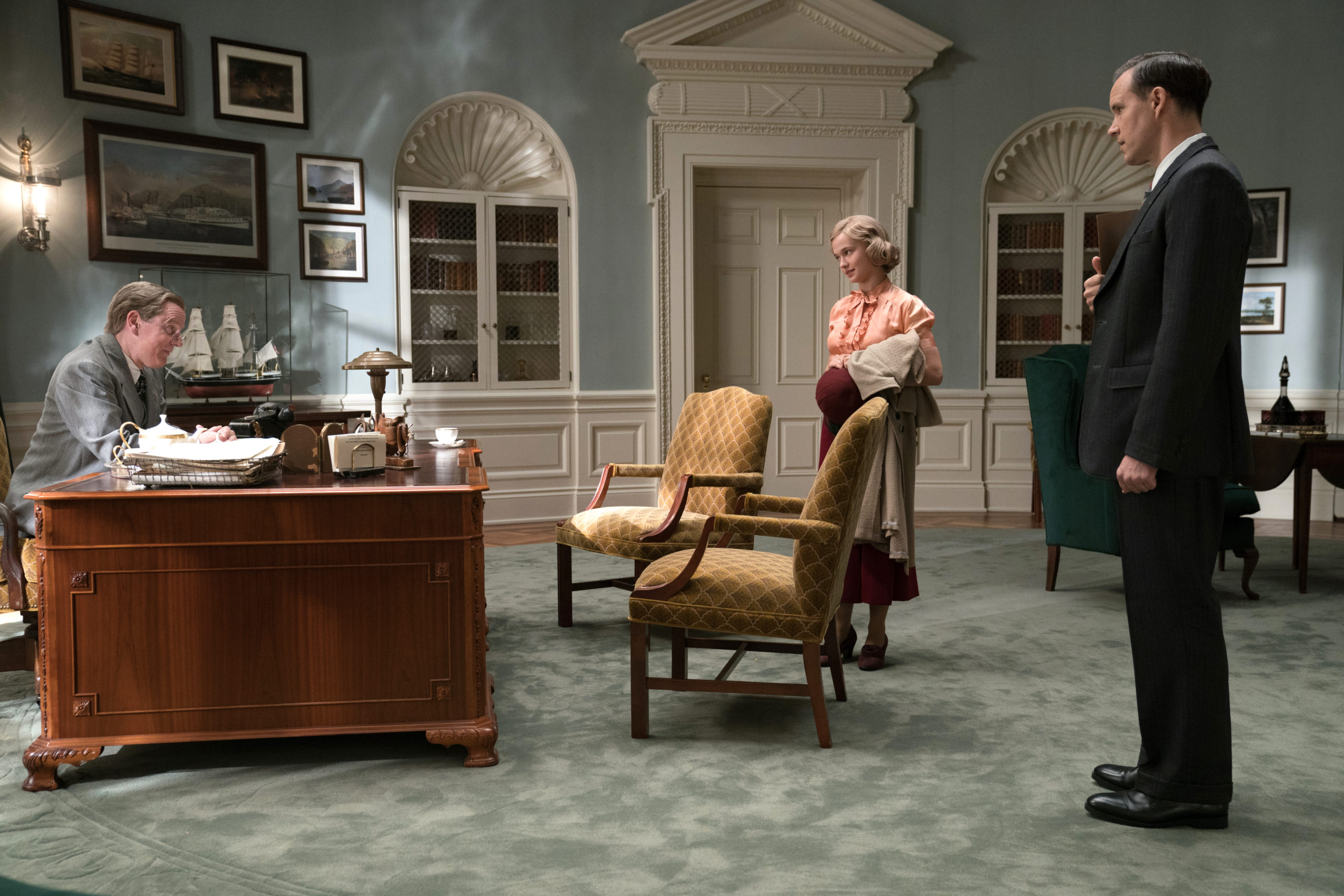 Betty Ford
Perhaps Betty Ford's story as the 38th First Lady is the least known of the three. "She is often associated with the Betty Ford Clinic, but many are unaware of how outspoken she was," says Fjelsted. The former Martha Graham dancer had inherited Pat Nixon's early 19th-century furniture and American decorative arts after an overhaul from the previous Kennedy administration. "Betty did a lot of redecorating over time, and we don't know if she used a designer, but I think it was a combination of her doing it herself and often working with a decorator. She loved yellows and bright, cheery colors. Her daughter Susan even made fun of it, complaining, 'That's a lot of yellow, Mom.'"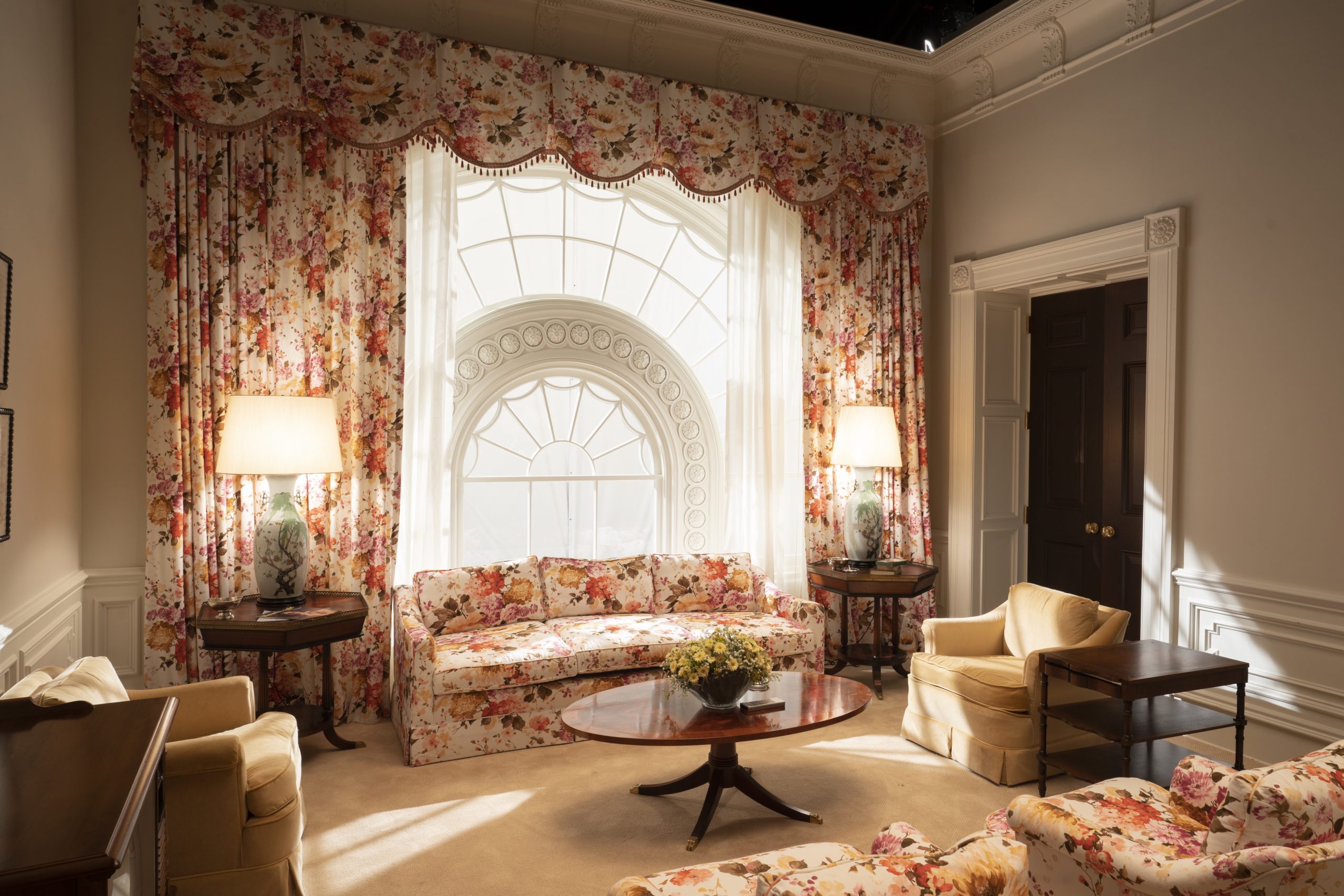 In addition to yellow, Betty loved periwinkle blues and other "joyous colors—she was the life of the party," says Fjelsted. (A take-charge First Lady, she planned a state dinner for King Hussein and his wife after a mere three days on the job.) She also deployed plenty of chintz, a motif that was popular during her husband's short two-year term in the White House.
President Ford's office was filled with furnishings left over from President Nixon, and gradually updated to reflect the 1970s with striped sofas, shades of tangerine, and white walls. After leaving Washington, the couple settled in Palm Springs in a John Lautner house. Slater went vintage-hunting in Florida to find items that were reminiscent of the California home with its modern mid-century furniture, leafy palm patterns, and a palm tree mural in the dining room.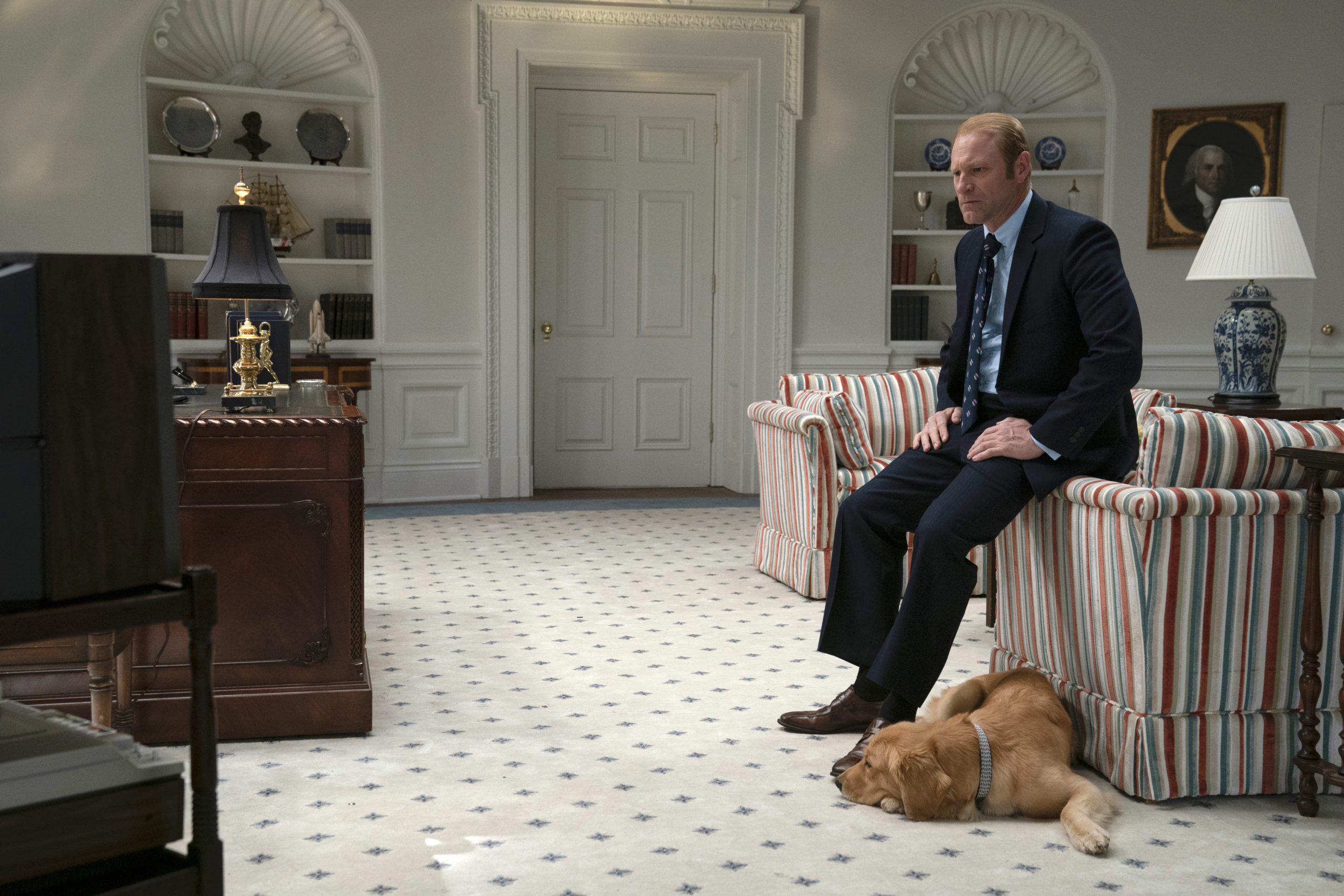 Michelle Obama
For the interiors of the 44th president, Fanning referred to interior designer Michael S. Smith's tome Designing History: The Extraordinary Art & Style of the Obama White House (Rizzoli) as the bible. "For us, Michelle Obama was our Cinderella story, as we saw her coming from a low-income living situation to the White House," Fanning recalls. "It was a progression their spaces getting nicer and nicer as they became more successful. Michael's interpretation [was based on] the accumulation of their taste, the history of the White House, and how they wanted to represent themselves to the country. He did such an excellent job, as it was so much a home as well as a beautiful, comfortable place." The result is an exquisite sanctuary far from the spotlight.
The Obamas' modern sensibility is reflected in the contemporary artwork culled from a variety of museums and galleries and the stunning golden-hued master bedroom with a tailored four-poster canopy bed. In the Oval Office, also designed by Smith, a similar sensibility reigns. "The Oval went from a much more conservative, traditional interior to going almost totally against that. It is warmer, more inviting and feels more like a home," details Fanning.