In our ongoing series Screening Room, we go behind the scenes with the uber-talented production designers and set decorators of today's most visually alluring TV shows and movies for a deep dive on how they whipped up such indelible backdrops. This week we chat with the Emmy Award-winning and two-time Oscar-nominated set decorator George DeTitta Jr. about the understated uber luxe interiors he created for the billionaire Roy family in HBO's satirical drama Succession.
. . .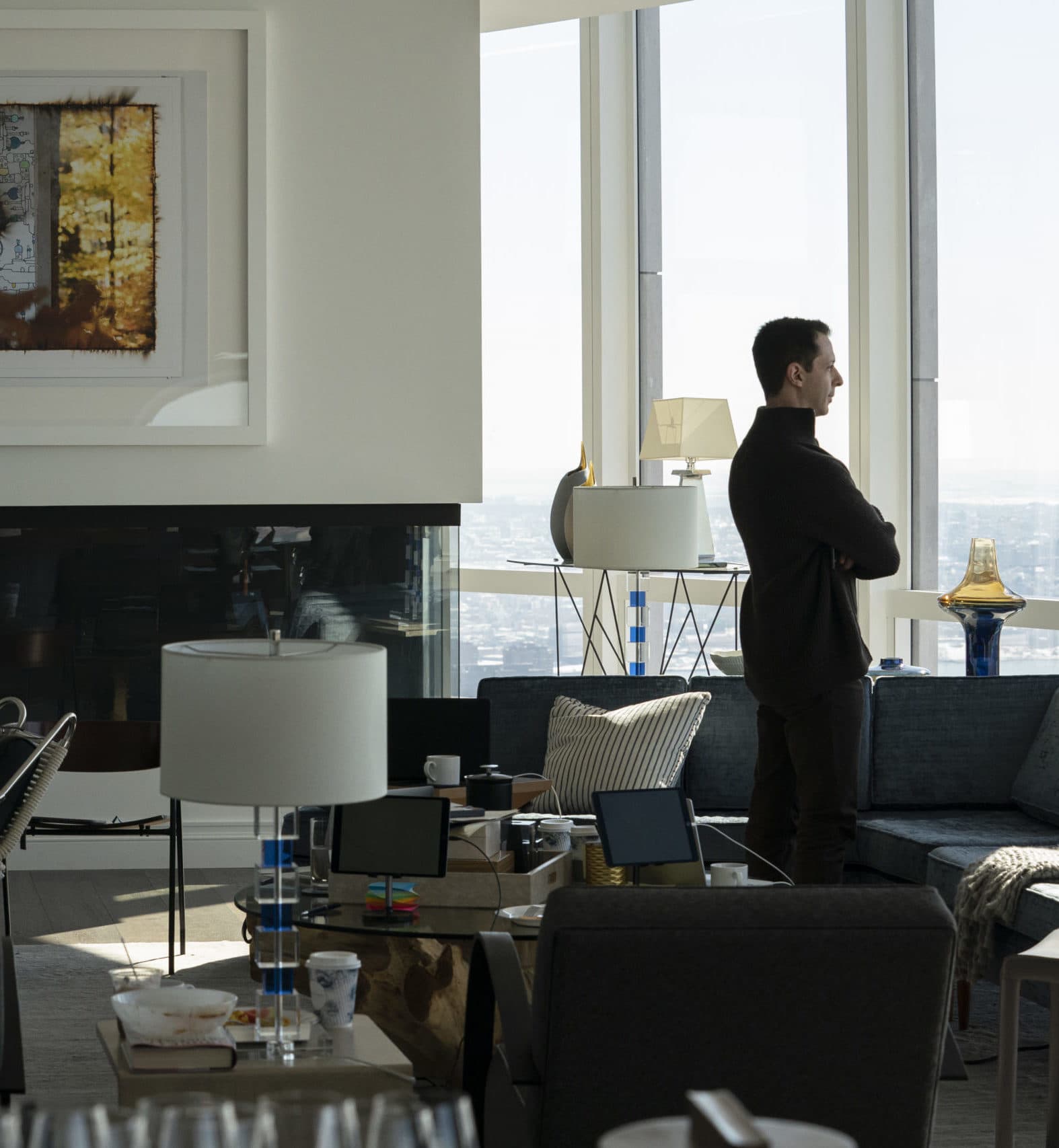 A well-televised takeover, attention-grabbing headlines, sibling backstabbing, and the FBI knocking at the door—it's just another day in the life of the Roy family.
HBO's highly addictive drama Succession is the story of the battle for wealth and power between family patriarch Logan Roy (Brian Cox) and his four scheming siblings as they seek the mantle of global media and entertainment empire Waystar Royco. Season Three finds the beleaguered scion Kendall (Jeremy Strong) staging a coup for the company while daughter Shiv (Sarah Cook) and brothers Roman (Kieran Culkin) and Connor (Alan Ruck) plot and form alliances. As the saying goes, let the games begin.
The lives of the upper one percent (in this case, the upper 0.0001 percent) have long held a fascination as their flashy, opulent lifestyles are often the stuff of dreams and fantasy. While the Roys' wealth and life inside the bubble is front and center, the sumptuous settings are a study in understated sophistication. Created by production designer Stephen Carter and set decorator George DeTitta Jr., this season's playgrounds include sleek glass-lined offices in the sky, private jets and a yacht that double as executive boardrooms along with the requisite penthouses and luxury five-star plus hotels.
Primarily set in Manhattan, the interiors reflect that Roy is from old European money. "From the very beginning, the Roys' were a showy type of family," says DeTitta, "and we never took the approach that their wealth was something you had to see, so we didn't do glitzy. We just approached it the way these people tend to live."
Carter and DeTitta began the process three years ago, doing a deep dive into the lives of billionaire families (that would be the Murdochs, Redstones, and Bronfmans), keeping the same aesthetic throughout. Designing the environs of the uber-rich can represent a challenge as the locations have to be top-notch (be it a boar-hunting lodge in Hungary or a house in the Hamptons), and the quality of antiques, workmanship and materials have to be first rate. Keeping an eye on the difference between decorating with old and new money is also an important consideration.
"This season's changes have the same approach, and we have added some different interiors including lavish iconic New York City hotels," says the Emmy Award-winning and two-time Oscar-nominated set decorator. "We shot at the Lotte New York Palace, Pierre, and the Plaza during the pandemic when no one was there. It was the trifecta of New York hotels. The Palace was so beautiful and perfect the way it was; all we had to do was change a chair or two. We also dressed an entire room at the Plaza; it was the same room Truman Capote threw his famous black and white ball set in 1966. We brought every piece of furniture in for that scene," he details.
A mix of modern and old school traditional, the Waystar Royco corporate headquarters was built on location at World Trade Center 3. "We started with a raw space and once again put it back together (the previous seasons were at World Trade Center 7). We gave Shiv a nice space and figured at this point she is the so-called CEO so we made it comfortable with a feminine touch and different from the other offices," he notes.  "We wanted to give Logan a sense of old money feel, so I added a great old desk and furniture with warm tones."
This season debuts the apartment of Kendall's ex-wife Rava (Natalie Gold) and her children filmed on location at the historic Woolworth Building (once the tallest in Manhattan). "We took over the penthouse apartment, and since one of their models had not sold, we emptied it and used some of the existing furniture, brought in art, and went to town on that place," he says. "We wanted it to feel homier with the kids and introduced their lives into the overall feel of the apartment. It became an ongoing process and turned out beautifully." Kendall also gets new digs on the 90th floor of a building in Hudson Yards filled with contemporary art and mid-century modern furniture. "We went a little starker on the interiors, keeping his character in mind."
Viewers will get a peek into the Hamptons compound of new character Josh Aaaronson (Adrien Brody), a minority stakeholder in Waystar. The house, where he takes Kendall and Roy for a long fact-finding walk, was chosen for its long stretch of beach, a rarity these days. Ready for its close-up, the house boasts a white sectional sofa, chrome and leather chairs, and the pièce de résistance, 22-foot-tall floor to ceiling windows with a jaw-dropping view of the ocean.
Design devotees will be happy to see the return of Logan's magnificent Fifth Avenue penthouse with views of the Metropolitan Museum and Central Park (designed on a soundstage at Long Island City's Silvercup East Studio). The monotone color palette of creams, golds, and beiges with thoughtfully placed portraits and elegant furnishings sourced from the likes of Newel Props (owned by Newel Antiques) and lstdibs remains simply stunning.
As Logan Roy muses, "My life is not for everyone." This might be true, but perhaps a percentage of it would be interesting.