In our ongoing series Screening Room, we go behind the scenes with the uber-talented production designers and set decorators of today's most visually alluring TV shows and movies for a deep dive on how they whipped up such indelible backdrops. This week: production designer Jim Gloster and set decorator Christina Tonkin Noble, the creative masterminds behind the luxe penthouses and townhouses of New York's 1% in Billions, the hit Showtime series featuring Damien Lewis and Paul Giamatti.
. . .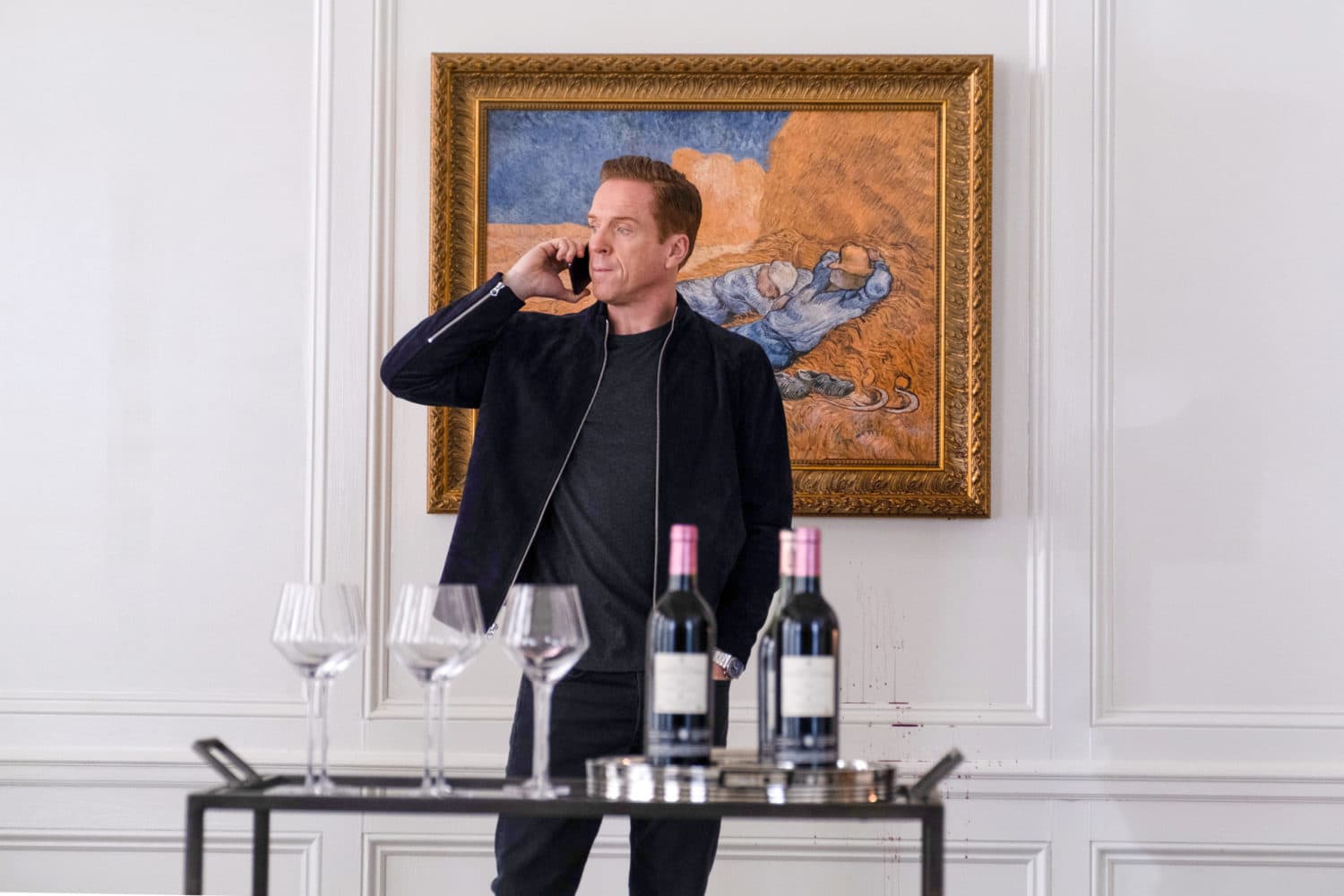 The shiny toys, the six-figure cars, the private jets, the opulent estates, and the remote islands are just a few of the things that separate us mere mortals from the upper-one percent. While few of us breathe this rarefied air, Showtime's aptly named series Billions gives viewers an up-close and personal look at life on this lofty perch.
The hit drama revolves around the cat and mouse games between hedge funder Bobby "Axe" Axelrod (Damian Lewis) and New York Attorney General Chuck Rhoades (Paul Giamatti) in the high-powered worlds of finance and politics. Returning for its fifth season, a new adversary enters the fray, billionaire "impact" investor Michael Prince (Corey Stoll) who takes the conflicts to a new level.
With New York City and its environs as a backdrop, production designer Jim Gloster and interior and set decorator Christina Tonkin Noble created the looks via actual locations and Brooklyn soundstages. Key sets include sleek "masters of the universe" style offices, a historic Long Island estate, an old-world charm brownstone and a proverbial penthouse in the clouds. Gloster, who hails from Charlotte, North Carolina, and working on his second season, received a quick study in all things New York. "Knowing or not knowing New York as I should, has been a big challenge. Fortunately, I have wonderful producers and location managers who know everything about this town and lets me see how the billionaire and millionaire class lives," he details. Tonkin Noble, who is no stranger at designing for the upper crust on-screen having worked on Gossip Girl and Sex and the City, notes, "We feel like we have researched the heck out of billionaires and know what their world is all about."
The sets for Axe and Rhoades are a study in contrasts, as there are marked differences in the upper social classes. Each has its own color study with warmer tones (think red, green, and brown) for Rhoades' brownstone, while Axe receives a palette of black, white, and grey with blue as a predominant color (preferable as the actor is a redhead). Rhoades comes from old money and a New York pedigree, so family heirlooms are important while Axe's environment is clean, modern, and minimal. The designers pay special attention to his desk, which is sterile and devoid of files and accessories. "Axe comes from humble beginnings and is a self-made millionaire," says Gloster, "while Chuck hates billionaires, has an ax to grind against Axe, and while he came from money, he sees limits that should be put on that kind of dough."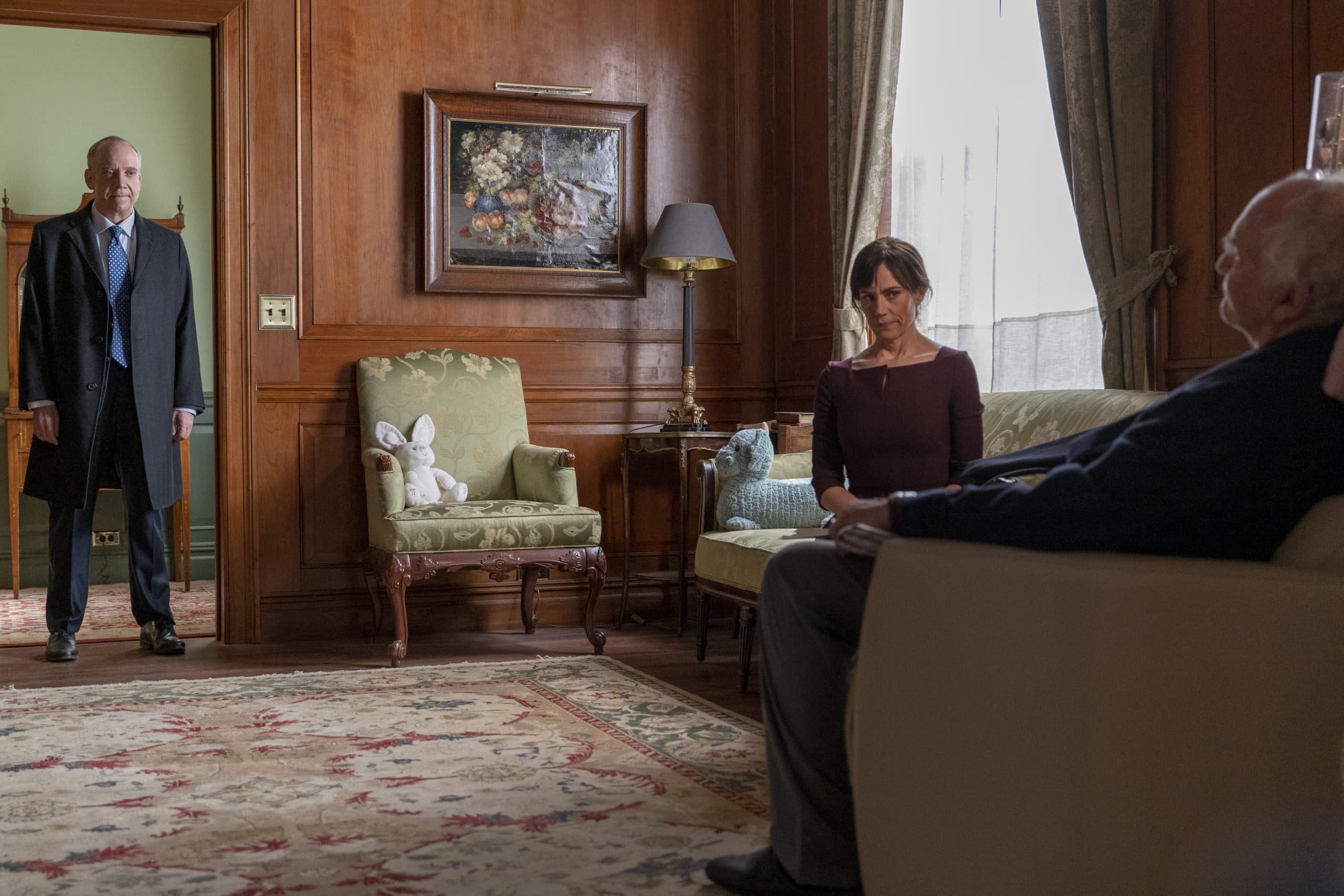 One of the main delineations separating their wealth is the artwork as seen in the Axe Capital corporate offices. Collecting blue-chip art is a sport for hedge funders where the credo is often "the bolder the better." Each season the collections change from Jean-Michel Basquiat's Nile masterpiece and Van Gogh's Siesta to the occasional Rothko and Robert Motherwell. Expect to spot works from David Lynch and Bob Dylan (yes, the director and singer/songwriter/icon, respectively) in season five. "Each season focuses on a different vibe with the artwork in his personal spaces," says Noble Tonkin.
The Deca (that would be ten billion dollars) tycoon's homes include a Manhattan penthouse filled with contemporary custom furnishings and high-end pieces from to-the-trade-only haunts in the D&D Building and New York Design Center. The designers took over the entire apartment of a wealthy homeowner with floor-to-ceiling windows, impeccable views of the Hudson and East Rivers, and anchored with a polished poured concrete floor. Axe's world is serene, streamlined, and designed for efficiency, as depicted in his minimalistic offices, where the walls serve as a museum and a primary source of color.
Axe's lakefront traditional country estate receives a modern twist and is perhaps one of the most design-swooning sets of the season. "We found a beautiful estate in Long Island, New York, that belonged to J.P. Morgan," the set decorator notes. "There was lots of old-world charm with the dark woods and the architecture was a departure from what we've (previously) seen for Bobby, so it was a challenge to bring it to the modern vibe of his character." Located on an island near Glen Cove, the grounds were designed by Frederick Law Olmstead of Central Park fame. The sets proved to be a particular challenge as part of the compound had to be recreated in England to accommodate the actors' schedules. As a result, the crew looked at 200 locations and recreated the interiors in a lake house in the town of Winchester, an hour outside of London.
Chuck Rhoades' world is the opposite as his life is chaotic and filled with clutter. Wood paneling and leatherbound law books graced the walls of his office in the early seasons, influenced by the offices of the former US Attorney Preet Bharara, who served as a real-life model (career-wise) for his character. His office is now in a lighter and more colorful environment with tufted grey-blue furnishings and sage green walls. The brownstone remains traditional and more modest where much of the family dynamic centers around the classic wooden kitchen island.