Read on to discover the best advice floral designer Lewis Miller ever got—and more words of wisdom from the man behind the famous Flower Flash.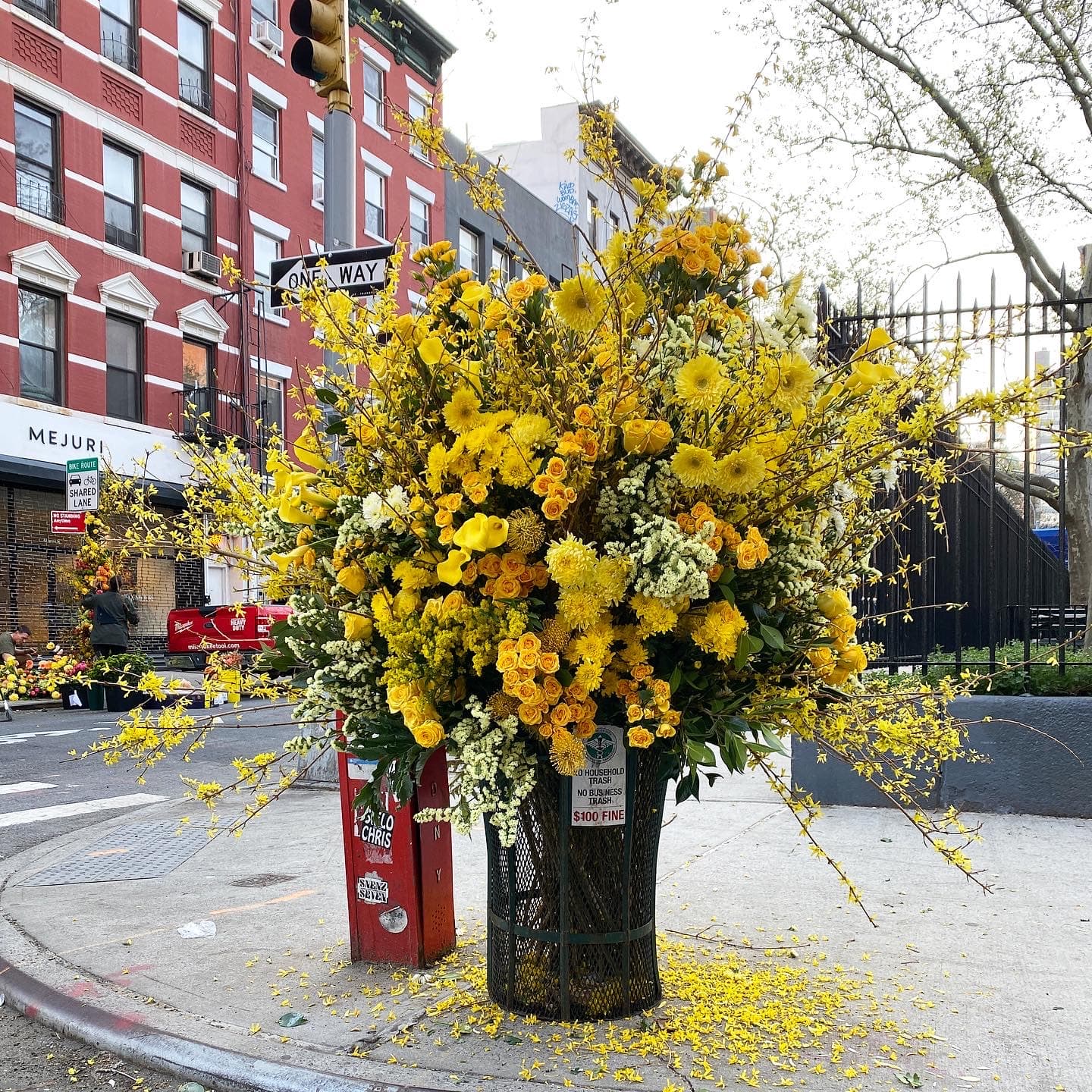 As Gay Talese famously wrote in Esquire's July 1960 issue, New York is a city of things unnoticed. Unless, of course, you happen to be walking past one of floral and event designer Lewis Miller's now-iconic Flower Flashes. Even amid the cacophonous beeps, dings and buzzes of Midtown Manhattan, they will stop you in your tracks: a riot of roses, hydrangea and sundry other blooms exuberantly coloring outside the lines of, say, a timeworn trash can. "I love duality," Miller says of these moments of fleeting sculpture, which he erects in just 15 minutes before daybreak casts its gauzy pink glow over the cityscape. "Swizzling up the pretty and the gritty makes a lot of sense to me. New York City is a fast paced place full of hard edges, turning wheels and steel. I wanted to bring nature and beauty to this urban backdrop, and flowers have a softness and lightness like nothing else."
It's no wonder they lift spirits. When Covid-19 descended on New York City, Miller—who made his first Flower Flash in 2016, and soon developed a cult following that led to an Instagram account more than 220,000 followers deep—installed the bloom sculptures outside hospitals to help bring an instant of joy to frontline workers. "I wanted to give back to my fellow New Yorkers," Miller says. "That was the original intent and what inspired the Flower Flashes. It was a gesture of goodwill that prompted me to create the first Flower Flash." Indeed, humans have used bouquets in moments of both celebration and solace for millenia: ancient Roman brides brandished floral garlands as they drifted up the aisle to symbolize fertility; funerary flowers have been unearthed that date back to 62,000 B.C. Is it any wonder that cut blooms—seemingly there to hold our hands through life's major highs and lows—have a market worth of nearly 8 billion a year in the U.S. alone? Call it flower power, with no signs of wilting.
Miller fell in love with flowers during his childhood in California's farm country, where he grew up "without a lot of luxuries," he says. "I needed for nothing, but there was a lot I wanted! Let's be honest, I craved a bit of excess and beauty. But I was surrounded by flowers—and they filled the void in the best way." After studying horticulture and landscape design in Seattle, the designer beelined to New York City and took root in a top flower shop before launching his own namesake firm, LMD New York, Lewis Miller Design, in 2002. Now, his work has flourished like a marigold, and his company is nothing less than an empire—clients include boldfaced brands ranging from Louis Vuitton and Harry Winston to Richard Meier and Ralph Lauren. And like his de facto flora art, nothing about him is boring—as he wrote in his first book, "Styling Nature: A Masterful Approach to Floral Arrangements" (Rizzoli, 2016): "The best way to make an arrangement is to think about sex or listen to one of your favorite songs." Not exactly advice Constance Spry might openly give, though she no doubt would fawn over his creations which, like hers, exult a wildness particular to nature.
In honor of his forthcoming new book, "Flower Flash" (Monacelli Press, October 2021) and some big news, including a brand new outpost in Palm Beach, set to open its doors in November, we had a rapid-fire conversation with Miller to suss out everything from his go-to studio music to his biggest pet peeve.
One tool you can't live without: My Swiss Army flower knife. I'm a florist, baby. I can't leave home without it; I've lost dozens of them at the airport.
Favorite thing to look at: Clouds. Big puffy clouds, paintings of the clouds. I love clouds.
The most magical place on Earth: It's a tie between the Amalfi Coast and Istanbul. I think there's something about the colors and the houses built on hills, overlooking water, that's just magical, day and night. [In Istanbul, it's the] same thing. It's coral roofs, the big domes and the spires and the call to prayer and the Bosphorus going through it. It's just so far removed from our regular life.
Best studio jams: We listen to The Killers, Fitz and The Tantrums, Cash Cash, Madonna, and Dua Lipa.
Most prized possession: Can it be my dogs? Definitely my three border terriers, Dutch, Tug and Fritz. They bring me joy on the hour.
Biggest pet peeve: Chronic tardiness.
The most sage advice you've received: It's better to be owed than to owe.
Best spot to hang in your hometown: I haven't been there for 30 years to hang out, so I would say my grandma's house. For the sake of this article, in the Hudson Valley,

The Maker in Hudson

is an amazingly chic hotel with this great little speakeasy in the back. Get The Violent Lady cocktail; it's unforgettable. They actually stopped making them, we had to request them!
Go-to flower: Right now it's delphinium. Delphinium in all shades of blue, lavender, purple, white, just big hauls…Spires of delphinium.
Color crush: Green. Lawn green, arsenic green, basil green. Maybe it's because I've been spending so much time in Midtown Manhattan, I'm hungry for green. The color of money. Right now, after last year, I'm loving that color.