Read on to discover the fascinating Elizabethan roots of a lavish new silk embroidery by Schumacher.
. . .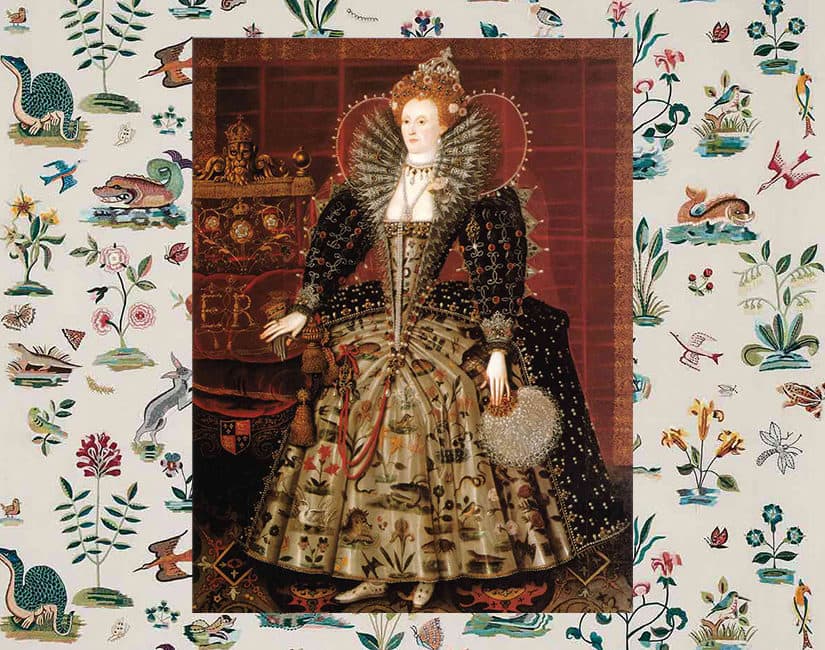 The 16th-century British court portaitist Nicholas Hilliard painted his patron, Queen Elizabeth I, dozens of times. But it wasn't his rendering of the Virgin Queen's famously impassive visage that brought him fame—it was his uncanny ability to reproduce the elaborate fabrics in which she was swathed. Even in the oval miniatures that were his specialty—typically worn as pendants by the gentry—you can make out each silken stitch, every carefully applied jewel, the spiderweb detail in a spray of lace.
Perhaps the most mesmerizing of all the designs he rendered is an intricately embellished gown worn by the Queen in a full-size portrait from 1599, which became the inspiration for Royal Embroidery, the first offering in Schumacher's new Masterpieces collection of rare, artisanal fabrics. While Hilliard's painting is now acknowledged as one of his finest works, the dress itself also has a remarkable provenance: It was said to have been crafted not by the palace's usual phalanx of embroiderers and seamstresses, but by the aristocratic Bess of Hardwick, Countess of Shrewsbury, who commissioned the portrait as a gift to the monarch. To this day, the canvas still hangs in Hardwick Hall, the vast country estate she built in Derbyshire.
On a pearl-hued blend of silk and linen, Schumacher's

Royal Silk Embroidery

is painstakingly stitched with the same array of mythical sea creatures, birds in flight and exotic flora that the countess conceptualized centuries ago. Rendered with hand-dyed silk threads in shades of emerald, persimmon and pewter, the pattern does not repeat horizontally, but instead iterates endlessly to the edges of the 54-inch-wide textile. Classical and phantasmagoric, Royal Silk Embroidery creates its own unique portrait—as joyfully eccentric as it is timelessly elegant.