In her studio in Santa Barbara, California, the painter Colette Cosentino creates enormous works full of dreaminess and wonder. Here, we peer into the studio doors for a look at the brilliant woman behind the brush.
• • •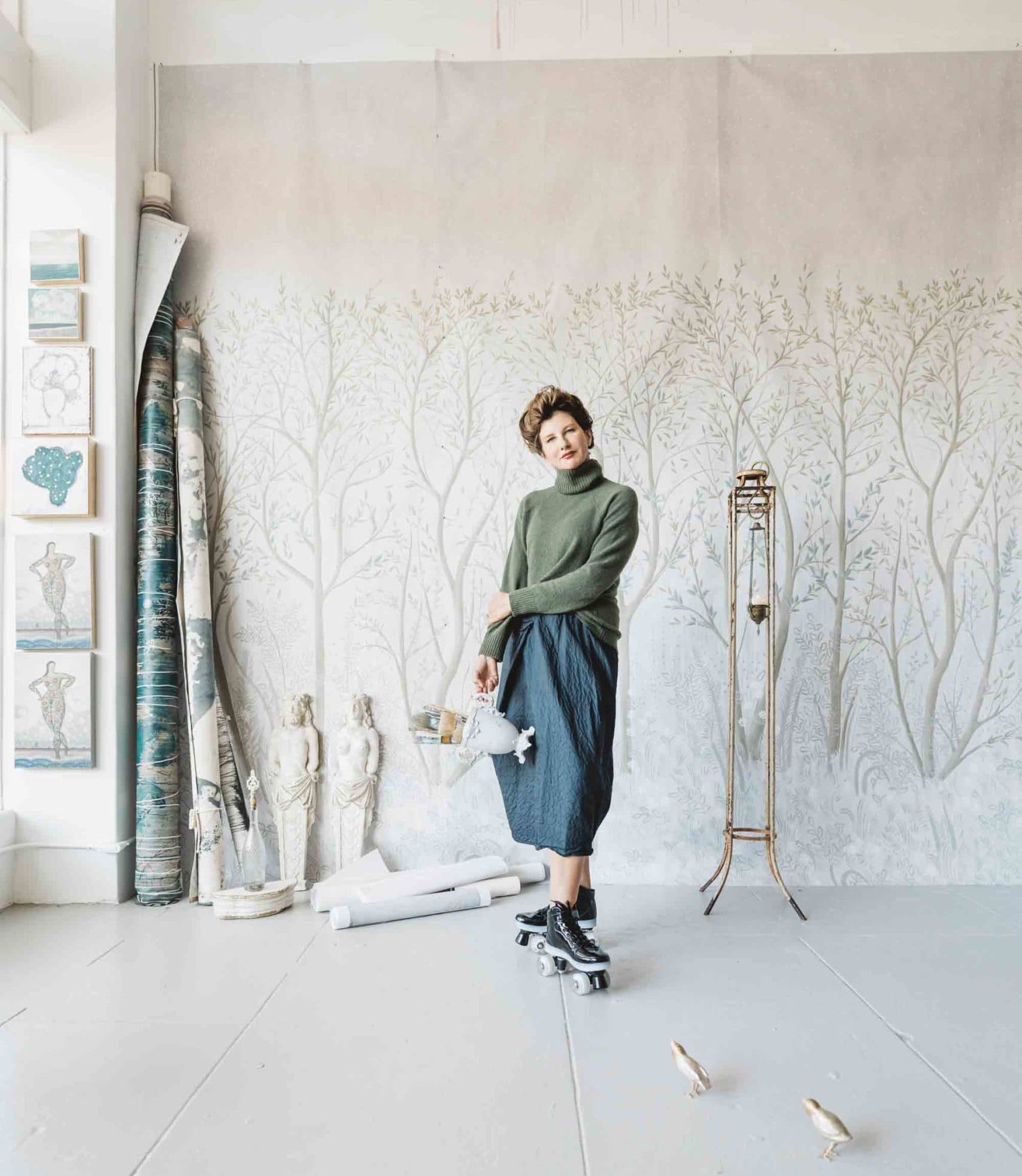 "I'm one of those lucky people," recounts the painter and freshly minted

Schumacher collaborator Colette Cosentino

. "I always knew I was going to have a creative occupation."
The Santa Barbara, California-based Cosentino credits her mom for setting her on the right path. As a toddler in the 1970s, she couldn't get enough of drawing—and her mom encouraged this impulse, allowing the pint-size future artist to scrawl across the kitchen walls, making giant loops and scribbles that awakened her innate sense of artistic freedom.
Flash forward to present day Santa Barbara, where Cosentino spends hours in her happy place, a.k.a. the airy, light-filled studio she maintains in the city's charming downtown. The space's extra-tall ceilings and cement floors are just right for her unbridled approach to making. "I love to just attack the canvas without having any preconceived notions about where it's going to go," she says. "That's when the most interesting things come out, when I can be spontaneous and lose myself in the process. When the paint is running down the walls and puddling on the floor and I am completely immersed, that is pure bliss for me. ("Before I moved into my studio, I ruined a lot of apartment floors from dripping paint," she adds wryly.)
Many of her enormous works start as 11-foot canvases she unrolls across the studio floor and then covers in lush layers of paint. She'll then tack up the canvases on the walls, hang them upside down, turn them around, continuing to paint and coax out the emerging, ethereal images, often dabbing them with metallic pigments as the pieces evolve. "Metallic golds, especially, are my jam," she says.
Designing her transporting collection of wallpaper panels for Schumacher was a natural extension of the work she often does as a decorative painter. In fact the collection came about from a moment of kismet, when Schumacher's Creative Director, Dara Caponigro, was visiting Santa Barbara's legendary garden

Lotusland

, which had commissioned Cosentino to produce an exquisite stretch of murals [watch video above to see the entire work of art]. As soon as she saw them, Caponigro knew that a Schumacher collection by Cosentino would be a hit, and the two soon embarked together on the creative collaboration.
"I've got that spontaneous artist side to me, but as a decorative painter I'm also used to thinking logically about what happens to a pattern when it stretches across a wall and hits a corner," Cosentino says. "Designing these wallpapers for Schumacher tapped into both parts of my creative process, and I can't wait to see how people use them. When you spark imagination in others, when you do something creatively that also inspires them to be creative, that's when you really feel like you're doing something good."
Cosentino put down her paintbrush long enough to answer our rapid-fire round of need-to-know questions:
What's the one tool you can't live without?  My imagination!
What's your favorite thing to look at? My true love's eyes.
What's the most magical place on Earth?

Santa Barbara, California. 
What's your most prized possession? 

My life and being alive! 
What's your biggest pet peeve? Complainers.
What's the most sage advice you've ever received? "Thoughts become things."
Name the best spot to hang in your town: The beach!!
What's your favorite flower? Orange blossoms.
What's your current color crush? Pale gray.
Bring Colette's magical work home with her exquisite panels for Schumacher >