In a recent episode of Schumacher's Next Door series on Instagram, Style Director Tori Mellott chatted with designer Melanie Turner about her absolute obsession with Audrey Hepburn's "Sabrina," the importance of proportion (no tiny rugs, ever!), and her best shopping score. Plus, a sneak peak at her very first book Inviting Interiors: A Fresh Take on Beautiful Rooms (Rizzoli). Here, a few of our favorite moments from the interview.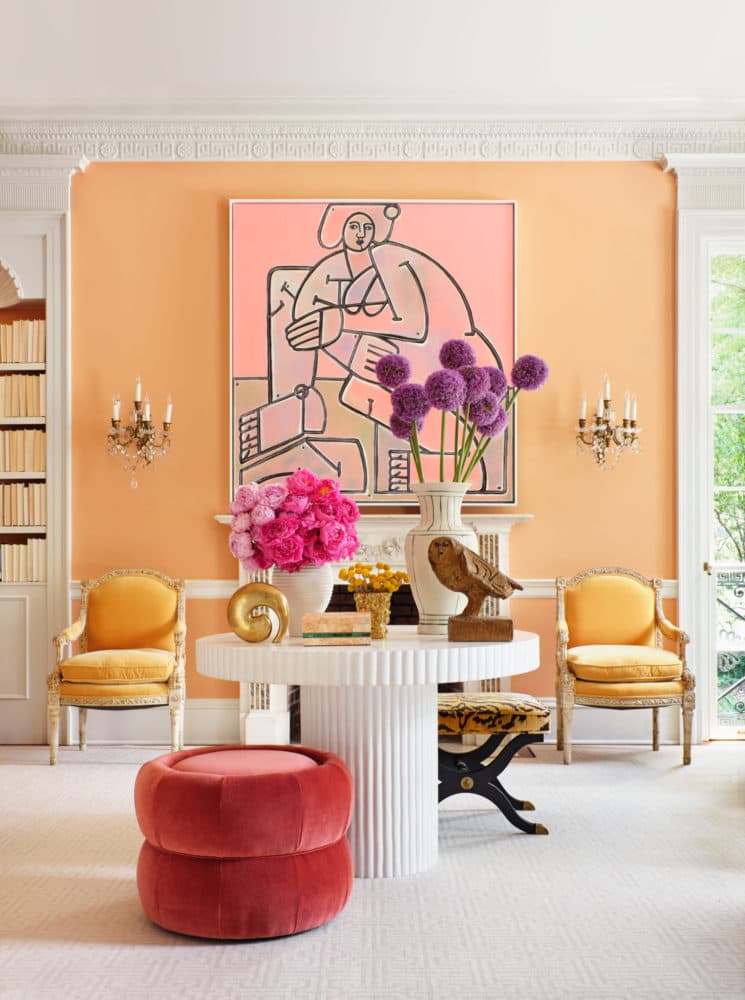 . . . 
So you're not just Atlanta-based, you have an office in Big Sky, Montana!
We have a store and a studio in Montana, which is amazing. I had gone out there in my twenties and loved it. One of my husband's best friends in Detroit wanted to kind of semi-retire, so they were moving out there and asked me to work on the project. When I got out there and I was skiing with her, I looked around and said, "Oh my gosh, this is amazing, we need to do a studio here because I love it so much."
Did you work for anyone before you went out on your own?
When I graduated with a degree in design, I went to work in commercial design because I thought that was what real design was. I did offices and law firms and radio stations, which were great, but it wasn't creative enough for me. It did, however, give me a good sense of business and how things should work.
I was shocked looking through your new book at the breadth of your work. You can really go colorful and then you can go neutral. How do you define your style? If you had to sort of give someone the elevator pitch, what would you say that it is?
Fresh and edited. We can do pretty, we can do masculine, we can do feminine. I was talking to Bobby McAlpine the other day and he was said, "You do girly really well. You could be the girlfriend and I could be the boyfriend." I love that!
What's been the biggest challenge as a designer? Has anyone ever come to you and said, "You have to use my La-Z-Boy"? 
I have had clients ask for very comfortable La-Z-Boy chairs and I end up using

John Saladino's version of a recliner

, so that's my way around it. He's also my favorite designer.
Are there certain rooms you keep coming back to for inspiration?
John Saladino's rooms would definitely be some of them. I was honored enough to have 10 minutes of his time 20 years ago now. I think he set the standard for a lot of different other designers that played off that look. He's just very romantic and also edited. And he has this masculine-feminine vibe that I feel like we try to insert into spaces, so that both husband and wife feel comfortable. You don't realize it's happening at the time, but there's always something like a Yin and a Yang that's pulling and the tension that makes both sexes comfortable in a space.
There is a project in Inviting Interiors that was on the cover of the September/October 2017 Veranda—the woman in the yellow dress with her twins. I think it was the first cover that there was a person on a Veranda cover, is that right?
Yes, it was the first time they had done that.
That was ground-breaking. I remember when that cover came out and it was like the buzz of the magazine world. Veranda's first cover with a person on it!
It was really interesting what happened. We had a day to shoot it and I kept saying that I wanted a Slim Aarons look. We went outside, took some shots and I kept looking at my client thinking, "Something's wrong, something's wrong." So, I went inside, grabbed her two babies, brought them outside, gave them to her and shot that shot. And when Clint [Smith, the former editor in chief] saw it, he said, "This is so Slim Aarons."
Is there a decorating rule that you love to break? And a favorite decorating rule that you always follow?
I always follow scale and proportion. An example would be having too small a rug or a really little chair with a big sofa. I never break those rules because I feel like it's so noticeable, at least to me. And the one that I think needs to be broken and I don't really pay attention to is mixing styles of furniture. I bring in all different periods and try to make them work so that it doesn't look too decorator-y or like it wasn't done yesterday. It looks collected.
I've been doing these chats now for over a year and my main takeaway from almost every designer is that the size of the rug is so important. Everyone has said, "Do not have a postage stamp sized rug, that is my number one pet peeve."
Many times when I'm buying ready-made rugs I'll buy two and place them together, so it gives the illusion of a big rug. It's hard with ready-made because they make them for standard apartments or smaller spaces. So if you have one big room, it's hard. But there are ways of getting around it.
What gives you the design heebie-jeebies? What just grosses you out design-wise?
Some metallic kind of fabrics. Give me good disco music any day, but I just am not a big metallic fabric person. And I would also say that I don't like vanilla rooms. I like the color vanilla or creamy monochromatic rooms, but I don't like a room that is so vanilla that there's no soul in it.
If you could live in a movie or a TV show, which one would it be and why?
It would be Sabrina.
The original or the Harrison Ford version?
I love the original with Audrey Hepburn and Humphrey Bogart. All the clothes were designed by Givenchy. I love that movie because it shows the mansions on Chicago's North Shore, then they have her apartment in Paris, and then the mid-century office. So it kind of gives you everything in one.
What is your best shopping score?
My house. It's a 100-year-old Italian Baroque home that nobody wanted in Atlanta because it needed some TLC. My husband and I were downsizing because the children were all leaving and we had a house that we had drawn up and were going to build. This house was on the market and we kept trying to sell it to our clients but they couldn't understand it. It has terrazzo floors and people would come in and say, "Oh, what is this? I'm going to tear it out." And we're both saying, "No, no, you can't touch this!" I'm a huge believer in the law of attraction, but I didn't realize I was doing it to myself!
This interview has been edited and condensed for clarity.