When Celerie Kemble set out to freshen-up the historic Mayflower Inn & Spa, Auberge Resorts Collection, she aimed to give it a revitalized air of spring while also honoring its old New England heart and bones. In addition to a previous iteration as an inn, the 58-acre property in Washington, CT was also once a boarding school and a private home. "The Inn was already cozy and enveloping enough for autumn and winter," says Kemble. "But we wanted it to feel fresher and more youthful, so we traveled through the rooms adding a springy, bright-sunny-day, fresh-picked flowers vibe." Each and every room at Mayflower is unique, with its own art, antiques, rugs, fabrics, and wallcoverings. "I want guests to feel like they're staying in a chic friend's country home, rather than a hotel."
Here, Kemble tells The Edit how she extended the "run-of-house" feel and garden vibes from the bedrooms to all the cozy nooks, parlors, and other common spaces where guests can lounge by the fire, play dominoes and cards, or sip a cocktail. "We wanted people to feel there wasn't anywhere they weren't invited — anywhere they couldn't make their own."
. . .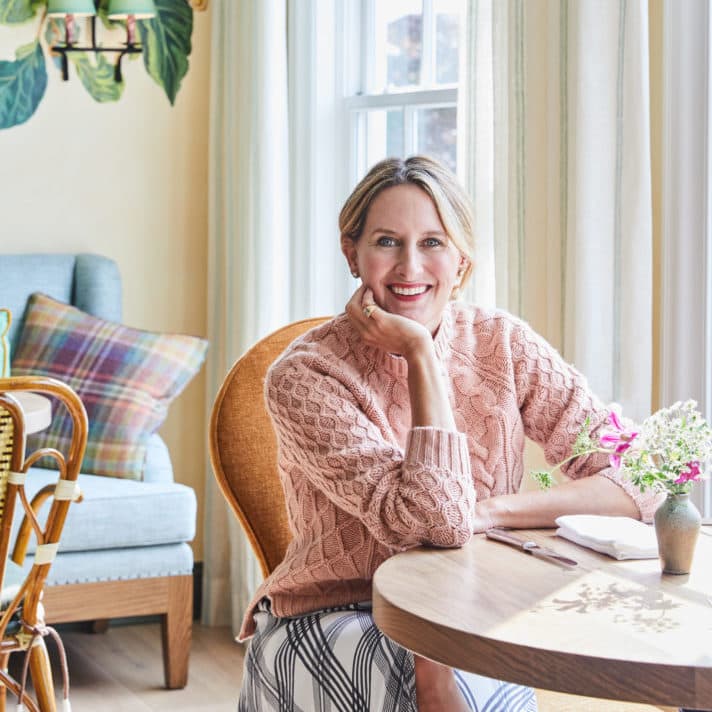 What were the common threads that you wove throughout this project?
To bring the garden in, we gave every room a series of botanical prints, floral chintzes, and paper flowers made by Livia Cetti. In terms of the color palette, we didn't use a "safe neutral" anywhere. We worked with verdant and bloomy colors that could be imagined as flower petals or leaves, sprigs or tendrils. Instead of silky and shiny, we went with dry and crisp. Overall, we relied on textures, textiles, and painterly colors.
The Mayflower was built in 1894. How did you retain its historic essence, but avoid formality?
I think if it feels formal, you have permission to paint it. In the lobby, for example, with the floors and wainscotting up the stairs—a little bit of trompe l'eoil took the primness out. And we handpainted all the room numbers on the guest room doors. Anything that shows the human touch helps avoid stuffiness.
Tell me about your redesign of the Garden Room restaurant.
Originally, it was a subdued mix of gray and beige, but we wanted to connect the room to the gardens just outside the windows. So we added painted murals with oversized caterpillars and other critters that make you feel like you're a butterfly alight in a flower garden. It's a bit unnerving in a playful way: it Alice in Wonderland's you. For the ceiling, we replaced brass inserts in the coffers with a pale aqua background overlaid with a quatrefoil grid trimmed in green.
You created such a masterful mix of art, antiques, and playful vintage finds. What was the process?
All of the Mayflower's antiques that were real, we kept. Then we worked hard to find art and objet that felt collected and had a lot of different points of view: Victorian botanical specimens, modernist collages and papier-mâché flowers, old European ceramics, vintage children's toys, 18th-and 19th-century tinsel art, primitive artifacts, and antique men's shaving mirrors and trousseau trunks.
Sometimes the juxtaposition of something really modern and slightly challenging can help make the older things feel even more dignified—more themselves. The sleek, modern sculpture can shine a new light on the ornate grandfather clock.
Creating a large, mixed-materials gallery wall like you did in the parlor can be intimidating. Do you have advice?
Start by hanging your favorite pieces in the center and bloom outwards, keeping equidistant. It's better to eyeball it so it feels like an idea that grew rather than something that's pre-fab. I also like to have one object like a mirror or painting in the center that's different than the rest so it feels like a sun and solar system. The more the variety the better. It's about having a critical mass of non-matching pieces so everything feels in balance.
Did you score any local finds?
When I got excited about some bowls at a local antique shop, the owner offered to bring me to meet his elderly mother, who had a large collection of the pottery and was getting ready to move away from the area. She actually decided right on the spot to sell us part of her collection, which are the Alsatian plates hung by ribbons in the Lattice Room. She was so happy that part of her collection would stay nearby at the Mayflower!