In her ongoing series for The Edit, textiles expert Jill Lasersohn discusses the fascinating portrayal of women in one of her favorite fabrics, Toile de Jouy, in honor of Women's History Month.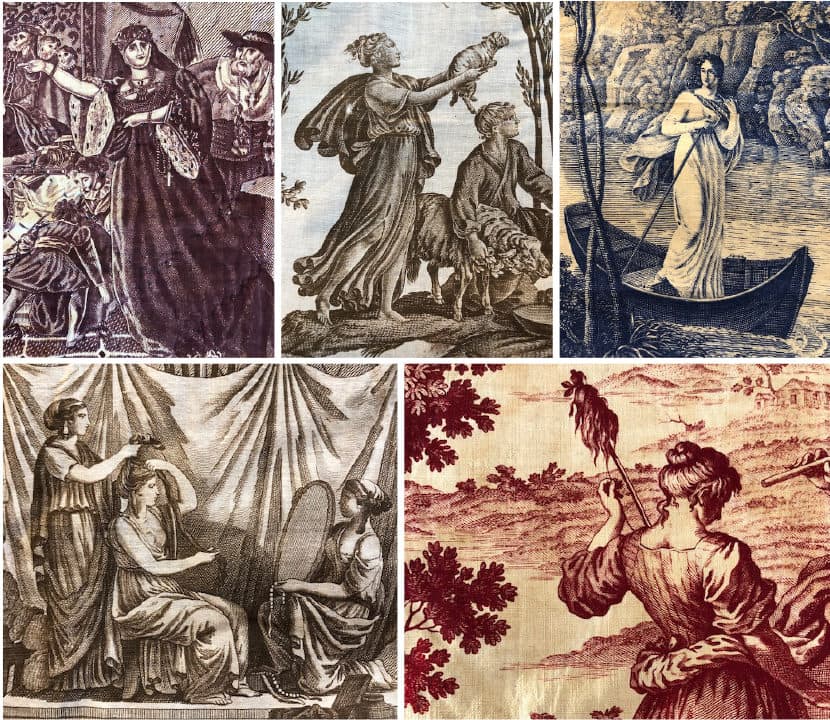 Viewing the latest 18th-century Toile de Jouy pattern was akin to "reading a newspaper," says textile collector Jill Lasersohn. The designs of a particular season reflected the trends and ideas popular in society at the time. Pastoral toiles proliferated as the back-to-nature philosophies of writers like Rousseau began to spread, for example, and Roman mythology became all the rage following the discovery of Pompeii.
But even more intriguing than seeing current events play out in fabric is seeing the incredible range of women who show up in these patterns. We may perceive the 18th and 19th centuries as a more restricted time for the "fairer sex," but you would never know it by studying toiles. In these designs, women fulfill the traditional roles of wife, mother, and caregiver, but they are also involved in some very unconventional dramas. They are warriors and aggressors. They boldly pursue their love interests or beat husbands who have displeased them. "They are strong, weak, powerful, romantic, sad, and happy. The damsel in distress, and the woman who's taking charge," Lasersohn says. "But that's a woman for you, right? It kind of encapsulates who we are."
With over 500 pieces of toile in her collection, Jill Lasersohn explores the breadth of women who appear in Toile de Jouy with writer Allison McNearney.
Allison McNearney
I was surprised by the incredible range of ways in which women are depicted in toile—they're old and young; they're sexy and demure; they're working in the countryside, or decked out in their finest for court. Could you tell me a little bit more about this diverse range of representation?
Jill Lasersohn
You have two very contrasting types of women in toile. There are the heroic warriors like Joan of Arc and the mythological women. And then, there is the portrayal of everyday women, those who are tending to the farm and their children, and the real figures like Marie Antoinette.
AM
Could you walk me through how an artist like Huet, who designed toile for the famous manufacturer Oberkampf, would go about designing a new toile pattern. Did he use a model? How did he choose his themes?
JL
He did not use models. He was inspired by other artists' drawings and paintings. Also Oberkampf's manufacturing studio was right next to Versailles, so he would see all these women and courtiers coming and going and walking and strolling. Huet was also a wealthy man himself, so he would have been keeping company with a lot of beautiful women. Like Schumacher, toile manufacturers wanted to sell fabric. So they would try to find something that would be new and exciting, something that was appealing and competitive in France. So, the American Revolution was a big topic. The images of Pompeii became a big story after the city was rediscovered. And, because of Rousseau and Voltaire, all those pastoral toiles were very popular.
AM
Those pastoral scenes are so closely associated with our image of women in classic toile. How did this theme proliferate?
JL
Eighteenth-century writers like Rousseau and Voltaire were pushing towards nature. They were talking about getting rid of corsets and breastfeeding your own children, and France and England really embraced these ideas. Marie Antoinette grabbed hold of the pastoral life when she built her Le Petit Hameau at Versailles. She literally dressed up as a milkmaid, planted her own vegetable garden, and had a dairy built for herself, though she did it in a very rich way. Women back then were sick of court attire and all the strict rules, and they picked up on that natural theme. And that's why it's in toiles. Toiles are like reading a newspaper—they capture a period of time just like our fashion today reflects the times.
AM
How was Marie Antoinette portrayed in these patterns?
JL
To my knowledge, she is in two of Huet's toiles. There's one where she's frolicking in her park enjoying nature with a girlfriend. And then there's another one set during the French Revolution. The Fête de la Fédération is a toile that shows Marie Antoinette watching Louis XVI putting on the revolutionary cockade and taking off his crown.
In the following scenes from the "Reconciliation" toile by Faure & Petitpierre, we follow a couple through their love story—from courtship to growing the family to their eventual divorce. Nantes, France, c. 1810.
AM
Some of these scenes are also a little shocking. There are women in tragic or dangerous situations. And then there's also one that I chuckled at that shows an entire arc of a divorce.
JL
That was one of the first toiles I ever bought. It shows a man courting a woman, they fall in love, they get engaged and married, and then they have a child or two or three. And then all hell breaks loose. When my mom saw it, she said, "I don't know what she did, but he's mad. He's taking the kids and he's leaving." Humans really never change, if you think about it. Humans are humans are humans, right? It's a story that's as old as time.
AM
I view toile as a really romantic fabric, and so many of these patterns match that stereotype. They show these purely idyllic scenes. But then there are ones like the divorce that portray these moments of real life.
JL
I have one that shows a man taking a leak. I have another one where there is a dog going poo poo. How about the one with the old lady clubbing what looks like her husband? Now, that's a good one, too. And then the breasts!
AM
The nudity, I know! There is so much nudity in toile. Would that have been seen as a risqué pattern to put in a home?
JL
Breasts were not a big deal back then. There were a lot of exposed bosoms. Don't forget, women didn't wear underwear either. There was nothing under those gowns. I think society today is so much more uptight than society back then.
AM
Eighteenth-century society may have been a bit more progressive in some ways, but at the same time, women had more limited roles. Yet, in many toile depictions, they have so much agency. They are warriors and the ones doing the romantic wooing. You can imagine how buying a toile with a Roman warrior driving her own chariot—or a woman beating her husband—could be empowering.
JL
Don't you think? Like wink wink, nod nod.
AM
It's also interesting that there seems to be no judgement in these scenes on the part of the artist and the manufacturer, whether that's Oberkampf and Huet or another pair. You would imagine society would have looked down on women in some of these situations, but there's just no judgment in how they're depicted in these fabrics.
JL
Yeah, it's actually very cool. I love 18th-century silks, but quite frankly, they're just very pretty. But the toiles, I could stare at one toile for a week and discover a new something I'd never noticed before.
This interview has been edited and condensed for clarity.
---
Deck out your home in the latest and greatest of 21st century toile! Click

here

to check out Schumacher's extensive collection that runs the gamut from contemporary and cheeky to action-packed and mythological.