In her ongoing series for The Edit, textiles expert Jill Lasersohn dives deep into the fascinating history behind our favorite fabrics.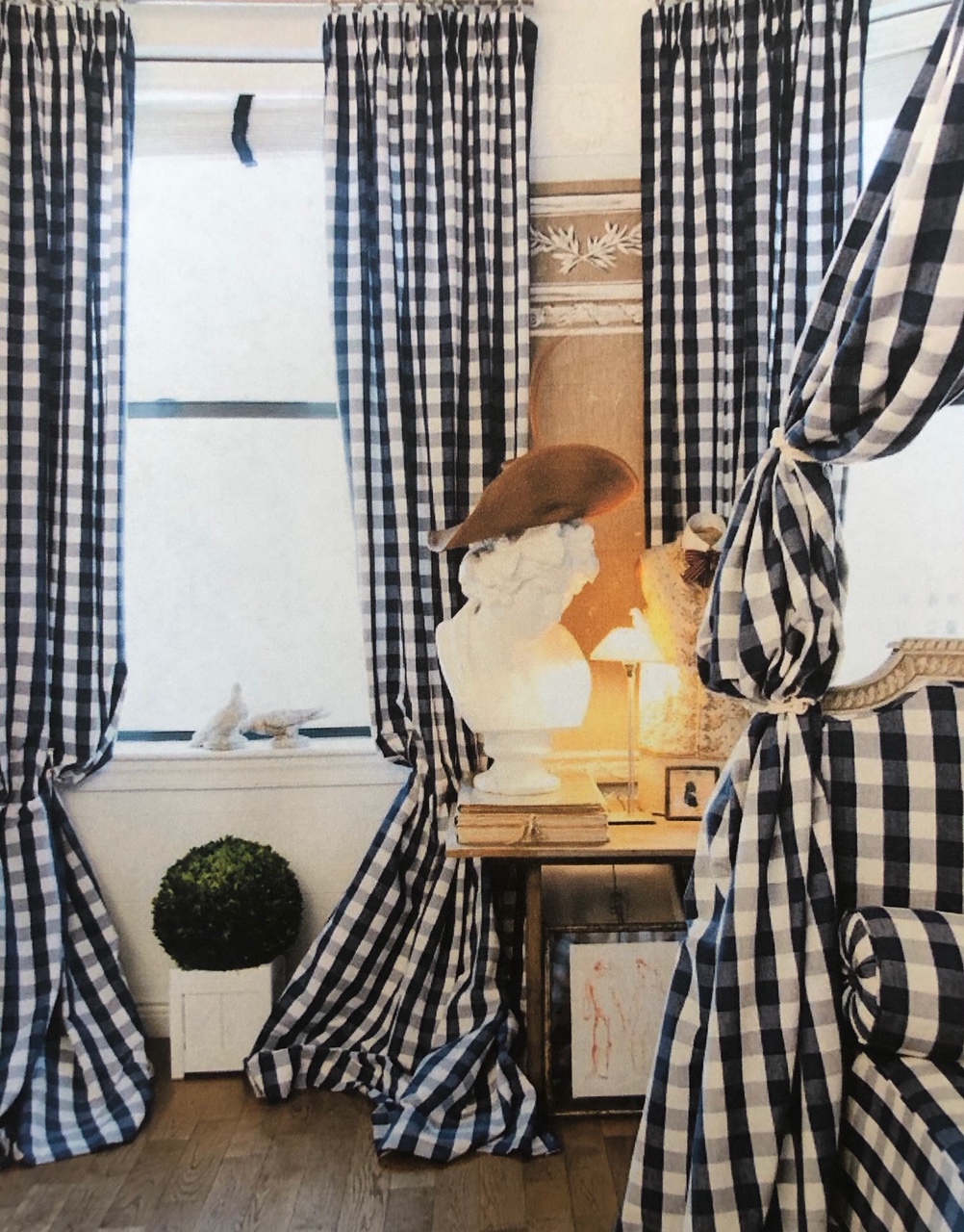 George Washington and Valentino may have been born almost exactly 200 years apart, but they have one thing in common: they were fans of Vichy check. Both men sought out the iconic pattern distinguished by large two-inch square checks for their homes, Mount Vernon for the American President and for every one of his collection of international properties for the famous Italian designer.
The Vichy check takes its name from the region of France where it was produced and popularized in the 17th and 18th centuries, but its roots go much deeper than that. The 11th century Vikings made blue-and-white check cloth based on textile fragments that have been found, and blue-and-white check pillows and linens fill the backgrounds of illustrations in 14th century illuminated manuscripts. For nearly a millennium, the Vichy check has been popular and unchanged for a reason: it's timeless, it's both traditional and contemporary, and it goes with everything.
In the 18th century, textiles from Europe were highly sought after by American colonists, and the Vichy check was prime among them. The colonies never had their own cotton production. They tried it, but it failed. So, all textiles came over from England and France by ship, often purchased through merchants who would advertise these checks in newspapers in Boston and Philadelphia.
Prominent Americans like George Washington would place orders directly with their friends who were traveling or serving as diplomats abroad. In 1783, George Washington sent a letter to his nephew who was living in Paris requesting him to purchase table chairs for Mount Vernon and requiring that they come with "covers of check." He didn't specify a color.
The Vichy check is such a common, everyday fabric. It's not a beautiful silk, it's not intricate embroidery. It was a simple pattern to weave and it could be easily laundered, so it was a utilitarian fabric that both the wealthy and poor alike used in the 18th century to add some color to dull interiors before the advent of electricity.
A painting of George Thompson, his Wife and his Sister-in-Law c.1766-8 by John Hamilton Mortimer, 1740-1779.
Lady Getting Out of Bed, a miniature by Niclas Lafrensen, c. 1776.
Madame la Comtesse de Boufflers, a watercolor by Louis de Carmontelle, c. 1760.
Samuel Johnson by Joshua Reynolds, c. 1756-1757.
But it was still considered precious. Wealthy Americans would mend their Vichy check fabric if it got a little threadbare, and I have found minute repairs on a lot of the historic Vichy check pieces in my collection. The fabric was also considered a valuable hand-me-down. During this time, textiles were the most important item in an estate, and they were listed in wills before silver, before furniture, and before art.
Since then, the Vichy check has remained a staple of design and fashion. Everyone from Georgia O'Keefe, who was painted in 1907 in a black-and-white Vichy check gown, to Gloria Vanderbilt, who used these large checks liberally in her home décor, have embraced the pattern.
But the two interior designers who are probably most associated with the Vichy check are Roger Banks-Pye and Charles Faudree. Banks-Pye, who worked for Colefax and Fowler and was Valentino's designer, was introduced to the Vichy check by a client who collected only blue-and-white versions of the textile. He instantly fell in love with her kitchen, where she had them all displayed and, from that moment on, he made the Vichy check his trademark. The southern designer Faudree was also known for his use of the check. Following the example of 18thcentury French design, Faudree became known for pairing Vichy check with Toile de Jouy in every house he worked on. You knew what you were going to get when you hired him.
Part of a room in Roger Banks-Pye's London flat. "A comfortable chair beautifully tailored in a blue-and-white check is like providing iced mineral water in a crystal glass during a rich meal," he once said.
Vichy and toile de Jouy go hand-in-hand. This is 18th century example is from the collection of the Toile de Jouy Museum in Jouy-en-Josas in Versailles.
A check sofa designed by Charles Faudree.
A bedroom by Robert Kime.
Valentino's New York living room c. 1989 designed by Peter Marino.
Designed by Howard Slatkin, the East Hampton home of Laura and Harry Slatkin was inspired by Hubert de Givenchy's Le Clos in France.
The Vichy check has never gone out of style, but today it's being used in less traditional rooms. When I think of American colonial or Swedish country design, I often think of the check. But now designers like Mark D. Sikes are also using the classic pattern in a variety of fresh and innovative ways.
---
AS TOLD TO ALLISON MCNEARNEY