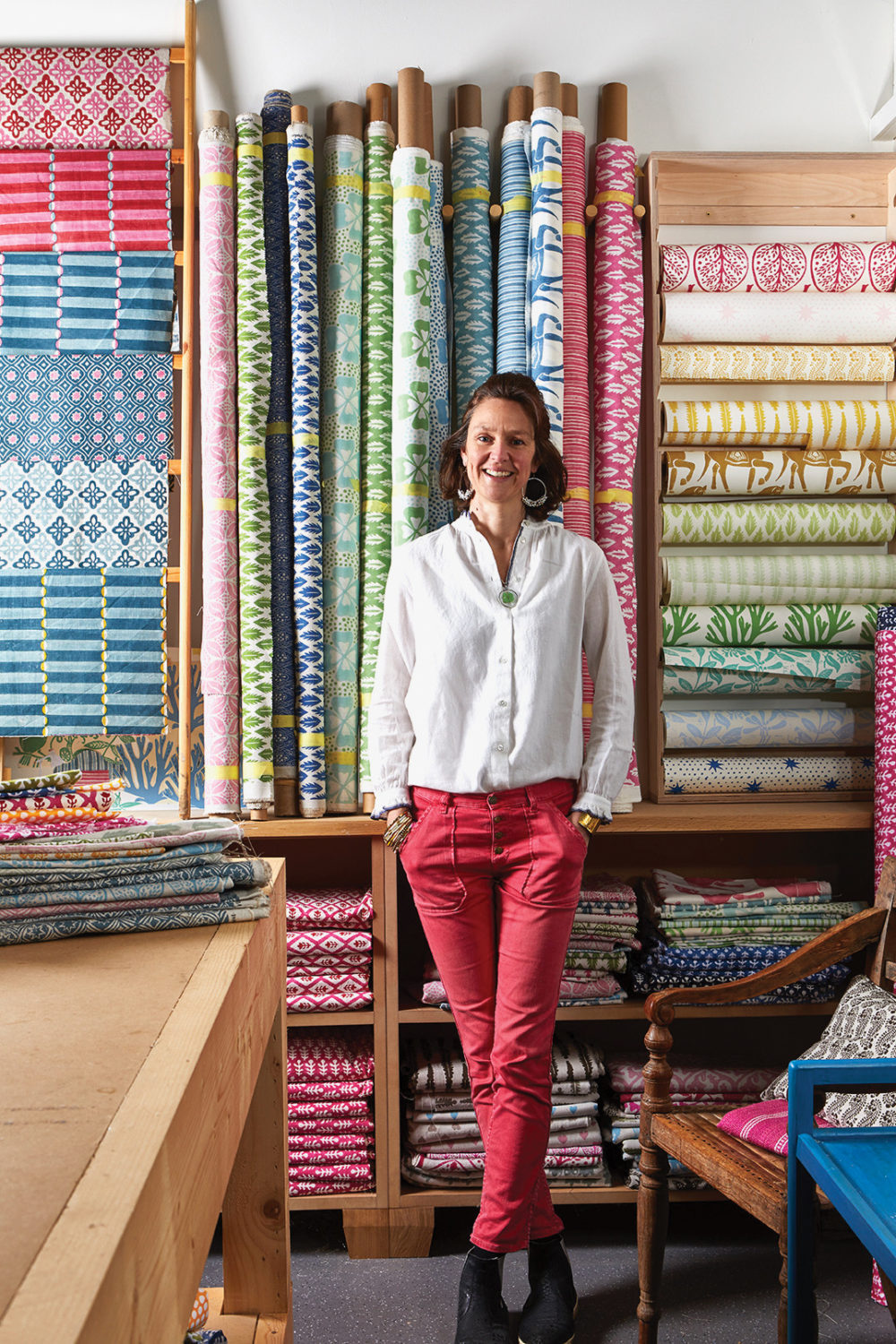 With deep roots in her beloved England and an exhilarating love affair with India, Molly Mahon knows a thing or two about both nesting and embarking on soulful adventures. We asked her to dish about the yin-yang pleasures of close-to-home and far-away, and how together they feed her creative vision.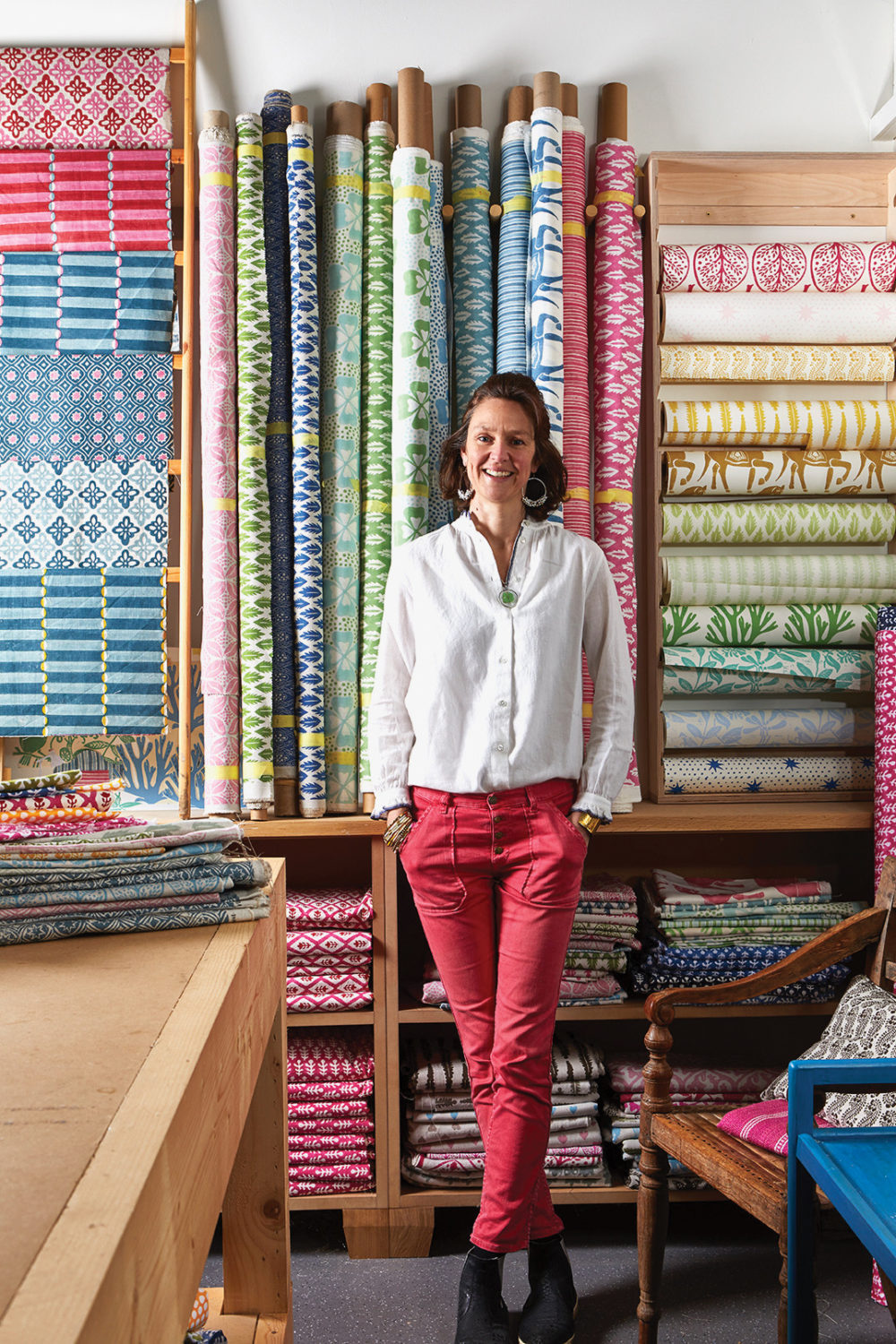 Who are your style icons?
One is Deborah Cavendish, the late Duchess of Devonshire. She struck a perfect balance between sophisticated beauty and rural comfort. Bruce Weber photographed her in a ballgown, feeding her chickens. I have that image at home, and when I am rushing out in a dress and wellies, it always makes me feel better! I also adore the style of her late granddaughter Stella Tennant, who exuded country cool at its best. She reminded me of my sister, who also has great style.
You travel often to Jaipur. What do you love most about it?
You see pattern everywhere—on the saris, on the huge trucks, on the buildings. India is a kaleidoscopic patchwork of colors and designs. It's opened up the pattern-inspiration flood gates for me.
What are your Jaipur don't-miss spots?
Nila House

, a boutique/gallery/workshop dedicated to preserving the integrity of India's crafts traditions. The beautifully curated

Anokhi Museum

, which occupies a restored ancient haveli. Sukh Niwas, the extraordinary blue-and-white room in the

City Palace

where the maharajah's family used to pass the time during monsoon season, and which inspired the interiors for the see-and-be-seen

Bar Palladio

, itself a don't-miss spot.
Favorite Jaipur hotel?
28 Kothi

, my home-away-from-home, and

Jobner Bagh

when I want to treat myself. And

Anopura

, about an hour outside Jaipur, is perhaps the most special place I've ever stayed. One night the staff lit me a fire and left me under a mass of stars with a goat bell and the call to prayer the only sounds in the background. Utter peace. I long to return.
View this post on Instagram
What's your favorite market in India?
The Phool Mandi, the main wholesale flower market in Jaipur. I go early, while the city is still sleepy but the bustle of the market is in full swing. There are stalls of marigolds and roses, and bundles of blossoms tied together with fabric strips. The atmosphere is frenzied but friendly, and there's a romance that I completely lose myself in.
The best travel accessory?
The stash of bags I've had made up from my fabrics—some are plastic-lined for toiletries, some have drawstrings for shoes, one is for laundry, another is for electronics, and so on. I love packing everything into bags and pouches, it's not only pleasing but efficient.
What's your favorite home in England?
Charleston

, the farmhouse of Vanessa Bell and Duncan Grant, is definitely up there. I also love Cath Kidston's home, Paradise, for its wonderful amalgam of old and new. Cath recently published her book A Place Called Home, which generously walks readers through the house.
Your favorite garden?
Wardington Manor, which belongs to Bridget Elworthy, one half of the popular gardening duo

The Land Gardeners

, known for their passion for healthy soil and flowers. The plantings at Wardington Manor have a wildness that suits my preference for perfectly imperfect things.
What's one of your favorite shops in the world?
Petersham Nurseries

, in London. It started as a garden center but now has a restaurant, cafe, store and workshop. I love multifunctional places that offer a sense of something unique. I'd like to see Molly Mahon go in this direction.
Your favorite source for art supplies?
Shepherds

, in London, right near Victoria Station, where my train from Sussex pulls in. It's a wonderful little bookbinding shop that also sells pens, notebooks, paper and more. I am like a child in a sweets shop.
Best source for fun kids' things?
Conscious Craft

, an online shop specializing in natural toys and crafts materials. Everything is sustainable, small batch and high quality. As creative making gets squeezed out of school curriculums, I feel more and more passionate about encouraging kids to make things and be inspired.
Your favorite artwork of all time?
Oh, I can't choose just one! I have a Scottish landscape that I inherited from my grandmother that I could look at all day, and we have a painting by the artist Lucy Pratt of a fishing village in Cornwall that was given to us as a wedding gift. David Hockney's recent iPad painting, Do remember they can't cancel the spring, will always resonate with me after going through the pandemic. And one of my most favorite pieces ever is Large Decoration with Masks, a huge Matisse paper cut-out from 1953.
Your favorite flowers?
Wild flowers, cornflowers, sweet peas and poppies in the U.K., and the huge fields of marigolds that you see while whizzing along the highways and railroad tracks in India. I weave flower motifs into my designs all the time.
What book is on your bedside table?
The novel

A Theatre for Dreamers

 by Polly Samson. It's whisking me off to 1960s Hydra with Leonard Cohen and friends, and making me feel very ready for a Greek-island holiday!
Your favorite spot for a family trip?
The Isle of Mull, in Scotland. I've been going since I was born and it's my ultimate happy place—remote, untouched, it's nature at its best. I adored it as a child, and adore it now with my own kids, walking the same paths, running wild, swimming in lochs.
Your favorite solo escape with your husband Rollo?
We haven't been anywhere just the two of us for so long, but we manage a game of tennis together once a week, and I relish that time when it is just the two of us doing something that we both love—and are quite competitive about, too!
And finally, tell us about your gorgeous new book!
I'm a book addict. When I got the chance to write House of Print I worked really hard to bring it to fruition. I wanted to convey the specialness of handblock printing, and to tell my story and celebrate creativity writ large. You learn so much about yourself when you make things. I hope this book gives readers the confidence that they, too, can be creative.
Want to learn more about Molly? Check out her whimsical and utterly cheerful family home in the historic Ashdown forest HERE.