As the host of The webinar series "Made in the Trade," New Jersey designer Gail Davis has been doing all the asking, so we turned the tables and had her answer our burning questions on everything from her style mantra and desert island necessities to inspirations and guilty pleasures.
---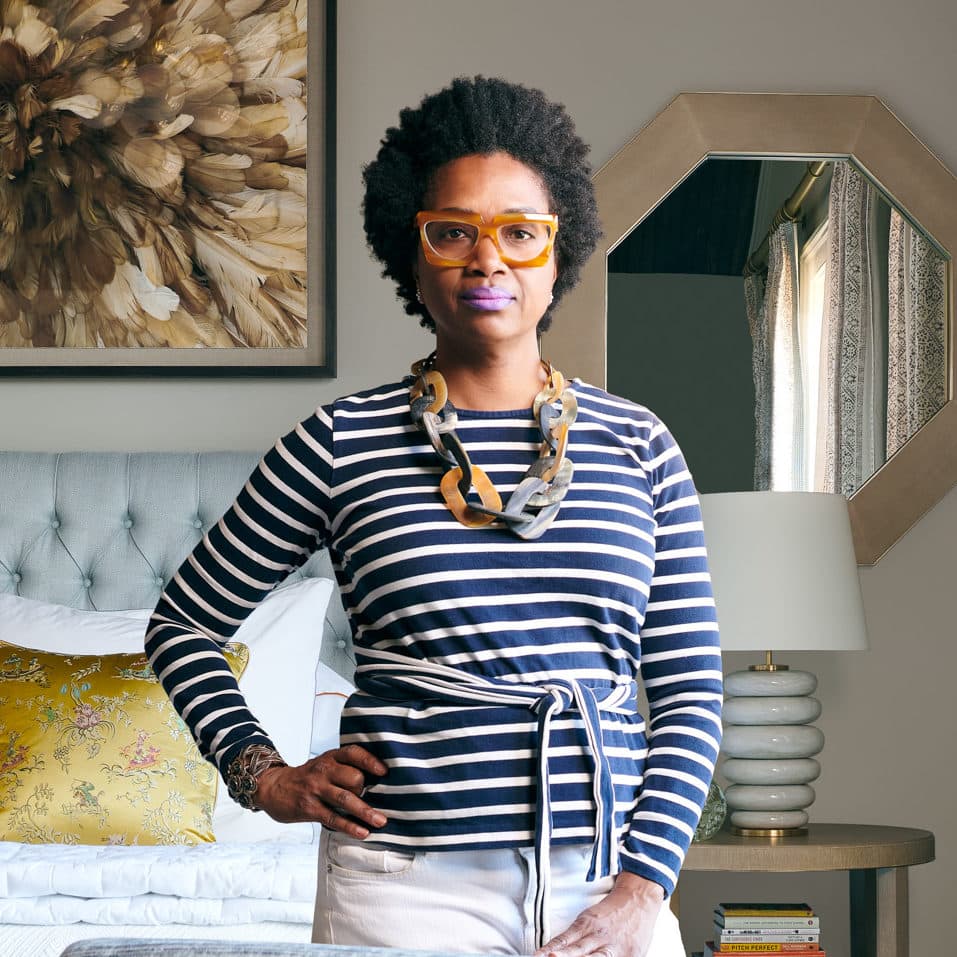 What is the best piece of advice you've ever received? Put your head down and work! Keep your eyes focused on where you want to go.
What is the most revealing thing you can ask a client? I always ask, 'Where was your last vacation?'
Who was your first design crush? Sheila Bridges.
Who is your current design crush? Ilse Crawford.
What is your favorite room of all time? My grandparents' living room. It's a small space but very well thought out with enough seating for 15 people.
What do you collect? Magnifying glasses.
What is your most prized possession? A picture of my late father on his Harley Davidson.
What is overrated in decorating? Accent walls.
What is underrated in decorating? Originality. There is a lot of gray herd mentality.
If your projects were tagged on Instagram, what keywords would you use to describe them? #Njinteriordesigner or #gddmoments.
We're sitting in one of your rooms—what is the soundtrack playing in the background? Stevie Wonder "Another Star".
Where is your favorite place to unwind? I head to my backyard or the reservation near my house.
Where do you go or what do you do to find inspiration? Inspiration is everywhere. I know this sounds corny but Mother Nature is a kick-ass muse!
What is your design mantra? Classic with bold colors. I encourage my clients to live with color. I talk them out of basic beige or gray.
What is something you keep in your office or on your desk for inspiration? My interior design degree. I received my degree later in life and I am proud of it.
What are the three things you'd take with you to a desert island? A book, a journal and my husband.
If you suddenly stumbled upon a fortune, what would you buy? A farm so I can rescue dogs and have as many as I want without being concerned for space.
What is your guilty pleasure? Welch's gummies.
What item do you find expensive but worth it? A custom sofa.
What hotel has the best interiors? Ett Hem. It is not your typical hotel. There is no front of house and back of house. The guest experience is one of feeling like you are at home.It is what true thoughtful design looks like.
Who is your fantasy lunch or dinner companion: Architect Paul R Williams.
What is the part of your daily routine you positively cannot miss? Going to the dog park. I have 3 dogs and if I don't let them run in the morning, my day is shot! 
View this post on Instagram
What is your favorite color? Green.
What do you find to be the most flattering paint color? Robin's Egg Blue.
What is your favorite sofa style? I like a semi-deep 3 seater or a bench cushion.
What is your favorite chair style? I love me a good swivel!
What is your favorite accessory? Eyeglasses. Utenzi Miller has eyewear to die for!
What is your favorite book? I Dream A World by Brian Lanker.
What is your favorite place in the house? Bedroom.
Who is your favorite artist? Joseph Lee.
What is your favorite museum to visit? The Met.
What is your favorite film? Pillow Talk—the set design is delicious.
What is your favorite flower? Peonies.
What is your entertaining must-have? Pitchers. I like to fill them up with a speciality beverage & let guest serve themselves.
What is your favorite drink? Anything bourbon.
What is your favorite design era? Bauhaus.
What is your favorite piece found on your travels? A hand carved bust of a beautiful elderly woman. The expression on her face is deep.