Beauty maven Olivia Chantecaille recently invited us to join her as she set the table for an intimate backyard birthday supper for her mother Sylvie—all inspired by her deep love of nature's finest flora and fauna. 
Olivia Chantecaille only had to gaze at the riotous peonies, mallows, roses, and alliums abloom in her family's East Hampton garden to find inspiration for this alfresco birthday dinner for her mother Sylvie. "All the flowers are exuberant and exploding with color right now," says Chantecaille, the creative director of the eponymous botanical-based cosmetic brand co-founded by her French-born mère. "I wanted to embrace that peak summer feel with an elegant tablescape." Held on the terrace overlooking the lush greenery, with buzzing bees and butterflies constantly darting by—"we plant flowers that specifically attract and support pollinators, and there's a beehive in the back of the garden"—this year's celebration was more intimate than previous get-togethers, with a guest list limited to close family members, all quarantining in a pod due to the pandemic.
Wanting the smaller-scale party to seem "lively and magical," Chantecaille created a tablescape that's formal but not stuffy, with a floral print from Schumacher, sophisticated pink hues, and gleaming silver and gold accents. The locally-sourced seasonal menu, including cool melon soup, sea bass, fresh corn salad, and summer squash galettes, all seasoned with fresh herbs snipped from the potager, nodded to the relaxed outdoor setting and East Hampton's storied history as a fishing and farming community.
As the sun set on the sultry, flower-scented evening, everyone in the tight-knit Chantecaille family lingered over decadent French pastries reminiscent of the cakes Sylvie grew up with in Paris, and recalled her previous birthdays, and the jubilant crowds of attendant friends and family. Although this year's gathering was more subdued, "it was full of life, and joy, and love. We turned the limitations of quarantine into a special and beautiful memory," says Chantecaille.
Below, we take a deeper dive into Olivia's dinner party!
Garden Variety
A tablecloth sewn from Schumacher's Enchanted Garden, a linen with graphic peonies and hydrangeas that's based on a 1910 pattern, was the jumping-off point for the garden-centric tablescape. "The print is bursting with oversize blooms, so for contrast I paired it with my mother's light, delicately-patterned plates."
Also continuing the ethereal motif are the dainty Liberty London blooms on the cotton voile napkins and the transparency of the Italian hand-crafted amethyst glass bowls, all from Land of Belle. An open-weave Juliska pistachio placemat with an embroidered edge lets the pattern of the tablecloth peep through, while adding a subtle hint of color. The mismatched, vintage flatware is part of Sylvie's extensive collection of a one-of-a-kind finds. "She also collects old teacups, and my father collects decades-old silver cutlery. It makes it fun to set the table when I'm at their house!"
Everything's Coming Up Roses
For an easygoing centerpiece with a plucked-from-the-fields casualness, Chantecaille loosely gathered cabbage roses, dahlias, hydrangeas, and parrot tulips in shades of white and pink and popped them in a simple white vase. She even carried the pastoral floral theme into her wardrobe, with a flared linen
Oscar de la Renta
dress emblazoned with bold appliques of blooms, butterflies, and dragonflies. "It immediately put me in a festive mood," says Chantecaille. Also party-worthy: her
Chantecaille
Bourbon Rose
lipstick, a rosy flower-inspired shade of pink.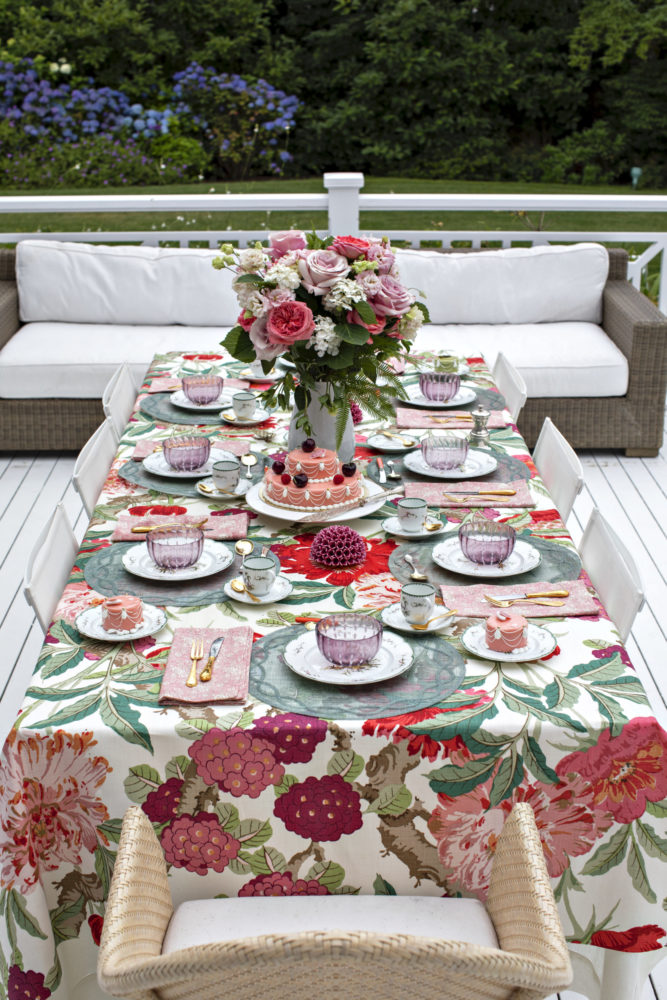 Piece of Cake
To end the evening on a sweet note—and for desserts that stayed true to the party's hues—Chantecaille served up Ladurée confections, including a luscious, multi-tiered pink cake with raspberry jam and rose buttercream, with mini versions offered plateside. "Their creations are exquisite, and signal that this is a special moment," says Chantecaille of the pastries from the world-famous French bakery.
Get Olivia's Beauty Look Here: