We were shattered to learn today of the death of Paul Fortune, one of the most singular talents in the world of design. As an homage, we're posting here the chapter on Paul and his husband, ceramist Chris Brock, excerpted from

The Authentics

 by Schumacher Creative Director Dara Caponigro and the photographer Melanie Acevedo.
For Paul Fortune and Chris Brock, forsaking the freeways and lightning-speed development of Los Angeles for the magical mountains and citrus groves of Ojai was more than just the decision to change their pace of life, it was an opportunity to fully slough off their urban skins and crack open a whole new adventure. For Fortune and Brock, moving to Ojai has sprung them from the demands of the typical rat-race life.
Fortune is an interior designer and legendary arbiter of style, known for his Midas-touch ability to conjure eclectic spaces that exude sophistication and warmth. His roster of clients is a who's who of in-the-know design aficionados, including Marc Jacobs and Sofia Coppola, and his public work has resulted in some of the most iconic décor moments of our time—he overhauled L.A.'s Sunset Tower Hotel into a glowing cocoon favored by Tinseltown's A-list but with an everyone-welcome vibe, and was the first to punch a Cadillac through the roof of a Hard Rock Café.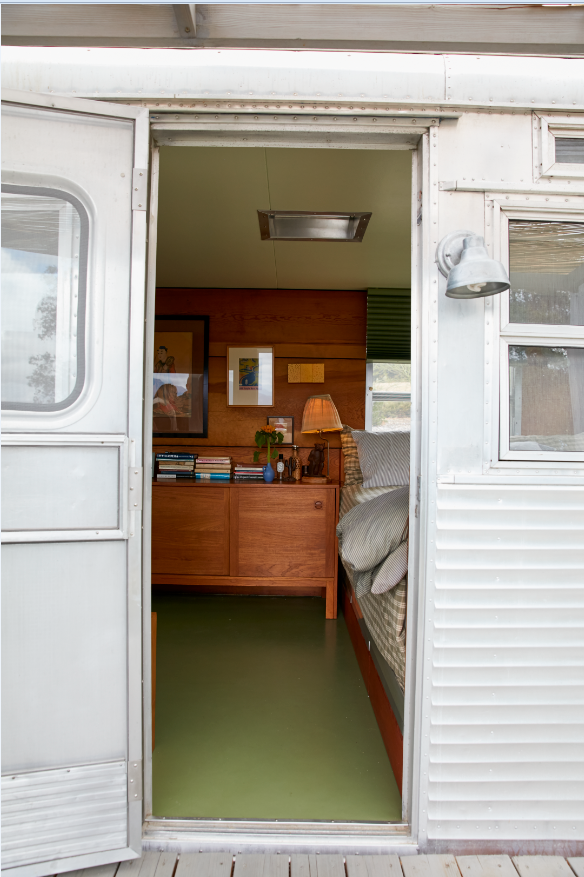 He and Brock met at Les Deux Cafés, the infamous louche-boho Hollywood boîte that Fortune decorated and where Brock worked, and that during the late 1990s and early 2000s was the clubby place to be seen for L.A.'s most glittering tastemakers and stars. The two nestled in together in the Laurel Canyon cabin reputed to have once been comedy duo Laurel and Hardy's personal gin den, and which for decades had been Fortune's work-in-progress home. The abode was storied for captivating visitors the minute they showed up—so much so that one person offered to buy the entire mise-en-scène, the structure and everything in it, just as it was.
With no idea what the next chapter might hold, and invigorated by that very thought, Fortune and Brock handed over the keys, decamping to a set of vintage trailers perched high in Ojai's oak- and chaparral-covered hills. Time yawned deliciously before them. As one way to fill it, and in keeping with Ojai's time-honored hippie-craft spirit, they signed up for a pottery class.
And suddenly for Brock, who had been working as a landscape designer, something clicked. Before long, he was turning out exquisite vessels that echo classical forms but have a bracing, irresistible modernity. At once statuesque and rugged, and with complex glazes so evocative they suggest stories of their own to tell, Brock's ceramic pieces have a power so forceful and organic that they seem to have been waiting for him to make them all along.
Fortune still keeps his interior design office in Los Angeles, but he's just as happy sitting on his Ojai deck, enjoying the area's fabled pink-sunset sky. Brock spends most days in the trailer that now houses his pottery studio. Occasionally, they descend from their secluded aerie to tool around town in their vintage brown Rolls-Royce, enjoying the ride all the way.
PAUL, YOU WERE BORN AND RAISED IN

­ENGLAND—ARE THERE THINGS ABOUT YOU THAT

STILL FEEL EUROPEAN, AND THINGS THAT NOW FEEL QUINTESSENTIALLY AMERICAN?
I am English and appreciate all that entails, and I
enjoy living in America, but I've never felt compelled to
restrict myself to a national identity. Although I think
London the best city, and California the best place to live . .
. for now.
HOW DO YOU RECHARGE?

Chris: By listening to opera. I love so much of the repertory—Mozart, Verdi, Puccini, Bellini. It's always about soaring love, impossible love, regretful love, deep, tragic, painful love! 
IN YOUR RECENT MOVE, HOW DID YOU CHOOSE THE FEW THINGS YOU KEPT? Paul: I sold most of the contents of my house when I left. It made sense as it all worked so well there. I took my books and my art from friends, and some early Roy McMakin furniture that I love and that works well in Ojai. Also my pussycat,
Nelly, and a prizewinning staghorn fern I was loathe to
abandon.
CHRIS, WHAT IS YOUR CREATIVE PROCESS LIKE—WHAT DO YOU FEEL AND WHERE DOES YOUR MIND GO WHEN YOU ARE MAKING POTS?
Working with clay has brought up so much self-doubt for me, and difficult memories from childhood about being a gay kid who received little in the way of nurturing. Rather than quitting my creative pursuits when self-doubt arose, I identified its source, struggled through my feelings, and pushed forward. The process of overcoming my past through my passions has been so healing and rewarding!

When I'm working, I take a lot of breaks to stay balanced, and I keep it simple: focus on the current piece, slow down my mind. I hand-build my pieces—no spinning or out-of-control things!
NAME FIVE ESSENTIALS FOR EVERY ROOM.

Paul: A view, a comfortable chair, a good lamp (or several, actually), a vase of fragrant roses, and a glass of decent Montrachet.
WHAT WOULD YOU CONSIDER THE DEFINING MOMENT OF YOUR LIFE?

Paul: Moving to New York City in 1978. New York in the '70s was full of artists and very free—much more accessible and glamorous than London. I was young and ready to explore, and New York was ready for me! Chris: Getting gay married!
HOW DO YOU STAY AUTHENTIC IN A WORLD THAT SEEMS TO INCREASINGLY EMBRACE UNIFORMITY? Paul: Ignore the false world as much as humanly possible and focus on the true one every day.
WHAT ARE YOUR DEEPEST SOURCES OF INSPIRATION FOR YOUR WORK?

Chris: The vibe of 1970s Deco Revival and 1930s Hollywood style, and ancient Etruscan art.
WHAT ADVICE DO YOU WANT TO PASS ON TO THE NEXT GENERATION?

Paul: Treasure the natural world. It's incredible and nothing—I repeat,
nothing

—comes close.
WHAT IS YOUR GREATEST FEAR?

Paul: LAX.
WHOM DO YOU CONSIDER AUTHENTIC—A TRUE ORIGINAL?

Chris: Rick Owens. He has such an amazing eye and unique point of view. Paul: There are so many. I just found a Polaroid of the performance artist and designer Leigh Bowery when he stayed with us in Hollywood in the 80s. Now, that darling/monster was a true authentic.
WHAT IS YOUR ULTIMATE VACATION?

Paul: A good book. I've often, though not always, had a better experience of a place by reading about it than visiting it. Very Huysmans/
À Rebours

of me, but the inner life has become more attractive to me as the outer becomes more challenging.
DO YOU HAVE ANY REGRETS?

Paul: That I missed Hollywood in the 30s, a cowboy town with the most beautiful and amusing people. It was an era that had never happened before and never will again.
WHAT IS YOUR MOST VALUABLE ASSET?

Paul: I'm empathetic . . . to a fault. Chris: Being a good listener.
WHAT'S THE FIRST THING YOU NOTICE WHEN YOU MEET SOMEONE NEW?

Chris: Their aura. We need to watch out for dodgy energy—who needs it? Paul: An alluring voice.