Is there anything better than walking into a warm, well-loved home full of moments, heirlooms—and personality? For textile designer Lisa Fine, it's just these types of spaces (and their owners) that inspire her aesthetically—so much so that she filled an entire book with them. Near and Far: Interiors I Love is a kaleidoscopic journey through the stunning dwellings of friends and family (and her own!), all brimming with wonderful curiosities. We were so enchanted by it all we asked Fine to share a few of her favorite rooms from the new tome.
PENNY MORRISON'S WELSH KITCHEN
"Penny's house is the perfect place for house parties. Every room opens to a terrace or garden and has a place for the spontaneous lunches and dinners she hosts each weekend. In the winter, casual dinners are often in the kitchen, where her talent for mixing patterns and collections continue the cozy vibe found all over the house."
CHARLOTTE MOSS' MANHATTAN GUESTROOM
"This is probably my favorite bedroom. It has all the elements I love: it's classic, there's an Indian-inspired floral print everywhere, and it has a touch of the exotic and unexpected. Every piece of furniture tells a story, and her keen art and design connoisseurship is seen throughout her home. I truly covet her antique, four-poster black lacquer beds with the pop of Persian blue silk lining the canopy, which along with screen panels she converted into closet doors were the inspiration for the Orientalist theme."
ROSE TARLOW'S LOS ANGELES LIVING ROOM
"Rose is a master at creating the everyday luxury of living. Good wood, simple furniture, and a soft, natural palette are the foundation of all of her rooms, as seen in her own living room which is bathed in natural sunlight during the day and small ivory-shade topped lamps in the evening. There are comfortable chairs for reading and coffee tables within easy reach for setting down a drink. Nothing is contrived and antique salvage materials, like the 11th century English oak beams and 18th century French doors, give the newly constructed home a genuine Old World Charm."
JOHN STEFANIDIS' PATMOS MASTER BATH
"Despite being London-based, John truly understands the Mediterranean. Every room in his Greek island home is an extension of his outdoor terraces and gardens, and the walls inside and out are whitewashed to deflect the heat while also enhancing the elegant, rustic simplicity of the architecture. His use of blue throughout mirrors the hue of the sky and sea seen from every room. Vintage hand-painted plates from Samos rest on sky-blue shelves and the trellis-fronted medicine cabinet is reminiscent of the latticework found in the island's harems during Ottoman rule."
LISA FINE'S MANHATTAN LIVING ROOM
"This room was a real challenge for me, as the actual room is very bland and institutional. Although I normally go for bold colors, I paper-backed sand-colored chevron stripe to cover the walls, installed wall-to-wall raffia for the floor, and slipcovered the banquets in an ivory hemp before adding layers of antique embroidery, silk irate and cotton block print pillows from my travels. The lampshades are silk sarges from India, and the stools are covered in suzanis from Uzbekistan. I always anchor a room with antique French chairs and black lacquer. In the end, the result was anything but boring or colorless!"
---
RELATED: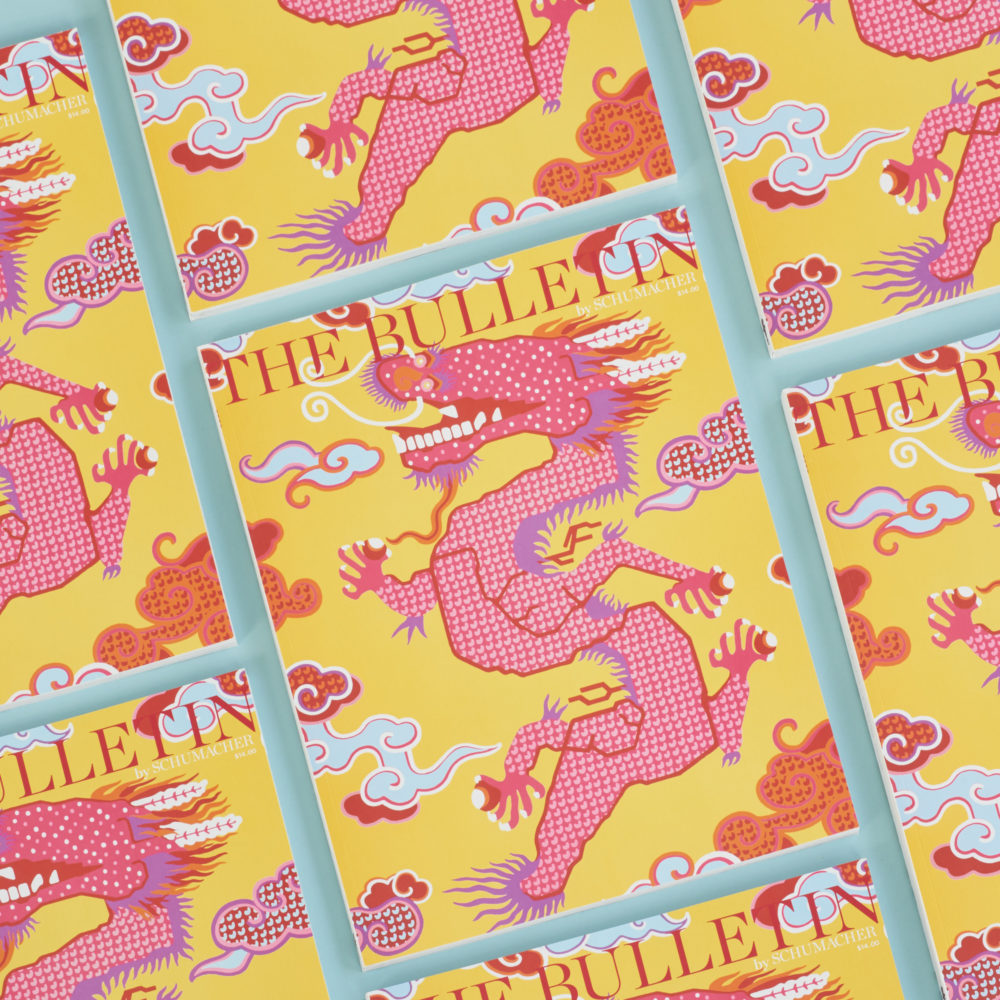 Is Your Bulletin Subscription Up to Date?
If not, subscribe today!
The next issue is coming soon.
---
"One Hundred Rooms to Know and Love"
by Schumacher
The creative team at Schumacher has compiled 100 to-die-for rooms by some of today's most brilliant designers into a slender and attractive cloth-bound volume.