What better way to experience London than armed with a list of tastemakers' favorite places to shop, eat, sleep and explore?
So we asked six design gurus—Whitney Robinson, Editor-In-Chief of Elle Décor; Gabby Deeming, Creative Director (Interiors) of House & Garden and Founder of @day.dress; Ben Reynaert, Senior Editor, Style + Market, of AD Pro; Parker Larson, Style Director of Elle Décor; Miguel Flores-Vianna, international photographer; and Monika Eyers, East Coast Editor of Better Homes & Gardens—for their best recommendations across the pond.
Where  to Stay
Ham Yard Hotel
Ben: "On my last trip to London, I had the pleasure of staying at Kit Kemp's Ham Yard Hotel. They have the coziest library, and the hotel itself is perfectly situated at the end of a little cul-de-sac in the heart of Soho."
Rosewood Hotel
Parker: "The Rosewood is my favorite. I love finishing the day with a cocktail at Scarfes Bar. If you go during the holidays, you may see Santa Claus sitting in their Holborn Dining Room, or in one of the cars outside with a bunch of presents."
Claridges
Miguel: "I always recommend Claridges—it's one of the best in the world," he says of the five-star hotel in the tony Mayfair neighborhood.
The Landmark Trust
Gabby: "The Landmark Trust is a brilliant charity that rescues derelict buildings and turns them into very unique holiday rentals. (You can lose hours just browsing the website!) In London, they have a beautifully restored 18th-century townhouse in the heart of Spitalfields. Perfect for history lovers."
Blake's Hotel
Monika: "I love Blake's in South Kensington. Designed by Anouska Hempel, it's cozy and intimate. It's also close to the Victoria and Albert Museum and Brompton Cross, which is a lovely shopping area."
---
Where to Eat
Ottolenghi  ◆ Assaggi
Whitney: "Ottolenghi on Motcomb Street, which offers up Mediterranean and Middle Eastern-inspired dishes to go, is Robinson's "go-to spot for coffee or a quick bite." But his favorite restaurant? "I always head to Assagi in Notting Hill for dinner. It's a locals' favorite with a menu that reminds me of summer in Capri, even in the blustery London winter."
Dishoom
Ben: "I never enjoy waiting in line to get into restaurant, but on my last trip, I waited two and a half hours for the highly-recommended, fast-casual Indian food at Dishoom. I was pleasantly surprised by how incredible and budget-friendly the food was, and I thoroughly enjoyed the ambiance and energy of the place."
Chiltern Firehouse
Monika: "It is fab. Studio KO gave the interiors a sort of mid-century tropical vibe, with lots of rattan and bamboo, faded florals, palm frond motifs, and indoor plants overhead. In the warmer months, lunch on the outdoor patio feels like being on vacation."
Campania
Gabby: "It's a tiny Italian restaurant, tucked away on a cobbled courtyard off Columbia Road in Hackney. It serves the most delicious food and drinks off a small menu and always has a very cozy atmosphere."
Bellamy's  ◆ Clarke's
Miguel: "I have two favorites: Bellamy's on Brutton Place in Mayfair, and Clarke's on Kensington Church Street," says Flores-Vianna. The former, a small Parisian brasserie, is famously known as one of the Queen's favorite spots. Clarke's is considered the original farm-to-table restaurant in London.
---
Where to Drink
Great Court Restaurant
Ben: "My favorite place to have coffee (or afternoon tea) is actually the Great Court Restaurant at the British Museum. I love their green and white china, and sitting beneath the famous glass roof—with a buttery scone and jam of course!"
Blue Bar
Whitney: "The David Collins-designed Blue Bar, inside the Berkeley Hotel inKnightsbridge, is a little lavender jewel box. Best martini in town."
Fortnum & Mason
Parker: "It is usually very crowded, but I always have to stop for teaat least once while in London. Their scones are delicious, and paired with clotted cream, they're out of this world!"
Sotheby's Restaurant
Miguel: "I like having coffee at Sotheby's Restaurant. I always run into a friend, and if it is during the sales, it is a great place to see art."
Jerusalem Tavern  ◆ Spaniards Inn ◆ The Duke of Cambridge
Gabby: "Being a Londoner, I'm going to give you some good pubs. Jerusalem Tavern in Clerkenwell is a wonderful ancient pub, or the 16th-century Spaniards Inn up in Highgate is also amazingly atmospheric (Keats was a fan) and does great food. The Duke of Cambridge in Islington is a great family place and where I eat a lot of Sunday lunches—the food is delicious!"
The Churchill Arms  ◆ The Ned
Monika: "The Churchill Arms on Kensington Church Street is a quintessential British pub, with flowers climbing the façade and a million relics lining the walls inside. For something on the swankier side, I love The Ned. It's owned by the Soho House group, but you needn't be a member to go, and they often have live music."
---
What to See
Sir John Soane Museum  ◆ Tate Modern
Ben: "I always make a point to visit the Sir John Soane's Museum. Themeandering halls and unexpected volumes of space create a magical place one could get lost in for hours. And the Turbine Hall at the Tate Modern by Herzog and DeMeuron will always be my absolute favorite building in London. I first visited it the summer I spent traveling before architecture school, so it's always had a large impact on me."
Westminster Abbey
Parker: "Westminster Abbey. Not only is it beautiful, but it's so interesting to see how many famous people are buried there: Mary, Queen of Scots, Isaac Newton, etc. As an English minor, I especially love seeing the burial places of authors like Charles Dickens and Jane Austen!"
St. Pancras International  ◆  Ham House and Garden
Miguel: "St. Pancras Station!" Flores-Vianna recommends a visit to the soaring, red-bricked railway station, a stunning example of Gothic Revival architecture. "I could kiss the ground every time I arrive there on the Eurostar from Paris! Ham House is also a must if you visit London. It's a beautiful Jacobean house in immaculate condition, filled with very covetable things."
Postal Museum
Gabby: "The Mail Rail at the Postal Museum is very new. You can ride a 100 year-old mail train underground from Mount Pleasant to Euston, and there's great coffee nearby at Caravan on Exmouth Market."
Victoria and Albert Museum
Monika: "It is always a must," the editor says of the massive, 1852-founded menagerie of ceramics, textiles, jewelry and fashion, prints, furniture and more. "They have a stellar permanent collection, a lovely courtyard and the best gift shop."
---
Where to Stroll
Hyde Park
Ben: "It's always a pleasure to wander through Hyde Park, and now that there's a Christo sculpture in the center of the pond, there's even more of a reason to go!"
Green Park
Whitney: The editor lists Green Park as his favorite of London's many parks. Known for its one million Daffodil bulbs that bloom in spring—it offers a quiet reprieve just outside the action at Buckingham Palace.
St. James' Park
Parker: "The ducks are always a highlight at St. James' Park," says Larson of the expanse that leads up to Buckingham Palace, famous as the official backdrop for Royal pageants, state visits and other official ceremonies (including a very famous wedding procession).
Hampstead Heath  ◆ Chelsea physic Garden
Gabby: "We are so spoiled with parks. For me, it's Hampstead Heath. The pathways take you high and low through dense woodland, and from there you can visit John Keats's House, Fenton House (decorated by John Fowler) and the amazing 2 Willow Rd (Ernö Goldfinger's 1930s modernist home). My other favorite is the Chelsea Physic Garden, first established by the apothecaries in the 18th century for medicinal plants. It's a magical walled garden with a fascinating history, and an essential (and relaxing) visit for anyone interested in plants."
Holland Park
Monika: "It is enchanting. There are peacocks roaming, a formal garden, a Japanese garden, and an opera house. Time it right in the summer, and you can picnic in the park while listening to the opera rehearsals as the peacocks meander by. It's really magical."
---
Where to Shop
Pentreath & Hall
Ben & Parker: Both Reynaert and Larson are fans of this decade-old shop, co-owned by architect and designer Ben Pentreath and decorative artist Bridie Hall. "I always find the most usable and stylish baskets there," says Reynaert. As for Larson: "I want everything there! Ben curates such fun, colorful items, ranging from marbleized lamp shades and colorful lacquered mirrors to plaster objects."
Anderson & Sheppard
Whitney: This Savile Row tailor, known for its bespoke mens' ready-to-wear, is Robinson's shopping destination of choice when in London.
The New Craftsmen   ◆  Guinevere   ◆ The Map House
Monika: "I always make time to stop by The New Craftsmen," says the editor of the Mayfair showroom that sells contemporary ceramics, textiles, furniture and art by makers across the British Isles. "Guinevere is a treasure trove," she adds. The Kings Road antiques store has been selling a mix of styles and eras since opening its doors in 1963. "The Map House, off Portobello Road, is particularly good for antique engravings."
Rose Uniacke  ◆ Jamb
Parker: "Rose Uniacke has the best antiques. Jamb is another one of my favorites: they have the most incredible taxidermy, and they also make the most fabulous reproduction mantels, furniture and lighting modeled after their antiques."
Lillie Road
Gabby: "You will find some of the best decorative antiques shops on Lille Road in west London, with friendlier price tags than those at Pimlico Road. I love Maison Artefact, Puckhaber and Maggie Charpentier."
Liberty London
Ben: "It's my go-to emporium for all things fashion, home and design. I love everything from the highly curated mens' department in the cellar level, where I always find the best selection of Ami, to the home floor that sells Liberty fabrics by the yard. Swoon!"
---
To Bring Back Home
Ben: "I always pick up a few glossy red double decker bus and phone booth magnets  as gifts. For me, bright red is the color of London."
Whitney: "I love Liberty boxer shorts!" says Robinson. The department store offers an array in their signature floral prints.
Parker: "I went to London for the first time when I was in fifth grade, and I have to say my favorite souvenirs that come to mind are from that trip: a double-decker red bus, a Palace Guard teddy bear, and Fortnum & Mason cookie tins."
Miguel: "Memories are my favorite souvenirs, whether you have just left London, Brooklyn or Buenos Aires!"
Gabby: "I would give some London honey.  I love The London Honey Company; their Beeswax candles are also very smart."
Monika: "I love Emma Bridgewater's Union Jack mugs, and I always stock up on Angelvin's lavender spray from Summerill & Bishop."
---
Meet the Insiders
Whitney Robinson
Editor-In-Chief, Elle Décor
@whowhatwhit
Gabby Deeming
Creative Director (Interiors), House & Garden
and Founder of @day.dress
@gaboushk
Ben Reynaert
Senior Editor, Style + Market, AD Pro
@aspoonfulofbenjamin
Parker Larson
Style Director, Elle Décor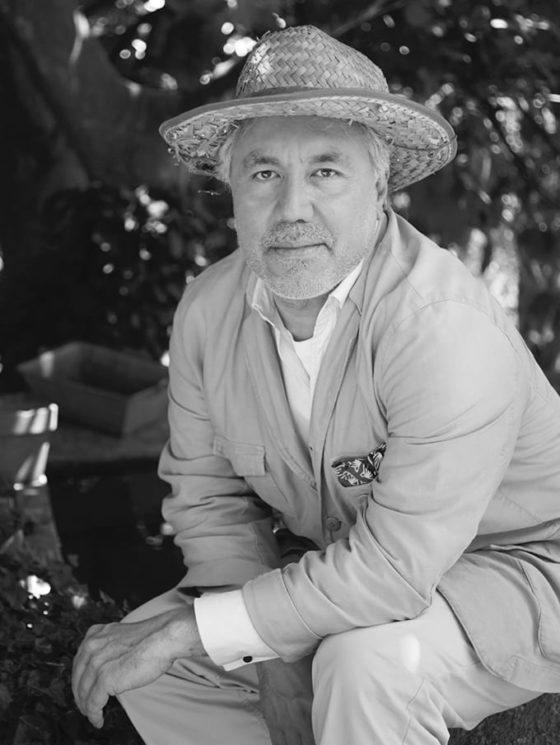 Miguel Flores-Vianna
International photographer
@miguelfloresvianna
Monika Eyers
East Coast Editor, Better Homes & Gardens
@monikaeyers