The minute Schumacher introduced its Pyne Hollyhock pattern in 2010, it became an instant classic. But the story behind this beloved motif goes even farther back, and involves the legendary decorator Albert Hadley, the celebrated tastemaker Nancy Pyne, and one of the most iconic rooms in the annals of decorating.
Nancy "Princess" Pyne, who turned 94 in February, knows what she likes. Reared in the rarefied milieu of New Jersey's tony Somerset horse country, and having done stints as a third-grade teacher and a nurse's aid during the war, she spent much of her married life residing at Cherryfields, a rambling and storied 1929 property in Somerset, designed by A. Musgrave Hyde. From the outset, she worked with the luminary Albert Hadley to create a home that was both modern and refined. And the living room they produced together there in 1962 was a  masterpiece, one of the most-referenced spaces in the decorating lexicon.
The defining component in that room's scheme was a fetching floral chintz that Hadley had sourced from England. Chintz wouldn't be back in fashion until the 1980s, but for Pyne it was love at first sight. "My friends and family said, 'No, no, no!' But I said, 'Yes—I like it.'"
Cut to 2008, when Pyne was ready to downsize, and the designers John Dransfield and Geoffrey Ross, who owned a nearby 19th-century farmhouse, had fallen hard for Cherryfields. They decided to swap houses, and Pyne once again enlisted Hadley to help her feather her new nest.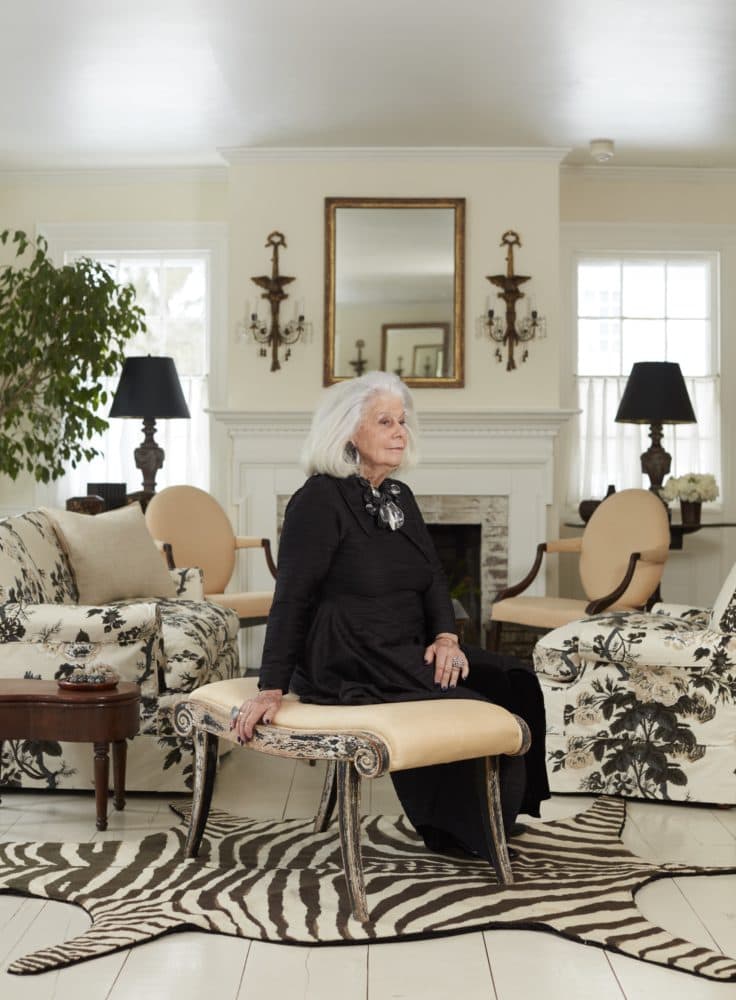 "Albert Hadley was fabulous, such a gentleman," Pyne told us on a recent visit to her home. She also valued his singular knack for understanding the more elusive nuances that make a perfect room just so. "He would move a chair two inches, and it would make all the difference."
Hadley and Pyne whittled down her furnishings to those she cherished most, then reupholstered the majority of the pieces. But the chintz, which both of them were crazy about, survived the move on a petite settee, despite the patina it had acquired over the decades. Several years later, the fabric had aged to such an extent that it needed to be replaced, and since the chintz had fallen out of production, Pyne reluctantly replaced it with a stripe. "I never liked it," she confided in us.
But the image of the pattern in that original living room continued resonating with the design cognoscenti, and in 2008 Schumacher's in-house studio took matters into their own hands. They reached out to Pyne, who had retained a few pieces of the vintage fabric, and she graciously loaned them to the team. After two years of meticulous design work, including capturing the original textile's spirit and scale to a T, a pattern as stylish as the woman who championed it was born again—and dubbed Pyne Hollyhock in her honor.
And, we're happy to report, it once again takes pride of place in her home.
---
Princess Pyne's Decorating Maxims
"I like things cold, hard and chic. That's why I don't have any rugs or curtains. In general, I hate rugs and curtains. I hate fussiness and I can't stand clutter."
To fluff pillows, "hold the cushion as high as you can, then drop it to the floor. Then do it again. I learned this on a visit to a grand old country house in England."
"It's important to keep the things with you that you've always had and always loved." Case in point: During our lunch with Pyne in her home, we realized we were eating off her wedding china.
---
Princess Pyne's Rules for a Well-Lived Life
"I never drank. I never smoked. Simple as that."
"You've got to never think about yourself, never, and you've got to think about other people."
"My father always told me, 'Whatever you do, be the best.'" (Clearly he followed his own advice—his personal rock garden, one of the country's finest, is now a public park.)
"He also told me that gossiping is the lowest form of communication."
---
Are you swooning over this romantic floral as much as we are? Shop a few of our favorite colorways below!